"They think I'm so boring. I am not the girl they think I am."
— Maya in her promo
Maya Matlin
is a sophomore (Grade 10) at
Degrassi Community School
. Unlike her older sister, 
Katie Matlin
, who is a soccer star, Maya loves music and is a virtuoso cellist. However, like Katie, she's always up for a new adventure or challenge and is always determined to do the best she can. Unafraid to speak her mind and not interested in gaining popularity or what people think of her, she often finds herself in trouble. Maya is insecure about her body image and wants to look more "mature" since everyone often thinks she's younger than she really is based on her body. She is empathetic towards her friends, and is always there for them for advice.
Following the suicide of her first boyfriend and love, Campbell Saunders, Maya began acting out in a rebellious manner by dressing provocatively and showing off her sex appeal, going to Senior parties and even hooking up with a guy she just met while letting herself be recorded. However, after some time, she finally broke down about Campbell's death and him leaving her and was back to her old self. She is best friends with Tristan Milligan and Tori Santamaria (before she moved away). 
She is currently on rough terms with Zig Novak, who she has a possible crush on, and Miles Hollingsworth III, whom she is in a relationship with. Maya is also shown to be friends with Marisol Lewis, Mo Mashkour, Talia, Jenna Middleton, Alli Bhandari, Grace, Winston Chu and Imogen Moreno. She was also friends with Adam Torres before his death. She is on good terms with Mike Dallas. Maya is currently a member of the band WhisperHug as the celliost, song writer and occasional singer. She is labeled as the Good/Bad Girl.
She is portrayed By Olivia Scriven.
Character History
Season 11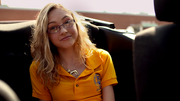 In
Underneath It All
, Maya is first seen in
Marisol
's car along with older sister,
Katie
. Katie blames Maya for being late while Marisol assures her that things will be fine. Maya is unenthused about being a new student at Degrassi, wanting to have attended a Performing Arts school, as Katie assures her that she will have friends at Degrassi in no time. While looking for the music classroom, Maya runs into
Zig Novak
, and agrees to pretend to be his girlfriend while he avoids the flirtatious attention of his female classmates. After she plays the role of an upset girlfriend, discouraging the girls who were after Zig, the two introduce themselves. Zig invites Maya to
The Dot
after school, to which she accepts. Maya apologizes to
Ms. Oh
for being late to class and picks up the cello to play. She overhears
Tori
and
Tristan
talking about Zig and asks if they are friends. The two tell Maya to stay away from Zig, leaving Maya confused.
While waiting for Katie to pick her up, Maya is on Zig's Facerange page and closes it when Katie notices and comments that he is cute. Katie tells her not to listen to the gossip and to give Zig a fair chance. At The Dot, Maya asks Zig about the rumors and he tells her about his previous relationship with Tori. In music class the next day, Maya is confronted by Tori and Maya says she knows about how she is heartbroken about being dumped by Zig. Tori then dumps water from her water bottle into it and blows into it, spraying Maya with it. Maya, infuriated, launches herself at Tori and the two get into a fight. They are then sent to Principal Simpson when a teacher catches them fighting.
Maya tells Mr. Simpson that Tori is just jealous whereas Tori tries to play the innocent role and that Maya just attacked her for no reason at all. Mr. Simpson concludes that the fight was all over a boy and tells them to make better choices before leaving for a few minutes. Maya then agrees to help Tori, bringing Tori to hug her in gratitude. Because of this, Maya unknowingly gets the two back together. Maya then realizes how much she may have actually liked Zig, but can't do anything about it because Tori reconciles with Zig shortly afterwards.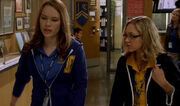 In
Can't Tell Me Nothing (1)
, Maya asks Katie if she's okay suspecting binging when she catches her going through the fridge. Katie tells her she's fine. Maya believes her and leaves.
In Can't Tell Me Nothing (2), Maya catches Katie sneaking pills from their mom's bottles and promises to not tell on her when Katie insists that she just needs to make it through her try out and then she'll stop taking the pills. Maya is even more worried about Katie once she gets detention and tells her its a bad idea to run on her leg. Maya greets Katie along with her mom and takes the rest of the pills so Katie won't be able to take them.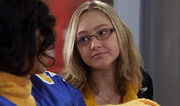 In
Need You Now (1)
, Maya is seen in the hall with Tori and Zig, as the three go to their lockers while Tori goes on about the Power Squad. Maya seems sad when Zig and Tori hug, and annoyed at them being a couple.
In Need You Now (2), she notices Tori depressed in her mascot uniform. Maya tells her that she should stand up to Zig, and not let his skateboarding come between her and her cheerleading.
In Hollaback Girl (1), she is seen entering the kitchen in the middle of the night, having woken up due to the noise caused by Bianca and Katie as they came inside. As she demands to know what is going on, she sees a soaking wet Katie (when Bianca sprayed her with water). Bianca informs her that her older sister is high on pills before she leaves Katie with Maya. 
In Hollaback Girl (2), Maya interrupts a conversation between Drew and Bianca to tell them that Katie has had an overdose. As she walks into school with them, she tells them the details about Katie going to the hopsital and how the doctors were forced to pump her stomach to avoid further damage. She complains about still having to go to school given the circumstances as she walks off. 
In
In The Cold, Cold Night (1)
, Maya feels frustrated in music class where the piece they've been assigned is far below her capabilities. Maya tries to practice at home, but Katie is exhausted after her first day at rehab and Maya has to stay quiet.
Still disappointed that she's not at an arts school, Maya's dad suggests she drop the attitude and talk to Ms. Oh. Maya apologizes to Ms. Oh and asks her to be bumped up to the Grade 11 band, but Ms. Oh won't consider it for another year. Ms. Oh suggest that Maya study theory instead of playing with the band, and Maya agrees. While studying theory, Maya spots an advertisement in the classified sector of the paper asking for a cellist for an Indie band. She ambitiously circles it.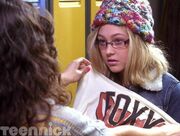 In In The Cold, Cold Night (2), Maya shows up at Tori's locker and greets her, causing Tori to remark that it is the "Band Ditcher". Maya says it was nothing personal, she just did it for her "sanity". Tori smiles and asks what she needs. Maya requests advice on what to wear for her audition. Tori asks for more details and Maya excitedly reveals she is auditioning for an Indie band that she checked out that has gigs and is completely real. Tori is happy for her, saying she will finally be able to show off her cello skills. Maya then asks what shirt she should wear for her audition that evening when she attends. Tori tells her to wear the "Foxy" shirt, but to be sure to expose her shoulder when doing so.
That night she prepares to sneak out of the house in the said shirt with her cello, checking out her appearance one last time, when her
father
catches her as she begins to head out the door. Maya says that she thought he and her mother were asleep. Her father tells her that even if they were, that doesn't give her permission to leave the house at that time of night. Maya insists she has an audition and tells him the name of the place where it is being held. Her father immediately recognizes the title as a bar in the town and Maya assures him she isn't going to drink. After a moment of arguing, she tells him that she doesn't feel challenged enough in the school band and that while Katie has a bunch of activities to keep herself busy, music is everything that she has and doesn't want to lose it. Her father admits that they have been focusing so much on her sister, that they failed to pay any attention to Maya. He tells her to find herself a new way to be challenged. She is eventually persuaded to go to bed without attending the audition.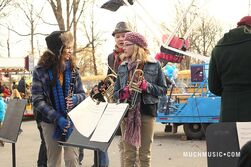 The next day at the Frostival, she arrives with Katie's trumpet and tells Ms. Oh that she hopes they will let her back in the band. She shows her the trumpet and says it's her new musical challenge. Ms. Oh agrees, saying she will get her some sheet music. As she walks off, Tori and Tristan see her and ask what she is doing there. Tristan remarks that she is there to save them from humilation. Maya says that the audition for the Indie band never happened and she would rather play with them, making them all smile. When Tori teasingly calls Maya a show off for being able to play the trumpet as well, Maya reveals she is actually a "trumpet newbie". Tristan says that they are still going to be humilated in front of the entire school. Maya says at least "they'll be embarassed together". When she epically fails on the trumpet during the band's performance, Ms. Oh, Tori, and Tristan, as well as Maya, all find it amusing.
Season 12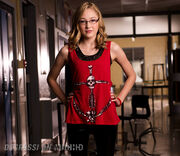 In
Come As You Are (1)
, after the annoucement about uniforms being gone, Maya, Tori and Tristan are at their lockers talking about going shopping at the mall. Maya tells the two that she's going to try and audition for Mo's rock band. While the 3 are talking,
Dallas
and his
hockey team
walk by and he makes a comment about Maya's chest being flat which Maya is obviously angered by. During lunch, Maya talks to Mo about auditioning for his band, which he replies to her needing to be more "mature" while glancing at her chest implying she looks too young to be in the band.
While at the mall with Tori, Tristan, and Zig, they talk about how she is flat chested, Tori and Tristan try telling her she has an amazing body, but Maya is seen looking at a poster of a girl with a bigger chest and starts feeling insecure. She tells Tori she needs to look like "that" to be in the band to which Tori replies that she doesn't need implants because she has another idea. While practicing her cello, Maya looks at herself in the mirror and puts in the breast pads that she got and thinks this will make her look more "mature" for her audition.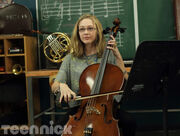 In Come As You Are (2), Maya comes to school with her "chicken cutlets" on, but when she shows Tori, they seemed to be looking like a "uniboob" instead. Tori tries helping her fix the chicken cutlets in the hall while people look at them and than Tristan shows up from behind and ask them how they're doing. While Tristan and Tori are talking, Maya looks at herself thinking she looks more "mature."
Later while Mo's having his auditions, Maya volunteers to go next. Mo seems to be very impressed with Maya's musical skills. Towards the end of her song one of her "cutlets" falls out of her shirt and everyone including Maya look towards the ground. Maya continues to play her music while Mo tries pointing out her "cutlet" fell out but Maya ignores this.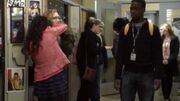 Once Maya finishes her audition she looks at everyone and runs out of the room. While at her locker (trying to find her sheet music), Tori approches her and tells her she heard about the incident and the fact that everyone is calling her "chicken cutlet." Maya than asks her why does she have to wait to get boobs where as Tori already has them. Tori reveals that she failed 4th grade and that she would trade her boobs for Maya's musical talents anyday. The two walk down the hall while Tori supports Maya throughout the rest of the day.
While leaving school, Mo tries to talk to Maya, but she and Tori start walking away fast, when Mo catches up to them, Maya is expecting him to make fun of her, but instead he asks her to be in the band which Maya happily accepts. As Maya and Tori are about to leave, Owen and his hockey team walk by with Owen making a comment about being hungry for a "chicken cutlet". Instead, Maya throws the other cutlet at his head. Owen tells her she might need it which Maya replies, "It's the most action you'll get all year." Maya starts to apologize to Tori about her cutlets, but Tori says it's okay and that Maya is her hero and the two girls walk away.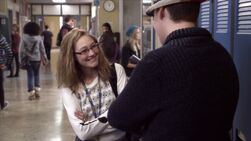 In
Gives You Hell (1)
, Maya is first seen in French class with Tristan translating. When the teacher asks for a volunteer to be in Campbell's group, Tristan pinches Maya, bring her to raise her hand and the teacher to assign Campbell into their group. Maya introduces herself and says that the class is a wild ride. The next day Maya tries to make Tristan feel better about how he acted around Campbell, unknowingly revealing that Campbell friended her and not him online. Maya accidently leaves her FaceRange profile up, just as Campbell IM's her. Tristan seizes this chance to start talking to Campbell, posing as Maya.  At lunch, Campbell comes up to Maya and offers to lend her his Lost DVDs, because she supposedly mentioned it in their chat. Tristan urges her to play along and she decides to go along with it and smiles at Campbell as he leaves. Tristan confesses that it was him talking to Campbell, posing as her on FaceRange, and that they actually have a lot in common. Maya convices him to go talk to him as himself, not her, and apologizes when it doesn't go well. Campbell later comes up to Maya and Tristan to apologize and hopes they don't think he's a jerk. Maya looks at him as he walks away.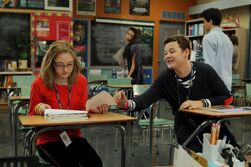 In Gives You Hell (2), Maya is first seen getting her French homework. As she sits down, Tristan comes up to her to give her his chat logs with Campbell to keep her up to date in case Campbell comes up to her again. Maya tries to get Tristan to confess about posing as her. He says he will once they're besties. Before Tristan can warn her, Campbell comes in and asks if she's psyched. Tristan secretly explains to her that he's talking about the school musical, to which Maya complains. Campbell offers her advice, and they continue with class. Later we see Maya with Tori and Tristan at the audition supporting them. Later, Campbell comes up to congratulate Maya on her role in the musical, when it was actually Tristan who got it. Maya forces Tristan to come clean and says to Campbell it was partially her fault as well since she was aware of it. She is seen comforting Tristan after Campbell says they'll never be friends and storms off. 
In Got Your Money (1), she is first seen telling Zig that he made it into WhisperHug and congratulating him. After Tori comes over to congratulate him, the three walk into their class. Later on, Maya is seen rehearsing Be My Someone with the band. When the group begins to call Zig cheap she tells him that Tori spent five-years worth of allowance and that she really cares about him. After Tori and Zig start having problems and Zig tries to join her and Tori, she tells him that Tori doesn't want to talk to him and that he should leave. Later on, she helps Zig by bring Tori to Little Miss Steaks and leaving so they can work things out.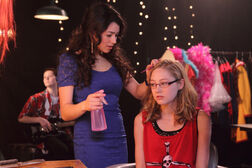 In Got Your Money (2), she is shown at the front of the school telling Tori and Zig that Marisol booked WhisperHug to play at the dance. The three are excited and when the bell rings, she and Tori go to their class. Later in the day her locker is searched and she follows Zig with Tori to find out that he had stolen the student council money. He gives it to her and she tells him that she won't tell anyone. That night, she is seen having her hair fixed by Tori. Once they go onstage she performs Be My Someone with the band.
In Say It Ain't So (1), she invites Cam to her table and watches Dallas pull him away.
In
Say It Ain't So (2)
, she is first shown at the cafeteria getting lunch with Campbell, Marisol, and Mo. She compliments Cam on his nice clothing and says it's cool how he has his own group to dress with. She notices that he is nervous and tells Mo to shut up when he makes a comment to him. He tells Cam that he'll be fine and he snaps at her. That night, she is at Little Miss Steaks with her family and goes to get a drink. Cam approaches her and apologizes and he helps her get her drink. He asks if they can hang out some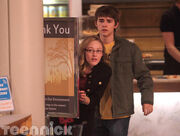 day after school and she accepts before walking back to her family.
In Waterfalls (1), she is first seen in class with Tori and Tristan and talks about her date with Cam. She asks Tristan if it's okay and he tells her to go for it. She and Cam want to go to the mall, so she goes to the garden to ask Katie for a ride. Katie asks what it's for and realizes it's a boy. When Maya says that it's Cam, Katie says no and that hockey players are bad news in which Maya replies that just because Drew dumped her doesn't mean all jocks are bad. Katie eventually accepts but says that she will chaperone to Maya's dismay. At the mall, the three of them are seen getting out of a movie while Katie berates Cam with questions. Maya tells him he doesn't have to answer and points out "Drew and Bianca kissing" to distract Katie while they run. The two turn the corner and head into a photo booth where they talk about their siblings and Cam's home life while taking pictures. Maya tries to kiss him and he pulls back, saying they should probably find Katie. Later on, Maya is seen telling Tori about the date as she gives her advice.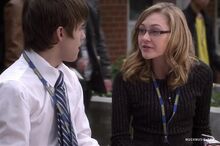 In Waterfalls (2), Maya talks to Cam in front of the school, and gives him the option of where to go for their next date. Cam says the garden, and Maya agrees. Later on, they're at the garden and Maya has a buffet of food set out for them and while they eat, Maya asks him about his hockey career. Cam seems a little disappointed at the conversation, a nd Maya spills juice on him. Cam gets up and says he'll go change shirts, and they stand there awkwardly in front of each other.
As she leans in to kiss Cam, Maya gets a mouthful of Cam's ear when he turns the other way. Maya steps back and tells him to "break a leg" at his game. Cam then walks away. Later in class, Maya is texting Tristan and Tori about her date with Cam. They get caught and the teacher reads aloud the messages. Cam is upset by them and leaves the moment the bell rings.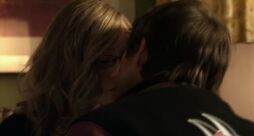 Maya follows him and says she's never had a boyfriend before, she doesn't know how anything works, and she just wants him to like her. He then tells her that he thought she actually cared about him, and not the fact that he was a hockey star. He walks away and leaves Maya distraught.
After school, Maya is in her room playing the cello when Cam walks in and tells her Katie let him in. He moves Maya's cello over, and kneels in front of her, telling her that he's never had a girlfriend before, and he was just nervous. He then leans in and kisses her, thus beginning their relationship.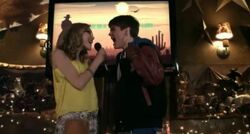 In Rusty Cage (1), she is first seen in class with Cam, Tori, and Tristan talking about karaoke night at Little Miss Steaks. She and the others keep trying to convince Cam to take a break and have fun with them but he keeps saying no. At Little Miss Steaks that night, she watches with Tori and Tristan as Zig performs. She is surprised when Cam comes behind her and is happy when he tells her practice was cancelled.
When Zig finishes, she tries getting Cam onstage with her and with much persistence, finally gets it. She starts to sing, and tries to get him in the mood and after a bit of lyrics, the two have a lot of fun. Back at school, she sneaks up on him and they talk about the other night. When Dallas and Luke walk up and ask about how his flu was, she realizes that he actually skipped practice. When they show him the picture of them at Little Miss Steaks, she watches as they pull him away.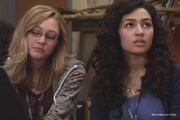 In
Scream (1)
, Maya is seen as Tristan tells her about the cute mystery stage guy. Later, she walks with him to his locker and he finds a rose and a note from a secret admirer so that they can meet. Tristan has rehearsals, but he says "its for love"and goes.
In Scream (2), she and Zig were jamming together, but Tori interrupts them, and makes them come with her to find Tristan, who is missing. Maya finds Tristan locked in a closet, along with Tori, Zig, and Owen. They tell Tristan to get on stage because they all love him.
In Building a Mystery (2), she is seen performing with WhisperHug at the Student Council fundraiser.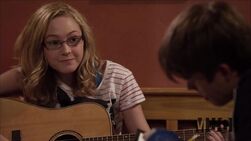 In Doll Parts (1), Cam and Maya are in his room sitting on his bed. He is doing his homework while Maya is practicing a new song she wrote about him. Maya tries to get his attention away from his work, but fails. She asks him for his thoughts about the song, but he replies about his stressful homework and how he keeps getting the wrong answer on his math question. She tells him to take a break in an attempt to get his mind off of the assignment, obviously attempting to start a make out. However, he says he can't due to an upcoming test, seemingly oblivious to Maya's implication. Maya then mentions they have been dating for a month and have only kissed six times. Cam then gives Maya a quick kiss and says, "Seven" before going straight back to his work.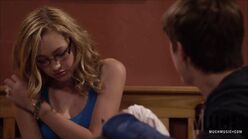 Maya, a little hurt, asks if that's all she's getting. He tells her that with everything going on it's hard to get in the mood with her. To help him, she takes off her shirt and throws it at him, asking him "What about now?". Confused, he asks her what she's doing then worries his billet mom might come in the room. She tries to grab her shirt back and falls off the bed. Cam awkwardly gives her shirt back and Maya says she should just leave. Cam says she doesn't have to, but she says she does before storming off, offended. Later at school, Maya meets up with Zig and asks if he's seen Tori. He mentions she got a ride that day just as they see her walk in. Zig is clearly impressed by Tori, who is all dressed up for a beauty pageant. Maya expresses her thoughts about pageants being overrated and ridiculous whereas Zig says that he likes it. As Tori approaches them, she steals Tori away for some "girl talk".
Maya tells Tori about how she tried to make out with Cam, but he wouldn't. Tori suggests she is sending mixed messages, but Maya reveals how she took off her shirt for Cam. Tori asks if she's guiding him onto the wrong path, but Maya says how she still got rejected and how things quickly became awkward. Tori suggests she make a better effort appearance-wise and then excitedly says she could give her a full make-over and then they can do a pageant together. Tori insists how when Cam sees her on stage as a pageant girl, he'd go crazy over her. Maya doesn't think so since Cam isn't superficial like that, but Tori retorts that "all guys are superficial like that".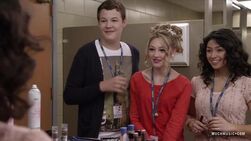 Later on, Maya performs her new song "Actions Vs. Words" for Mo for their band. Mo loves the song and asks her if she could teach Imogen the lyrics. Maya is confused as to why, despite being the writer of the song, she can't be the one to sing it. Mo tells her how since the song contains rather sexy lyrics, they need the male members of the audience to lust over the singer and since Maya appears a bit young for her age, they need an older sing to perform the song instead. Maya, despite being clearly offended, says she'll teach Imogen the vocals. 
In the bathroom, Maya has let Tristan and Tori make her over. She is still reluctant about going through with it, but Tori assures her that Cam will be crazy over her once he sees her on stage. Maya reminds her that she hasn't agreed to the pageant - just the make over. Tori insists that when she is on stage and all eyes on her, it'll be worth. Maya says she doesn't care what random strangers think of her, just Cam. She asks if she looks ridiculous just as Katie comes in and laughs upon seeing her. After yelling at Tristan how he was supposed to lock the door, Katie asks what is going on. Tristan tells her how Maya is doing the beauty pageant. After Katie leaves, Tori tells her to blow off her sister and to wait until she sees the new her. 
After Tori and Tristan finish, she asks if Cam would like it, Tristan replies that he'd be crazy not to.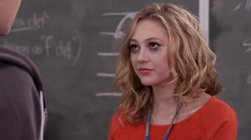 She goes to Cam's locker and shows him her new look. He asks her why she is dressed like that, clearly unimpressed, and laughs. He asks why she's dressed like that and she says how she was thinking about entering a beauty pageant. He comments on how it's not her thing. Maya asks if he thinks she isn't pretty enough to do it and he insists how it's just not her. Maya then asks him if he doesn't like how she looks then. Cam, stumbling with his words, asks if she does. Maya, angered, tells him to forget it and that she has no idea what he wants and runs into the music room, ripping off her hair baretes and rubbing off her lipstick in tears.
Zig finds Maya crying and alone and retorts if he thinks she looks ridiculous as well. After making a few teasing remarks about her smeared mascara, she explains to him that Cam laughed at her new look. Zig is surprised that she is entering a pageant since she thinks they're dumb. Maya says how since he liked Tori in them, why not Cam? She then asks him why he likes Tori in them so much and he answers how when Tori is on stage, she acts like she owns the room and he wants to "be around that". Maya remarks that he "wants to make out with that". He asks if she still is going to enter the pageant and she says "no way". He tells her not to not go through with it based on Cam's opinion, if she wants to do it then go for it. Maya is discourages due to the competition, but Zig says how she can "slay those other girls" and that she definitely owns her own chance of winning. Maya smiles, encouraged. 
At the beauty pageant, Maya is left uneasy with all the people. Tori asks if Cam is coming, but Maya says they had a fight. Maya says how she forgot about the crowd, and asks Tori if any of the girls get deadly jealous. Tori assures her that jealousy is a non-issue there and that only ten girls make it to the next round. Maya asks if she shouldn't have to worry because she isn't pretty enough, but she says how she competed for years before making the top ten. Tori tells her to just have fun and that when she hits the runway, she's going to feel awesome.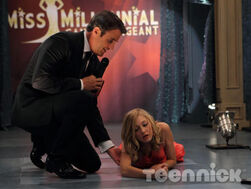 Maya watches as Tori gracefully gives her talk during the pageant and nervously walks on stage as she is called up. Maya wobbles a bit as she walks on stage before she falls downward on her face. She looks up as Zig, despite clearly holding back his laughter, gives her a thumbs up. Smiling, Maya stands back up with the help of the host who remarks how "there's a girl who knows how to make an entrance". He asks her to tell them a bit about herself. She says how she loves to play the cello, soccer and is a "clumsy goof in front strangers".
The host then tells them the top ten as Maya and Tori anxiously hold hands. Tori's name is called first and she walks on stage. Zig comes up to Maya and tells her how if the judges don't pick her then they're dumb. Maya remarks what part of "falling on her ass" he missed. He tells her that he seriously means it, calling her the best. Maya gives an "aww" before saying how she wished Cam felt that way. Zig calls him an idiot and that she deserved better. Maya teasingly comments how it's too bad he's off the market. The host then gives the name of the last candidate for the pageant... which is Maya! Maya and Tori soon go back stage after taking their stands on stage and Maya says she was right about it feeling awesome. However, Tori begins kissing Zig as an uncomfortable Maya looks downward.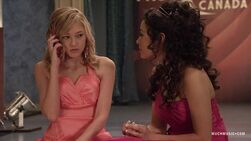 After the pageant, Maya has come the decision to break up with Cam. Tori asks if she's absolutely sure and Maya laments on how she wants a guy like Zig. Tori reminds her that he's taken. Maya says how she wants someone 
like 
Zig since he treats her like a queen and always make her feel good about herself. Tori tells her how she deserves someone who does all of that for her as well. She then calls Cam and breaks up with him. Tori asks what he said and Maya remarks nothing like he always did. She then concludes, "So long Campbell Saunders... nice knowing you" as the episode ends. 
In Doll Parts (2), Maya performs her song "Action vs Words" for Tristan and Tori. Tristan loves the song and smiles at Tori, only to frown when seeing Tori's jealously angered expression. Maya finishes and asks for opinions, revealing she plans to use it for the talent part of the pageant. Tori asks why she's suddenly so serious about it, bringing up how she thought they were stupid. Maya says she did, but that she's changed her mind now that she sees she has a chance to possibly win, even though it may be a long shot. Tori tells Maya that she has no shot at winning the Miss Millennial Pageant and that the judges likely only brought her this far because they felt sorry for her. Maya is clearly offended as Tristan sits awkwardly between the two. 
Maya later tells Katie about Tori's harsh comments, who assures her that she's just fearing for her own chances to win because of Maya's talent. Maya also tells her that she plans on asking Zig to help her with her act, and Katie worries that it will upset Tori even more. Maya decides to go through with it and asks Zig about helping her with her song at the pageant, to which he agrees. When Maya brings up how Mo believes she isn't sexy enough to pull off the heat of her song lyrics, he immediately tells her that she is. He spots Cam and tells her "boyfriend alert". However, she reveals to him that they broke up and it is more like "ex-boyfriend alert". Zig apologizes and asks why she didn't tell him. She says she didn't feel like broadcasting it to the world. He asks if things would be awkward. She says no and he leaves as she tries avoiding Cam.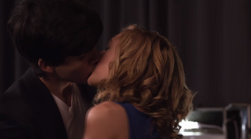 Cam sees her and comes up to her, trying to win her back, admitting that he messed up and asks for a second chance. Maya tries outwalking him, but he keeps up and asks if she still likes him. Maya says liking him was never the problem. He asks what was wrong and she says that he doesn't like her. He says that's crazy. She says that Zig tells Tori she's pretty all the time whereas he never has and has never shown or expressed that he likes or values her. Cam says he didn't know he had to and that he's not smooth like Zig, but he really does think she's pretty. Maya asks then why he never wants to kiss her or be at all physically intimate with her. He insists that he will try harder. She says he shouldn't have to try and that Katie is waiting for her, then walks away leaving Cam hurt.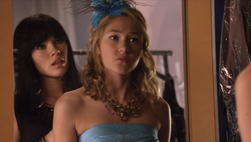 Later at the pageant, Maya and Zig perform their song and are a hit with the crowd. Backstage, they share a clear moment before the two share a passionate kiss before Maya pulls back and is instantly guilt ridden and regretful. Zig does not mind and Maya reminds him about Tori, but Zig still doesn't care. Katie then voices her presence and he leaves. As Katie prepares Maya for her to go back onstage, she calls her out on kissing Zig. Maya tries to explain that Zig kissed her and that Tori has been more than mean to her lately. Katie tells her it still doesn't matter since she kissed him back and that she doesn't want to be known as a boyfriend stealer and that any boy is not worth a friendship. 
On stage, she watches as Tori admits her flaw. She admits that she says things without thinking about the hurt it has on those around her. As Maya takes her stand to the crowd, she freezes as she stares at Tori. Feeling guilty about the kiss she shared with Zig, she calls herself a bitch. She then flees from the stage, running off. She then arrives at Cam's house. He opens the door to see Maya in tears. He asks her what's wrong. She tells him he was right and that pageants are stupid. She asks if he could forgive her. He does and the two make up.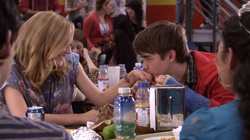 The next day at lunch Cam, Maya, Tori, and Zig are all sitting together discussing the pageant. Tori won for her speech and Maya says she earned it, they both apologize and Tori mentions that she can't believe Maya lost and that she looks so pretty. Cam says that Maya always looks pretty before kissing her hand as Zig looks on jealous. The bell rings and Maya stays behind telling Zig she regrets the kiss and that she was confused and caught up in the pageant then leaves with Cam before they share a quick kiss.
In I Want It That Way (1), Maya is seen with her best friends Tori and Tristan while all three of them go to yoga class. She is at the mall with them later on. She is also seen telling Tristan a cleanse is a bad decision.
In I Want It That Way (2), Maya is eating lunch with Tori and Tristan, and she is worried about Tristans health. She sees signs of anorexia and warns him that not eating is very unhealthy.
In Tonight, Tonight, Maya is helping Cam study for their French exam. She is explaining conjugations to him and he says to her "tu es très belle", meaning "you are very beautiful". She smiles and tells him that won't help him pass and they kiss. Tori comes in and apologizes for interrupting, Maya tells her that they were studying and invites her to join them.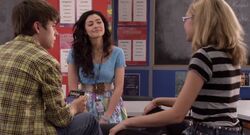 Cam tries to quiz her and she tells them she might be losing Zig. He tells her that it wasn't French related, earning a small slap from Maya. She asks her what she means and she tells them that he's acting weird and that he might like another girl. Maya nervously asks if he's mentioned anyone and Tori says that when they're together it's like he's somewhere else. Maya says he probably has a lot going on, Tori admits that she could be over reacting which Maya agrees to. She says they should go back to studying and looks regretful.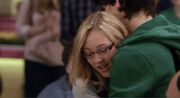 Later Cam, Maya, and Tori are studying. Tori mentions that Zig never texted her back to which Maya says he's probably studying. The doorbell rings and Maya yells for Katie to get it. When Katie makes a smart comment Maya mimics her. Zig comes into the room only to notice Cam and Tori are there. Maya mentions that the only reason he came over was because Tori was there, he awkwardly agrees. Cam goes through a bag and mentions that Zig should of brought more chips, he takes one and offers to Maya saying ketchup's her favorite. Zig asks Maya about their song and that it should have harmonies to it. Maya says that she already recorded the song and lets Cam and Tori listen to it while they grab drinks.
After their French exam Cam gives Maya a present. She asks what it is and he tells her to open it, she says it's not her birthday and opens it. Cam says that he's terrible at telling her things but he likes her a lot. He then says the charm is for her concert and that every time she plays a show he'll get her a new one. She says she loves it, and he puts it's on her wrist. He says it was his mom's idea but he picked it out. She says she has to be honest and admits that she kissed Zig. He is silent and she tells him to say something. He says it sucks and wishes her luck at her show.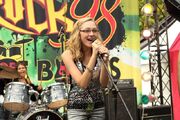 At the competition, Tori walks in on Zig and Maya talking about when they kissed, and throws the drinks she got for them on the ground in front of Maya. She angrily storms out, and neither Maya or Zig follow her.
At the Battle of the Bands, Maya says she'll sing when they get re-instated to perform because she has a message to send out and hopes Cam will be there to hear it. While she's singing he shows up and listens to her song. After the tournament Maya takes out her earrings and holds her head. Cam comes in and sits next to her saying congrats on her winning third place. She tells him that he probably wants the bracelet back and proceeds to take it off, he gently grabs her wrist and says that when they broke up she was confused and that since she came back to him was she was still confused. Maya tells him that she always wanted him and they share a passionate kiss. Cam tells her that he'd never let her get away that easily and they embrace.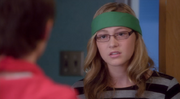 In Degrassi: Las Vegas, Maya is seen at the Matlin home with Cam, Katie, and Jake. She tells Katie she got a letter in the mail and watches her open it. After Katie opens the letter, she reveals she got into Standford. Maya joins in jumping in happiness for her older sister.
In Bitter Sweet Symphony (1), Maya can be seen happily greeting Cam who is coming back to Degrassi and hugs him as he gets off the bus, saying how she "crazy missed him". They share a kiss before going inside. It's Spirit Week at Degrassi, and the school is split into color-themed teams. Maya and Cam are split into different teams, Maya being on the same team as Zig. At the first event of Spirit Week, floor hockey, Cam's jealousy gets the best of him and he begins a violent fight Zig, giving him a black eye. Maya and Dallas try to stop the fight and all four of them are sent to the principal's office. There, Maya admits that Cam started the fight, and therefore Cam is suspended for the rest of the week. Cam is clearly upset that she told them this and when he tries to insist to her that he just got jealous, she responds by saying that he "went crazy" before leaving. 
Maya is then seen practicing her cello, and Cam comes over and gives her a large bouquet of pink flowers, which Maya accepts. She allows him to stay over and she cuddles with him on the couch as they watch videos on her phone. She then shows him Hoot, her stuffed owl that she had from night camp. Katie interrupts, telling Cam it's time to go home, but Maya pleads Katie into letting him sleep over. 
The next morning, Cam is gone, but he left Maya a playful video of him telling her to meet him at the front steps of Degrassi to retrieve Hoot, which he "kidnapped". When she gets there, Cam is nowhere to be found. She then receives a cold text message from him saying that he couldn't make it and that they're over. Maya is upset and hurt by this.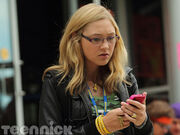 In Bitter Sweet Symphony (2), on their way into school, Maya tells Katie that Cam "maybe text dumped" her, telling her that she called him several times and that he did not answer. Katie tells her that its not unusual for Cam to be acting weird, and advices Maya to focus on her National Young Musicians Orchestra audition, which she has later in the day, and to deal with Cam later. Mike comes up to them and asks Maya if she has seen Cam. Maya tells Mike that she thinks Cam is at home due to his week-long suspension.
Mike, Maya, and Katie then notice that police cars, ambulances, and fire trucks are on campus, and Maya asks what is going on. Maya and Katie approach the vehicles, where they see Madame Jean-Aux. Maya asks Madame if she can skip first period in order to practice for her audition, but Madame does not reply, simply staring at her. She tells Maya that she and Katie need to go to the Principal's office immediately. Upon their arrival, Maya jokes that that whatever the case is, she swears she didn't do it. Principal Simpson, with a solemn face, tells Maya he is so sorry to be the one to tell her this - Cam is dead.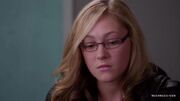 Katie and Maya go silent as he explains that it appears that he committed suicide in the greenhouse overnight. Maya appears visibly shaken, but then says that there had to be a mistake since she just saw him and insists that Cam had to be fine. Mr. Simpson sadly shakes his head. After a moment, she says that she wants to practice for her audition. She then spends some time playing her cello, processing Cam's death as Katie checks in on her.
Marisol asks Maya to speak at Cam's candlelight vigil. Maya says that she can't attend because she needs to go to her audition, but Katie tells her that she should speak at the vigil in order to deal with Cam's death and that the way that she is behaving is not normal. Maya attempts to write her speech, but doesn't know what say. She re-watches the playful video that Cam had sent her and smiles. Tori offers her condolences and Maya angrily tells her not to be kind to her because of Cam's death.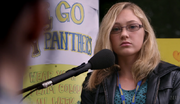 Before the vigil, Katie again checks in on Maya who insists she is fine. As Katie walks off, Zig tells Maya that he is the reason Cam killed himself, saying "I told Cam to get out of your life, so he did - its all my fault". Maya tells Zig that that is ridiculous, and starts to laugh. Zig angrily asks her how she could be laughing right now. She says that people keep telling her to do whatever she feels, but that apparently what she is feeling is wrong. She attempts to go on, but is interrupted by Katie who tells her she is to go on stage now.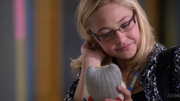 During her speech at the vigil, Maya says that the vigil is "so stupid" and that Cam doesn't deserve a candlelight vigil because it was his choice to commit suicide. She says that people shouldn't blame themselves or feel guilty because its no ones fault but Cam's and that Cam should have fought harder or found someone to help him. Katie tries to explain that Cam was mentally ill, but Maya insists she would have helped him had he given her the chance, but he didn't and just "checked out". She says that she won't light any candles and that she refuses to cry. She then steps off the stand and runs off as Katie calls out after her.
The next day, Maya tells Katie that she meant everything that she said at the vigil. Maya and Tori apologize to each other, and they make up. They hug and they both begin to cry as Tori assures her that everything is going to be okay. The two begin to go to class, but Maya pauses in her step and takes out Hoot (the stuffed owl that she gave to Cam before he died) from her bag pocket. She looks at it and smiles, looking upward as she holds it to her chest. She then proceeds to class.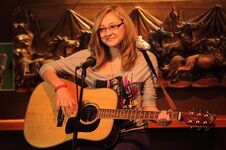 In Ray of Light (1), Katie comes to sit her, Tori, and Tristan during lunch. Maya is left confused on why Katie isn't sitting with her own group of friends. Katie tells her that she is just checking in on her little sister and hugs her. Maya gets mad when Tori tells Katie that Maya is performing at open mic night at Little Miss Steaks and wants to go with them. Maya thinks that Katie only wants to go because of her well being after Cam's suicide. They all go to Little Miss Steaks later that night where Maya sings and plays guitar and even gets a business card from a manager who will allow her to play there any time she wants. Katie is displeased by that and flips him over when he comes to talk with Maya, which leaves Maya to believe that Katie is only hanging out with her and her friends because of something that happened in Vegas. She then tells Katie that she's the one that needs help.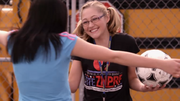 In Ray of Light (2), she is seen coming out of Dr. Tara's office while Katie is waiting is waiting for her. Maya tells Katie to go in, but Katie refuses before she finally convinces her to go in. Later, Maya helps Katie practice soccer. The two discuss how Katie will be out of town and they will barely see each other. Maya doesn't seem sad about it and jokes that she'll be taking Katie's room while she's gone.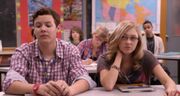 In Karma Police (1), she is seen in French class and watches Tori's presentation on how she could go back in time and help Cam before he commited suicide and it seems to sadden Maya. Then, Tristan brings up that Zig kissed Maya, which seems to frustrate Maya. After the debacle, she witnesses Zig storm out of class after he says he wishes the assignment the class is supposed to do never existed.
In Karma Police (2), Maya is shown sitting in french class while Zig apologizes for messing up his friendship with her, Tori, Tristan, and Cam. Later, she is seen eating lunch with Tori and Tristan. Zig walks over to try to talk to them and the three walk away, not willing to forgive. However, Maya then turns around and asks Zig if he wants to be an extra in Eli's zombie movie. Maya is the only one to sincerely accept Zig's apology.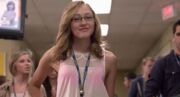 In 
Zombie (1)
, she is seen filming a scene as an extra in Eli's zombie movie, along with Zig and Tristan. After filming her scene, Maya asks Zig if he'd like to go on a date with her to the movies, to which Zig asks her about Cam. Maya then responds sarcastically in annoyance at his comment and accidentally bumps into 
Harry
, whom she apologises to and soon begins to flirt with.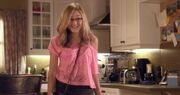 At home, Maya is seen looking in the mirror wearing a sheer, chiffon shirt and is questioned by Katie who asks if she's going through a 'phase' where she dresses all slutty. Maya says she's not and asks Katie whether it is too soon for her to begin dating again, to which Katie says yes. When she is about to leave for school, Maya looks down at her sneakers and at the last minute decides to change into red heeled ankle boots.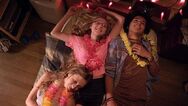 Maya is seen walking down the hallway in her heels, going attention from boys, and falls into Tristan's arms, claiming that it's difficult being four inches off the ground. She voices her desire to find a cute boy as Tristan is handed an invitation to
Drew's
 campaign party; also her first 'senior party'. Further into the episode, Maya walks downstairs in an off the shoulder pink t-shirt, black short shorts and the same red boots she wore earlier in the episode. Maya is questioned by her mom, who says that she can't go to the party, however Maya later sneaks out without her mother's knowledge.
At the party, Maya struggles to open a drink and is helped by Harry. She begins to drink and party with Harry and Talia however is interrupted by a text from Zig asking to talk. Maya texts back a photo of her, Talia and Harry having fun with the caption "too soon?" When Zig turns up to the party in search of Maya, she begins taunting him to which he calls her a 'mean drunk' and leaves. She then climbs on top of a nearby table and begins cheering with many drunk teens while she yells, "Anybody wanna have any fun?" and jumping up and down while Drew makes sure she doesn't fall.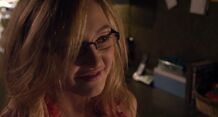 Later, Maya, Talia and Harry go into a bedroom to get away from the party people, and they talk further. Talia looks through Maya's phone and realises that she was knew Cam. After discussing further, Talia records a video of Maya saying that she didn't ask to be "the girlfriend of the dead guy" and for everyone to "get over it". Talia then goes on about life and how they are wasting time at parties, but her friends aren't listening. Harry and Maya begin making out, which Talia records on Maya's phone. 
After the party, Maya is seen sneaking into her house late at night. She receives a Facerange message from Zig asking if she is okay. She replies with a "yep" then proceeds to post the video of her and Harry making out on her Facerange page, looking up with a satisfied smile on her face.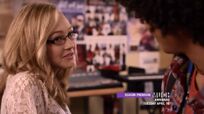 In Zombie (2) , Maya is seen walking through the halls of Degrassi with a few people staring at her, having seen the video, as Katie runs over to her. Katie asks Maya about the video she posted on Facerange of her and Harry making out. Maya is careless about the video as Katie notices that it is a bad idea for this to be on the internet. Maya makes sure Katie doesnt tell their parents about the video. It is also revealed that Maya's cello audition is that day. Later at school, Maya is in the music room practicing her cello, as Harry walks in. Maya fears that Harry will think of her as a geek for playing the cello, but he states he doesn't. He mentions he had fun the other night then invites her to the prop closet to hook up, she turns him down since she has the audition.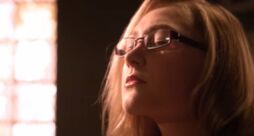 At the audition, Maya introduces herself to the strict judges and sits down. Before she starts playing, she gets a rush of stress through her mind and takes a moment to look up at Cam. She takes a deep breath and starts playing her piece, most likely thinking about him while playing. Once she finishes, a judge tells her she did an amazing job. However, the orchestra has a policy where they keep an eye out on all the contestants for the sake of their reputation. The judge pulls out his laptop and opens the video of Maya kissing Harry, which she posted on her Face Range. Maya says that she didn't think the video on the web would matter, causing the judge to sternly say that "everything matters". Due to this video being released to the public, Maya doesn't get in.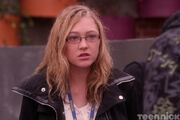 Later that day, Maya is sitting outside of Degrassi in the pouring rain. Zig passes by her, gives her a disappointed look and begins to walk by her as she tells him not to go. They both say they don't want to fight, but end up arguing anyway. She apologizes for posting the video and says she took it down. They fight about her being with Harry which leads Zig to say "Maya, this isnt you" making Maya go off about people telling her who she should be. She then takes her cello and chucks it in the dumpster stating that she's quitting. She angrily storms off leaving Zig very worried.
The following day at school, she is seen talking to Harry at his locker and invites him over to watch a movie. Harry makes it clear that he wants to do more than just watch movies, referencing to sex. Maya looks at him before she gives him a rather heated kiss and coyly says she'll see him later before walking off.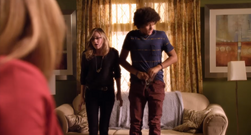 Maya and Harry are later seen making out on the couch in Maya's living room. Maya is happy at first, but then pulls out as Harry continues to kiss her neck. She thinks for a moment, and realizes that she is now kissing a stranger in the same spot where she spent her last moments with Cam.
She asks Harry if they're gonna watch movies or just kiss for the rest of the night, and Harry says they can do other things. He begins to take off his pants and Maya is becomes nervous and tells him she has never done this before. He tells her to just go with it and to trust him. She tries to ease herself into it.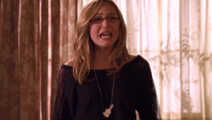 Katie and her mother then walk in the house as they got home from their shopping trip. Katie immediately yells "WHAT THE HELL" as she sees Maya on the couch with Harry and his pants unbuckled. Katie kicks Harry out and he quickly leaves the house. Katie and her mother are extremely disappointed and worried. Katie asks why Maya was with the guy who she was making out with in her FaceRange video, which makes her mother ask about it and Maya openly admits that she snuck out to Drew's campaign party instead of practicing her cello. Maya remarks that it is a thing for Matlin girls to get busy at the Torres house, referencing to the time when Katie had lost her virginity to Drew there. Katie is near furious when Maya points this out and tells her that this behavior is insane and that it's scary for her to hook up with a guy she barely knows and tells Maya that she can't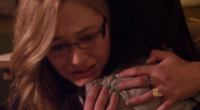 replace Cam. These words immediately hit home for Maya and she breaks down.
She screams back, "WHY NOT?!" She finally breaks down into all the emotion she's been holding back and yells to her mother and sister about how Cam broke up with her by killing himself, and that she hates him for what he did. Maya begins to sob as she says that she feels like she's never going to be happy again and how every day just gets worse before saying that she can't miss him anymore. Maya then reflects on how he never even said goodbye to her. Katie goes over to Maya and holds her as she begins to collapse to the ground and continues to sob. Cam was Maya's first love, and she finally begins to show how much it is truly affecting her that he is gone from her life.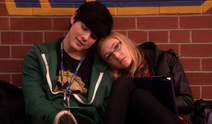 Maya is seen at school the next day writing an apology letter to the Youth Orchestra. Zig is sitting next to her and she also apologizes for treating him so badly. Maya is about to go "dumpster diving" to go take out her cello since if her parents found out that she disposed of an instrument that cost $1,000 then she would be dead. Zig reveals that he already took it out for her before handing it over to a teacher to hold on to until Maya "came to her senses" showing that he really does cares about her. They then hold hands and Zig tells her saying no to her was hard since he really likes her. He also states he only wants them to be together when it's what she wants too.
However, Maya says she doesn't know when that will be. Zig admits that he is willing to wait for Maya to be ready. She then rests her head on his shoulder for a moment. Zig walks away and both are left finally content with the situation.
Season 13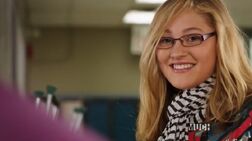 In
Summertime
, Maya and Tristan begin to walk into Degrassi for their meeting about their trip to Paris this summer when Maya sees the new kid, Miles, gets distracted then walks into a board that Drew and Dallas were working on. Tristan is excited that Maya would be his new BFF since Tori and her family moved away. They get into the classroom where the meeting is alongside many people such as Alli and Jenna. When Zoë arrives for the meeting, Maya and Tristan both recognize her from West Drive. Tristan meets her and claims her as his new "bff", which throws Maya off and she questions him on it. Zoë tells Tristan about a concert that will be happening later that night, Maya says it sounds fun and Zoë awkwardly tells her she can come even though she technically wasn't invited. Tristan then questions her on her early curfew and Maya denies it.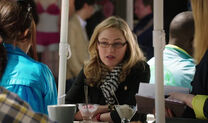 Later, Maya, Katie, and her mom are out for ice cream and they check to see if Maya has all the things she needs for Paris. She then mentions the new girl and Katie goes online and looks her up. Maya says that she is afraid that she would steal Tristan away from her since he is already obsessed with her. Also, Maya mentions the concert that is happening and asks if she could go. Her mom says yes but her curfew is 10. Katie helps Maya convince her mom that she should probably get a later curfew since the concert probably would start at 9:30. 
Zoë, Tristan, and Maya are seen going to the concert together and Tristan and Zoë seem to be bonding. Zoë says that they don't have to wait in line since she is a star but only her and Tristan gets in because the security guard thinks that Maya is under 13 so she couldn't go in so she has to go out back. She later tries to pretend to be pizza delivery person when she sees Miles who says that her plan will never work. Miles is seen smoking pot, and then asks Maya if she wants some; she declines. He says that he has backstage passes into the concert and Maya follows him.
Later, Miles, Maya, Zoë, and Tristan are seen backstage when Tristan mentions that last year, Maya has two guys fight over her. Miles asks what happens but Maya quickly says nothing happened. Then Zoë makes a comment that is Maya ditched Tristan for some boy in Paris then she will be by Tristan's side. Maya then retorts by saying that Zoë's character is off West Drive. Tristan is shocked and says that can't be true. Zoë then stomps on Maya's foot making her spill her drink all over the sound board which stops the concert. The four teenagers get in trouble and are sent to "concert jail".
Miles' dad comes and says that they can all go home while he talks to Miles. Maya and Tristan talk and she says that he has been ditching her for the whole night. He says he was afraid that she was going to ditch him for Miles or some future French boy they may meet. She says that would never happen. They then decide how they they are going to get home if they don't have any money for a ride. Miles then walks over and overhears them talking. He stops and gives Maya his credit card and tells her the PIN. She thanks him and she and Tristan goes home.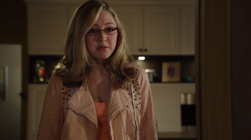 Maya gets home 20 minutes late and her mom says she can't go to Paris. Maya complains that it isn't fair and says that she hates her. Maya walks into the kitchen and Katie says that was harsh. Maya asks if she thinks that she shouldn't be going to Paris either and she says that they should talk in the morning. Maya then takes her things and heads to Tristan's house. She sleeps there overnight and the next day, Katie calls her and asks her where she isn't but she doesn't say. Tristan and Maya are at The Dot having breakfast and when they get the bill, Maya takes out Miles' credit card and uses it. Then she says she should return it to him but Tristan thinks it is a bad idea. Maya says her mom already thinks she is a bad-ass so she decided to why not be one.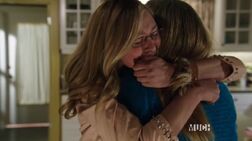 Later, Maya arrives at Miles' house where his father is having a party to start his run for mayor in the fall. Maya sees Miles and she returns his credit card to him and he introduces his best friend Chewy, to her. Miles begins drinking and offers some to Maya. She drinks it but later when she gets a text from her mother saying that she should come home, she drops the bottle and it hits the floor below which startles the guests. Miles' father then comes and drag Miles to a closet. Miles' father and him are arguing then later they come out and Miles is mad at his father and decides to jump into the pool. Maya then leaves, saying that she can't be around guys like him.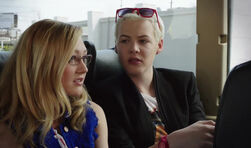 She arrives back home with a bouquet of flowers for her mom. Maya apologizes to her mom about her harsh words and they both hug. Katie tells Maya that she's getting ready for soccer camp and Maya says that she feels like that everybody is leaving her. Their mom comes in and says to Maya that she and their dad talked and decided to let her go to Paris. Maya is happily jumps up and down in excitment. 
Maya gets on the bus heading to Paris and sits next to Tristan. She tells him that her mom changed her mind and allowed her to go to Paris. They see Miles and Winston on the bus. Maya asks Miles what is he doing on the bus. Miles says that his dad decided to send him to Paris for the summer and had Winston go with him. Miles says "It looks like we're going to spend the summer together, after all". Maya says that she's spending the summer with her best friend, not him, before leaning back into her seat. Zoë asks Maya if she and Miles are going to hook up. Maya says no and Zoë says "Awesome... let's keep it that way". Tristan says to Maya "This summer is going to be cray-cray" as he and Maya laugh.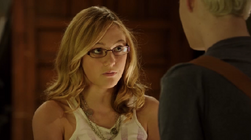 In
All I Wanna Do
, Maya and Tristan are excited about shopping and love in Paris. Maya is roommates with Zoë and
Alli
. When Maya walks into the boy's room, Tristan claims that Maya is his girlfriend after he feels like he has to act straight in front of Miles and Winston. Maya goes along with the act for a little bit, even going as far to kissing Tristan, but tells Tristan that she doesn't want to have to be pretend to be his girlfriend for the entire trip. Tristan explains to her that he feels like he has to pretend to straight since people like Miles and Winston wouldn't be comfortable around him since he was gay.
In My Own Worst Enemy, Maya smiles when she sees Tristan and Miles walk into the room. Tristan tells her that he's convinced that Miles has feelings for him and tells her about the hug they shared the previous day, which he's told her many times already. Then, she watches Tristan and Zoë talk about if Miles is homosexual or not. When the class starts, Madame Cliquet tells them about the assignment they're suppose to do and Maya doesn't seem to understand what's she's saying.
After Tristan has spent time with Miles, he tells Maya an exaggerated story about him kissing Miles. They both are about to walk into a room and see Zoë on Miles's lap, shocking them both. Later, Maya is seen playing guitar with Jenna until Alli interrupts and tells them both about how she screwed up her date with Leo. Maya tells her that it seemed like a really good date and she, along with Jenna, convince Alli to make it right.
In About A Girl, Maya complains when Tristan stops going to class. He says he is sick but really he is heartbroken over seeing Miles and Zoë together. When Maya asks him his symptoms, he makes some up. Maya tells him it's not like they are going to make out in class but as they walk in Zoë and Miles are, in fact, making out in class. Tristan sarcastically tells Maya he is going to barf. Maya walks in to class and asks Chewy to tell Miles to stop the PDA with Zoë. Winston says he won't since if a person tells Miles to stop doing something, he'll only doing it twice as bad.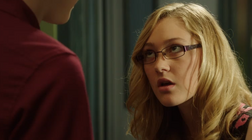 Later, Maya sees Zoë and Miles kissing from the balcony. Maya leaves the room and comes back with a bucket of water and Tristan is there. She tells him she is going to "dose that flame", much to his delight, and pours the water off the balcony. It ends up hitting
Madame Cliquet
, and Tristan and Maya get detention. Maya tells Tristan that at least they don't have to see them kiss in detention. At detention, Tristan leaves to go get gloves when Miles comes in and confronts her about the water obviously being meant for him. She tells him the attempt was for Tristan and calls him out for making out with his girlfriend Zoë, out in public all the time. He says that they aren't exactly going out and that he kisses any girl who asks nicely and tells her to ask him.
After firmly insisting she doesn't like him, she starts yelling at him for kissing Tristan and getting his hopes up. She then turns to find Tristan there, hearing the whole thing about him, and takes off in humiliation. Just as she begins to follow after him, Miles says wait and she slowly looks at him. He asks if she's sure she didn't want to kiss him and she walks away annoyed.
That night, Maya goes into Tristan's room to apologize. She tells him she didn't mean to say all that about him but that Miles thought she liked him. Tristan asks her if she did and she responds that she doesn't. Tristan explains that now he looks like a lovestruck puppy and that now Miles knows he is heartbroken and not just sick. Maya apologizes but Tristan doesn't accept it and tells her that they are done.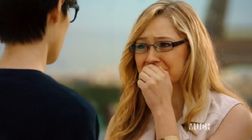 In
Cannonball
, Maya walks in on Miles and Winston getting dressed while trying to find Tristan. Miles says that Tristan already left before they woke up. As Maya is leaving, he says that she should take someone with her, and she takes Winston. When Maya says she doesn't need a guy like him around right now, he looks upset and throws Winston his shirt. Later, when Winston convinces Maya that she needs Miles to find Tristan because he speaks French and knows his way around Paris, they walk in to see Miles and Zoë sitting on his bed. Miles, at Zoë's suggestion, makes Maya ask nicely in French for help. He then seems to push Zoë aside carelessly, eager to help Maya.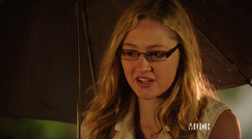 It is raining outside when they go to find Tristan in the evening, and he is carrying a black umbrella. He stops by a fast food place, making Maya upset, and offers her a fry. When Maya looks like she is about to cry and says she doesn't know what to say to Tristan even if they find him because she is a terrible friend, Miles assures her that it's okay and to walk across the street where Tristan is. He gives her the umbrella and leaves.
In class, Maya and Tristan are doing a presentation on the pillory as a form of public humiliation, and Maya suggests Miles try it out. Tristan jokingly asks if anyone has any rotten fruit to throw at Miles. When the bell rings, Maya and Tristan almost leave Miles stuck in the pillory. When Miles calls to be let out, Maya stays back and asks quietly why he was so nice to her the other day. Miles says she caught him on a good day. They stare at each other for a little bit before Zoë interrupts, telling Miles he promised to take her out to this fancy restaurant. Miles seems slightly reluctant. Maya lets him out of the pillory, but before he leaves the classroom following Zoë, Miles tells Maya he'll see her around with a smile.
In Honey, she is seen in class listening to Madame Criquet about going to a fancy French restaurant. She and Tristan laugh and whisper to each other about how they're going to order their food in weird French accents. Then, Madame tells the class about the attire they need to wear and they aren't supposed to wear vulgar t-shirts. She primarily said to Winston and then he and Maya laugh about it. Then, Zoë makes fun of Maya for wearing sneakers and having flat feet; then, Maya makes fun of Zoë for wearing "hooker heels." Maya then appears to be angry when seeing Zoë and Miles kiss each other and feels embarrassed about her "flat feet". Tristan then convinces Maya to go on a fashion montage with him.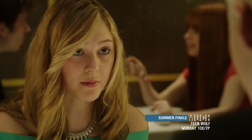 Maya and Tristan go on their fashion montage and are seen trying on hats and posing. They go across the street and see a green dress in the window. Both love it but know it will be too expensive. Tristan then says that Maya should use her mom's credit card because it is a "fashion emergency". Maya agrees to buy it then return it at the end of the night so her mother will never know. They both decide to go to dinner very dressed up to show up Zoë.
When they arrive at dinner, Miles seems flattered by how Maya looks, not even able to form a sentence, which angers Zoë. Zoë then spills her drink on Maya's dress on purpose, angering everyone. Tristan then takes Maya into the bathroom to clean up.
They come back where Maya tells Tristan how she doesn't know why Zoë hates her so much. Tristan says it's because that Miles obviously likes her, which she doesn't believe. Tristan says its obvious that Miles is into her and Maya says that if he did then why he would be "swapping spit" with Zoë all the time. He says it's clearly to make her jealous. Miles then comes over and informs them that he ended his relationship with Zoë because of how she treated Maya. He also brings up that Zoë has this "crazy idea" that he's into Maya and accused him of having feelings for her. Hearing this, Maya looks back at Zoë who is angrily in tears. The next day, everyone leaves Paris and Maya looks very tired. She kisses Madame goodbye and gets on the bus. She says how relieved she is that the store took the dress back, then complains about leaving at 4am and rests her head on Tristan's shoulder to go to sleep. Tristan then tells her to sleep with one eye open because Zoë is staring back at them angrily. 
In
This Is How We Do It
, Maya is seen in the assembly with Tristan talking about Miles, She tells Tristan she wants to focus on music, not boys, causing Tristan to make a comment about why she got contacts then. Miles and Winston walk in and Miles stares at Maya as he tells Winston there may be one or two girls worth checking out at Degrassi,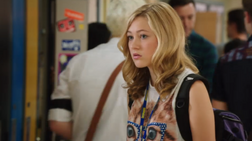 clearly referring to Maya. She is then seen clapping when the Student Council is introduced on stage.
Later, Maya is seen in class laughing with Tristan when Miles walks in and sits next to her on a desk. The two begin flirting and both seem disappointed when it is revealed Zoë now goes to Degrassi. She then watches Zoë splash her drink on Mr. Perino and looks shocked. She is seen walking in the hallway with Tristan and Miles talking about music and basketball. Zoë approaches them and she watches Miles tell her off. She gives her a long sympathetic look before following after Miles and Tristan.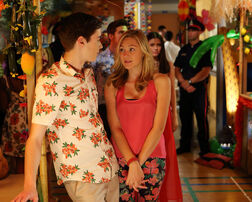 In
You Got Me
, Maya, Miles and Tristan interrupt Zoë talking about Drew at the ticket table to purchase tickets for the dance. She is shocked when Zoë reveals she and Drew are together now, then tells her she'll see them both at the dance. At the dance, Maya is seen walking in with Tristan, Miles and Winston and questions why it's so quiet. Later, she is seen flirting with Miles when she notices Zoë and Drew slow dancing in front of them. She watches as Drew bugs out on Zoë and laughs when Miles makes fun of her. She is then flirting with Miles once again, this time in front of Zig. Zig waves at her and she awkwardly waves back. After Miles leaves, she goes up to Zoë and apologizes for laughing about Drew and feels she should have warned her since he "screwed over" her sister last year. She says that she wants to make amends and for them to be friends. Zoë seemingly accepts her offer and the two have a make up hug. However, unknown to Maya, Zoë secretly plans to get back at her for "stealing" Miles from her and smiles evilly as she hugs Maya.  In
You Oughta Know
, Maya is seen walking into class with Tristan and Miles, who are discussing their basketball try outs. Tristan tells her how he needs a best friend, which Maya mockingly takes offense to, causing him to explain that he needs a "guy best friend". He thinks Miles is warming up to him and tells her how he invited him to his house afterwards, Maya says Miles invited her as well. Tristan asks if he unknowingly volunteered to be a chaperone for a date, Maya calls him a doofus as Miles was having a party; hence, everyone is invited to come. She later makes a quick appearance walking by the pool during the party as Clare arrives to Zoë. Maya is later seen with Zoë and Tristan, who is telling her about Miles wanting to take steroids and is visibly concerned.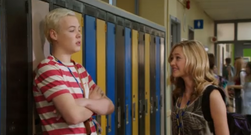 In Everything You've Done Wrong, she makes a brief appearance arriving next to Tristan after he has a fight with Miles over the fake steroids he gave him instead of real ones. She advises him to come clean to the whole team when he has another idea instead to save himself from further trouble, which she doesn't think will make things any better. 
In Who Do You Think You Are, Maya performs a song in front of her class and, following this, is finally asked out by Miles who invites her to attend a concert with him. Maya is clearly hesitant and asks if she can get back to him on that, much to his disappointment. Tristan asks her about her date with Miles as she goes to her next class, only for her to say she isn't sure on account of her bad history with guys and desire to focus on her music career. Tristan says that she's only ever been in one relationship and that just because her relationship with Cam ended tragically, doesn't mean she can't take a chance at happiness with Miles.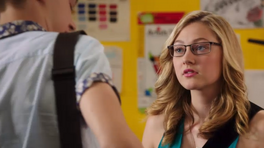 Maya hushes him as Zoë comes in the room, not wanting her to hear. Tristan says how things seemed good between her and Zoë, but Maya admits she is still unsure about how she would feel about her and Miles becoming "anything".
Zoë then comes up and asks Maya if she thought about doing a music video for her song. Maya admits that that she was thinking about doing a simple music video with her guitar and uploading it onto Youtube, but Zoë reveals that she has professional contacts and how she wants to use the West Drive set for her video, along with herself directing. Tristan insists Maya do it and Maya asks what's in it for Zoë. She says she is only trying to be a good friend and Maya accepts.
Later on set, as Zoë is showing them the set of where her old character's bedroom is at, Maya tries telling Zoë about her idea for a video before Zoë introduces them to Maya's music video co-star who Tristan is immediately fancied by. Zoë then tells Maya about her own idea for a video; she brings a guy home and is really hesitant about him seeing the real her, but soon begins taking off layer after layer of clothing before she is bare to him. Maya immediately refuses to do any nudity, but Zoë insists it will only appear as though she is naked and that it will be tastefully done in an artistic manner. A reluctant Maya asks Tristan for his opinion, and he says lots of stars do sexy music videos. Maya agrees to do the video. They then film the video as Maya awkwardly does her romantic and sexy scenes with her co-star. They then watch the edited and completed version, alongside Miles, at Degrassi.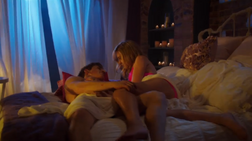 Maya is ecstatic about the video, believing that this will be her shot at becoming a known as a real musician and then notices Miles' tense expression. She asks him for his opinion and he says that the video is "fine if you into porn" before he abruptly leaves the room as a concerned Maya watches. Later on, Maya meets up with him in the hallway and asks if he's mad at her. Miles asks why that would be the case, causing her to bring up the guy in her video and he says it's not like she's his girlfriend. Maya begins to apologize for turning him down to go the concert with him and he says that he figured she just wasn't ready for a relationship when, in reality, she just wasn't ready for him. Maya tries to reason that isn't the case at all and he says he'll find someone else to go with and admits that he's really just surprised - she isn't the person he thought she was. Maya is clearly surprised and asks if it's about what she did in the video. She insists she was only acting and that she was doing it for her music career, causing Miles to conclude, "So you were a slut to get attention".
This comment shocks Maya and he tells her to check her Facerange fan page as everyone is saying the same thing about her before he walks away from a stunned Maya. She sits down and checks out Facerange to see a page that has branded her a slut for what she did in her video with tons of degrading comments along with her face photo shopped on porn and lingerie models.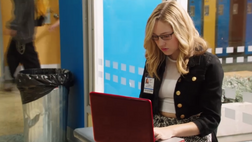 Maya goes to see Zoë and demands the video be taken down. Zoë tells her that a lot of actresses had to deal with such publicity, but that she shouldn't care what people say about her. Maya insists that she cares how people talk about her and Zoë reveals she had to deal with hate from audience members while during her time on
West Drive
, but that she never let it get to her since she still came out on top as a star. Maya takes her advice and tries not to let what people are saying get to her.
However, during class, Tristan comes up to her and asks if she's seen what people are posting about her online. He shows her a couple of new pictures of her and asks if they're real. Maya says they're photo shopped. She says she's trying not to let any of it get to her, but Tristan can see that she's hurting and asks if she's doing okay. The teacher then instructs her to read a report on Jane Eyre and as she tries to read, notices many classmates laughing at her. As she tries to be strong about it, Damon openly makes a degrading remark about her while holding up his cell phone of a picture of her face on a porn model with her phone number on it. The teacher kicks him out of the room and he remarks as he leaves that he'll call her. This remark finally breaks Maya and she quickly gathers her things and flees from the room on the verge of tears as a remorseful Miles looks downward.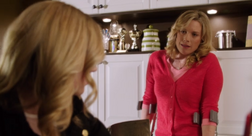 At home, Maya goes through further pages of pictures of her photo shopped on porn models when her mom comes home, concerned about why she skipped class. She tries to lie that she isn't feeling well when her mom sees her opened laptop with one of the pictures on screen, causing Maya to quickly close it. Her mom demands that she opens it and Maya reluctantly does so. Her mom asks if that's really her. Maya assures her that the photos are all fake. She admits to doing a sexy music video and that ever since it's been released, someone created a Facerange page about her being a slut for doing it and how people have been joining in and bullying her and that she doesn't know who would do this to her. She blames herself for doing such a video that lead to the bullying. Her mom assures her that while she shouldn't have done the video, she isn't to blame for people bullying her. Her mom assures her that they'll find a way to get through this.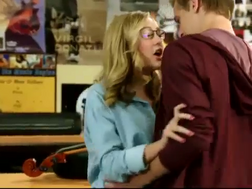 In Barely Breathing, Maya and her mother talk with Mr. Simpson over how to handle the bullying. He says they do not tolerate bullying and have talked with the students. However, they cannot do anything about the FaceRange page and Maya says that despite all that they're doing, it will not make the bullying any better and walks out of the office. She meets up with Zoë outside the office as people continue to stare at her. Zoë asks if they found out who created the page and Maya says they haven't. Zoë comforts her and advises that she stay low for a little bit.
Later, she practices her cello in the music room when a male student watches her before joining her. He says she is very good at it. Noticing her expression, he asks if people are still giving her a hard time about her video and says that if she needs him to "kick anybody's ass" then he has her back. Maya looks at him and smiles before putting her cello away. The guy checks out her butt before commenting "what a sweet back it is" before coming up and groping her. Maya immediately shoves him away, warning him to get off of her. However, he says that he's seen the photos of her and knows that she wants it and begins forcing himself onto her while Maya attempts to push him away. Miles, coming in at that moment, yanks him off of her and punches him in the face before literally throwing him out of the room. Maya, who is in shock, asks him if his hand is okay and Miles says that it isn't, but that it was worth it.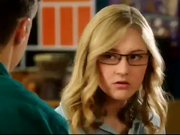 The two sit at the table as Maya says how she should just lay low for a little while since everyone thinks she's a slut. Miles tells her that everybody is wrong about her and admits to being wrong in what he said about her. He asks how many guys she's kissed and she answers only three. Miles says he's kissed around fifty different girls and that someone should make a page about him. She remarks how he's a guy and that they'd "probably build him a statue" and that all she wants if for all the drama to go away. He says that he might have a solution for her and offers her his hand. Maya looks at him for a moment before accepting it and walking off with him. Miles takes her to a hallway and meets up with an older girl who recognizes Maya from her video. It turns out that Miles has payed her to find out who created the page of Maya's bullying. The girl goes through the process of explaining how she managed to crack the original user of the page before showing her laptop screen of the person who started her mass bullying. Maya looks down and comments, "I don't believe it".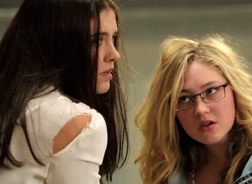 In a classroom , Maya confronts Zoë and demands to know why she did what she did, believing they were friends. Zoë comes out and says that "friends don't steal friends boyfriends". Maya exclaims that she and Miles were not even dating. Zoë remarks, "Whatever, slut". Enraged, Maya takes Zoë's nail polish and spills it over her pants. Zoë asks if she knows how hard it is to get out nail polish, leading Maya to say, "Not as hard as it is to get out bitch!" Zoë pushes her and the two get into a cat fight. The fight is interrupted by a teacher who sends them down to the office.
The two girls meet with Mr. Simpson alongside their mothers, arguing. They get an automatic two week detention for the fight before Maya asks why Zoë not get a more severe punishment for creating the hate page. He asks Zoë if it's true and Zoe acts as though she is sincerely sorry for what she did. Maya is asked if she wishes to press charges, but Zoë's mother insists there is no need for that. Maya's mother agrees as well, much to Maya's shock who says that Zoë's actions ruined her life. Zoë's mother insists to Maya that she will deal with Zoë herself and as they walk out, Zoë gives Maya a smirk. Later, Maya rants to Miles about how Zoë gets off scott free for what she did and she and Miles sing together a playful song about the whole situation. Miles jokes that she should "enlighten" everyone about the true evil person Zoë is. In class, Maya volunteers to sing a song and Miles attempts to stop her. He says he was only joking, but Maya still goes through with it. She sings a song while glaring at Zoë about karma and how she wants her "dead". Mrs. Oh stops Maya and she says, "Let me guess. Go to the office?" She gives Zoë a cold look as she leaves.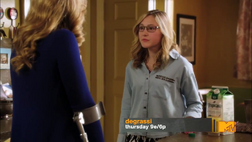 At home, it is revealed that she has been suspended for "threatening" a girl's life and Maya's mother scolds her and says how she is obviously grounded which means no TV or internet, and Maya tries to explain herself, saying how badly the bullying has gotten to her and how people look at her "like she has a disease" and even had a random stranger come up and grope her and how she can't even come home without continuing to get bullied online. However, her mother insists she "turn the other cheek" and not let it bother her. Maya begins to cry and tells her she doesn't get how hard it is, only for her mom to tell her that she should be a better person than her tormentors and rise about their level. Maya excuses herself from the room, overwhelmed in emotion. As she leaves, her mother relents and says that if she wants to press criminal charges against Zoë, they will. Maya is surprised, but her mother warns her about a trial going to be a long and hard process. Maya then requests time to think before making her final decision.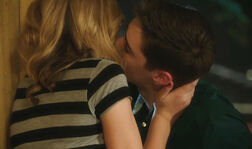 That night Maya is shown playing her cello in her living room while she's grounded when she hears someone tap on the window. Maya stops and looks out to see Miles at the window. He admits that he feels like he pushed her into doing the song that resulted in her punishment, but Maya says that Zoë had it coming. Miles says that Zoë is just jealous of her because she's "talented, funny and awesome" in ways that she'll never be. Maya says that he doesn't have to say things just to make her feel better, but Miles says, "I'm not... trust me". Miles and Maya share a moment before he leans in and kisses her before leaning back. He says that school is going to suck without her. Maya smiles before hearing her mother saying how she said no TV. Maya quickly begins urging Miles out the window before saying a quick, "Wait, no" before giving him one last quick kiss before he descends out the window. Maya fixes herself as if she's been reading as her mother walks in.
Her mom appears confused when seeing the TV off, swearing that she heard it. Maya jokes that she's getting old and her mother asks if she's made her decision about pressing charges against Zoë. Maya says that just because Zoë is an evil person, doesn't mean she has to be and that she just wants to move on in her life especially when she has "things to look forward to". As her mother leaves, Maya looks back the window and smiles happily to herself as she thinks back to her kiss with Miles.
In
Black or White
, she is seen sitting in her living room with Miles, who has his arm around her, and Tristan who is reciting his lines for his acting class. It is reavealed that she is under "house arrest" following her "death threat" to Zoe. She gives Tristan advice about the class monologue and how to convince his instructor to give him a more serious and less comedic role. 
In Spiderwebs, Maya is still suspended from school and finding ways to pass the time. With newfound boyfriend Miles away on vacation for the holidays and Katie away in California, she sees Tristan as her only hope for not being alone on Thanksgiving. Tristan arrives as Maya shows him a fort she made. She says how she has Thanksgiving all planned out and begins telling him her plans just as he reveals he has to cancel. He explains how he has to perform in the Thanksgiving Feast play. Maya tells him to simply come to her house following the end of the show as Tristan hesitantly tells her about Zoe and their renewed friendship. Maya is naturally upset about it and goes into her Fort as Tristan follows, offering to skip the play altogether if she wants. Maya then says she just can't stand the idea of him out having a good time with "that witch" before she gives him her blessing. Tristan then calls her the most "bad ass, blonde friend" a guy could ask for.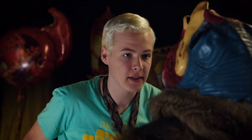 Later, before the play, Tristan is going through wardrobe while practicing his lines just as a person in a turkey costume comes up to him. Tristan is weirded out just as the person removes the mask and reveals herself to be Maya. Tristan asks her why she's there just as Zoe comes up, causing him to swiftly put her mask back on, excited about doing the play together. Noticing Maya in her turkey costume, but not being able to see her face, she asks if its Winston in his suit. Winston then comes up from behind her, asking if they re-casted the role of the turkey in the play. Thinking quickly, Tristan said it's just "some kid who's lost" before pulling Maya away. 
When safely away from the rest of the crowd, Maya is clearly upset when remarking how "he and Zoe seem tight". Tristan tells her to stop thinking about Zoe when they need to "find her a hiding spot before they run into Simpson". Reminding Maya of her active suspension from school. Maya then shows him a pie box. Tristan tells her that he can't eat before a show due to nerves. Maya tells him that it is actually a pie she wishes him to throw at Zoe during the show. Tristan tells her that it could potentially sabotage his performance, but Maya assures him that the little kids will likely love it. He tells her that she and Zoe deserve each other since they care more about revenge then being his friend. Maya tells him that Zoe ruined her life and that ever since she left school due to her suspension, everyone seems to be on Zoe's side instead of hers. Tristan sarcastically remarks, "Yeah, I wonder why" before walking away from an upset Maya.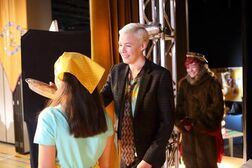 During the performance, Maya watches glumly as Tristan and Zoe perform their scenes together. Noticing Maya's presence, Zoe throws in an extra hug while excitedly calling Tristan her "bestie", clearly to upset Maya. Feeling sympathetic for Maya, Tristan comes on stage and throws the pie in Zoe's face, inciting laughter from both the kids and Maya gleefully. 
After the play, Maya thanks Tristan for doing what he did. She asks if he wants to head back to her place just as Zoe walks into the room, cleaning her face off. Both girls immediately demand to know what is going on, looking at Tristan for an answer. Tristan then calls them both turkey's since they care nothing more than beating each other and exacting revenge. He calls Maya his "BFF always and forever" as she knows that just before Maya asks how the pie tasted to Zoe. 
However, Tristan concludes that since he already exacted Maya's revenge for her, he wants a truce because he wants to be friends with both of them. Both Maya and Zoe make it clear that they still don't like each other, but agree to it. Tristan then declares it a start of a "beautiful friendship" and that they both love the same thing - him. This earns a laugh from both girls.
In The World I Know, Maya is back at Degrassi and is first seen following Mr. Simpson to her new class that he says that she must attend known as "The Rubber Room", which is a class for troubled teenagers to act as a support group due to making a "death threat" to someone. She tries to beg with Mr. Simpson not to put her in there, insisting she was being cyberbullied and to have some leniancy. He says that since she made a threat on someone's life, he was being leniant by just making her attend the class. Maya tries to bargain with him, offering to serve detention everyday and even organizing his file room. Despite all these attempts, Maya is still required to go.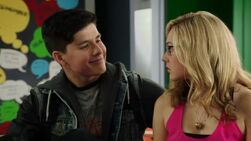 In "The Rubber Room" for the first time, Maya is clearly uneasy being there. She takes a look at all the clearly tougher and more street rebellious kids in her class and nervously takes her seat. As she gets her first assignment, she is titled a "Princess" by some classmates due to clearly not fitting in with them. Her first assignment is interviewing someone, which she tries to easily get out of by asking if she could interview herself, but the teacher says she needs a partner. At this moment, Zig Novak comes in, late, and she is asked if she has met him before. Maya turns and stares at Zig in plain shock. Zig casually says he and Maya go way back and puts him arm around the back of her, making her uneasy. During her interview with him, Maya notices his drastic change of behaviour and begins getting annoyed with his new personality as a street rebellious boy.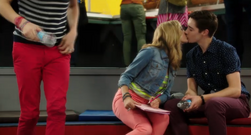 During lunch, Miles and Tristan sit next to her, asking if she wants to go to a resuraunt that Miles suggested for lunch. Maya says that while she would love to go, she has to work on her first Rubber Room assignment. As Tristan asks about it, Maya tells them she is partnered with Zig, shocking him. As Maya and Tristan talk about Zig, Miles asks who Zig is. Maya quickly answers, "Nobody" just as Tristan claims, "Her ex".
As Maya shoots Tristan a look, Miles says that those are two different things. Maya explains that Zig isn't her ex since they never dated, but Miles stares at her. Maya then goes on to explain that her relationship with Zig is complicated since they had kissed, earning a surprised chuckle from him, when he was dating Tori and that they haven't talked since last year. Miles insists it's fine since he isn't going to get jealous over some "Rubber Room skid". Maya looks down awkwardly before Miles says, "Wait, I'm prettier, right?" His comment makes Maya chuckle before she says "Of course" and gives him a kiss.
However, Tristan says that Zig, despite his new behavior, is more than still clearly in love with her. Maya blows off his comment, remarking that he watches "too many teen soaps". She urges them to leave while she finishes her work, giving Miles one last kiss as he leaves with Tristan.  
During their presentation in class, Maya and Zig go up to play each other, talking about why they are there. When Maya remarks he could have dressed up for the part, Zig says he did before putting on a blonde wig, glasses and a princess crown. This earns laughing from classmates and an annoyed look from Maya. During their presentation, Zig begins to make fun of Maya, calling her a "princess" who believes herself to be above the rest of them, frustrating her. When the teacher demands he get back on track, Zig asks why Maya (in the role of himself) is there. Maya, fed up, declares he is there because a girl broke his heart and he can't get over it like a normal person. As the class laugh at Zig getting told off so bluntly, he storms out of the room as Maya sighs to herself.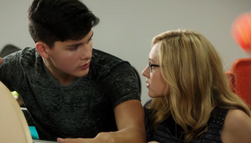 In Better Man, Maya walks into the Remedial Room only to narrowly miss being hit by a smackball. She sees Zig and quickly ducks behind a table with him. She apologizes for calling him out in front of the class, and Zig tells her to save her apology for someone who cares, declaring he hates her. Maya is clearly hurt and stays down as he walks off. She is then joined by Grace who tells Maya to pretend like she doesn't care and says she clearly wants out of the room. Maya says that's true, and Grace assumes it's because she thinks she's better than them. Maya says she does not, and to prove her point, joins the game of Smackball only to almost hit the teacher. As they clean up, Maya asks Grace to help her make friends, even offering her to pay her, but Grace refuses to help her. Grace eventually emails Maya a list of things to do if she wants to fit in.
Maya has Tristan give her a makeover to make her fit in more. Miles walks to them and asks if he missed "make over Monday". Tristan says no, just Maya paying Grace for a list of "Rubber Room Do's and Don'ts". Miles then takes Maya's phone and reads the list of things to do and not to do when you're in the Rubber Room, to which he laughs at. He asks Maya if she really thinks she can do all of this, to which she says she has to if she is going to survive the Rubber Room. Miles asks why she should even care if it's only twice a day. Maya says that being in a room full of people who hate you is the worst. Tristan then asks her to not "turn into that weirdo in the back of the class". Maya then looks at her reflection in her phone and Miles remarks while rubbing her head that she'd "make a cute weirdo". She smiles to herself.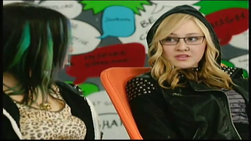 As Maya walks into the room with her new look, Zig, mistaking her for Grace, compliments her before realizing who she is and is clearly surprised. He asks her what she is doing and she answers, "Fitting in". She then takes her seat and Grace compliments Maya on her new look, which makes Maya smile. Maya insults the teacher during class in an attempt to further fit in and Grace asks her to hang out later. Maya says she has class and Grace remarks, "So?" Later on, Maya begins making her way out of the school, causing a group of girl students to get out of her way once looking at her, making her smile. She runs into Miles who reminds her how she's supposed to go into the school in the mornings, not out. Maya then gestures and points to a group of the Rubber Room kids behind him. Miles looks back and turns to her, stating that she is planning to skip school to hang out with them, clearly disapproving. Maya begins apologizing, insisting that now she is starting to finally fit in with them. Despite clearly still not approving, Miles relents saying that she does make a cute weirdo, making her smile. He gives her a kiss before Maya makes her way to the Rubber Room kids.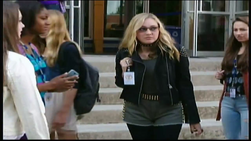 Once there, Zig demands to know why she is there, causing Grace to reveal that she invited her. Zig then yanks off her fake nose ring and says that if she wants to hang out with them, she needs to do something. He then takes out what appears to be a gun, stunning Maya. Grace then assures her it is only a BB gun and to hold onto it. Maya then nervously puts the gun inside her bag as she walks alongside Grace. Inside an empty classroom, a student says the coast is clear as Maya holds the gun and aims it at a fish tank. Maya asks if the fish will die and Grace tells her they might and to just shoot. After trying to make up an excuse, Zig remarks she doesn't have it in her to shoot as the male student tells her to hurry or the teacher will catch them. Grace says she thought she was one of them and Maya tells her to hold on and to give her a moment. She then pulls the trigger, revealing the gun to actually be nothing more than toy.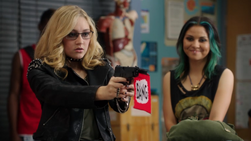 Grace says that bringing a real gun to school would get them expelled. Zig then says that if Maya wanted out of the Rubber Room , then expulsion would do it. Maya then calls them out, saying she can't believe she ever wanted to fit in with them and that she does want out of the room, claiming they are treated like criminals. Zig tells her that some of them are, in fact, criminals. Maya blows Zig's comment off, telling him to brand her a princess and to be mean to her, but that she deserved better. As she walks off, she says they all deserved better treatment.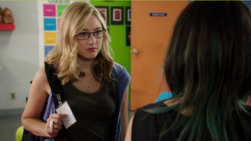 During Remedial class later on, Maya has removed most of her new look clothes and politely answers a question asked by the teacher. Grace joins in, answering as well. After class, Grace invites Maya to hang out with them again, surprising Maya. Grace tells her that she is impressed that Maya stood up to them, earning their respect. When Maya brings up how Zig still doesn't like her, Grace tells that she doesn't want Zig as a friend, warning her against befriending him again. When Maya casually asks if being friends means she gets to have her money back, Grace retorts, "No refunds".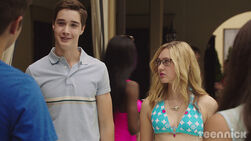 In Dig Me Out, she is seen at Miles' pool party, flirting with him slightly. She notices Drew and Zoe arriving on the scene and is alongside Miles' as he confronts them about their presence at his house. When Miles tries to get them to leave, Drew threatens Miles into letting them stay by saying he'll tell his father that he is throwing the party, along with giving alcohol to minors, in the first place. She comments that he and Zoe are made for each other before she follows after Miles as he walks away. She is later seen enjoying the party by the pool, soaking her feet and enjoying herself.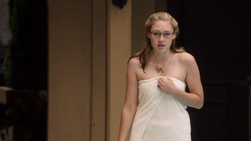 In No Surprises, Maya is hanging out at the Hollingsworth house with Miles when he tempts her into skinny dipping by removing his swimwear while in the pool. Maya hesitantly decides to go through with it, telling him to turn around so she can take off her clothes. He does so, and she says how she can't believe he actually talked her into doing this. 
After jumping in the pool, she says he can look and they stare at each other for a moment before she overhears Miles' father and members of his campaign staff about to come in. She says how he told her no one would be home and rushes out of the pool to cover herself. Maya tells Mr. Hollingsworth they were doing homework as she leaves in a towel after grabbing her stuff.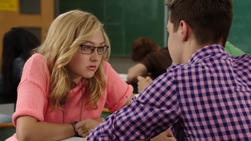 In class, Maya asks him if she left a bad impression on his father and he assures her he has taken all the blame. She says though that it isn't good that his father thinks so lowly of him and suggests that he go the extra mile to impress his Dad. Miles, Maya and Winston then begin to organize a plan to help in Mr. Hollingsworth Mayoral campaign. Miles is excited to show his dad all the work he has put into helping out and goes outside to show him.  
At school, the next day, Miles calls Maya over to his locker. He shows her a necklace that he intends to give to Andrea, his fathers campaign manager, to find out what is really going on between the two. He plans to slip it into her bag and make it appear as though his father was the one who gave it to her. Maya is reluctant for him to go through with the plan, warning him how it could just be one big misunderstanding. He still decides to go through with it to see what is truly going on. She then gives him some advice on what romantic message to put on the card.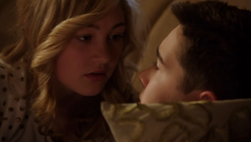 That night, Miles is with Maya laying on her couch together. Miles says he is done with his parents and their political plans and she asks him if he is okay. Miles says that he has her now and then confesses that he loves her. Maya looks up at him in clear surprise before she tells him that she loves him too. She lays her head back on his chest and smiles happily to herself. 
In
Basket Case
, she is first heard over the phone talking to Miles. She is hoping to make plans with him when his parents are away and teases him about "seeing how that skinny dip ends". When Miles throws a huge party instead, she is seen walking in clearly surprised. When Miles comes up and drunkenly kisses her and tries getting her to have some fun, she calls him out on just getting himself into trouble for no reason other than making his father furious with him. When Miles loudly humilates her in front of the crowd, she calmly tells him, "Goodnight, Miles" before walking away and leaving the house. 
Later on, Maya is seen in her living room, reading a book. She then hears loud knocking her window and turns to see Miles standing outside it. Sighing loudly, Maya goes to it and opens it, asking him why he is there. Clearly still a bit drunk, he says he came to apologize and shows her some roses obviously plucked up.
He admits he should have shut down the party when she told him to. She asks if he even cares about her. Miles answers that he wouldn't be there if he didn't and that she's the only thing he cares about. Maya says he clearly cares about his father otherwise he wouldn't be putting all of his energy into making him angry. Miles tells her that he just wishes his father would stop treating him like crap. Maya simply responds then not to give him a reason to. She then shuts the window and closes the curtain, walking away. 
Appearance and Style
Maya has short blond hair and blue eyes and wears glasses. In her early seasons, when the school uniform was going on, Maya wore her school uniform with a coat or jacket sometimes over it. She would sometimes customize with jewelry, usually musical due to her love for music. Maya was also known to stick to sneakers instead of heels, likely due to her never being able to properly walk in them.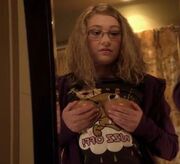 After the uniform code was removed, Maya, like everyone else, began wearing clothes that fit her personality. She would wear clothes that could be considered childish, usually sported with an animal on front with her hair usually down. Due to her childish body, Maya is poked fun at by several boys for being "flat". This brings Maya to decide to try to look more mature, using bra stuffers, but utterly fails when they end up falling out publicly, embarrassing her.
As the season goes on, Maya begins to slowly shed her childish style and evolve her look a bit more, usually wearing solid color and musically themed clothes. Although in somewhat big situations, such as the Battle of the Bands and the beauty Pageant, she will wear more dressy and girly clothes and allow herself to be made up.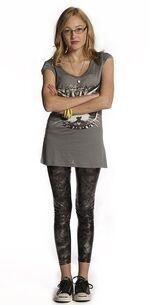 Following her relationship with Cam and his suicide and death, Maya's fashion sense took a dramatic turn. Completely shedding her usually innocent style, Maya began wearly more revealing and provocative clothes such as a sheer, see-through shirt that exposed her bra and wearing short, tight leather shorts, worrying her mother and sister. Even Tristan noticed how instead of her signature sneakers, she switched to wearing four inch heels. However, following properly dealing with Cam's death, she left dropped her wild choice in clothes as well.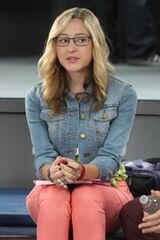 Starting in Season 13, Maya's look became more considerably fashionable and girly. She has stopped wearing clothes with animals designs almost completely and has now switched to a more mature and trendy style, customizing her look with more jewelry such as bracelets, rings, necklaces and wearing matching nail polish. She also wears more bright and colored fashion items with more trendy designs, no longer childish as she usually chose in the past, signifying her growth and gradual maturity. Maya's hair can be seen done up more often than in the past, usually in curls. Also to be noted, she goes back and forth between wearing contacts and glasses. 
Trivia
Maya has appeared in 60 episodes.
She is the second Maya in the Degrassi Franchise, the first being Maya Goldberg.
She plays the cello and intends to play in the New York Philharmonic Orchestra as an adult.
She takes up the trumpet during In the Cold, Cold Night (2), due to wanting a musical challenge. However, after playing it for a little bit, she goes back to playing cello.
Her Twitter.
During In the Cold, Cold Night (2), Mr. Matlin refers to Maya as being thirteen years old, but most students begin High School at 14. Even by the end of the first semester she is 13. This implies that she was born sometime at the end of 1998.
Maya is the third character to feel self-conscious by her breast size. The other two were Melanie and Manny.
Both she and her sister, Katie, have felt insecure about their bodies.
She is the cellist of the band WhisperHug.
Maya is the third character to participate in beauty pageants. The first was Spinner - who participated in male pageants - and the second is Tori.
Maya is the fifth character to have lost a loved one, the others being Becky, Imogen, Joey, Liberty, Mia and Eli.
Maya is tied with Caitlin Ryan for dating a boy who commited suicide and acting out in the aftermath. Also, they were both comforted by a loved one. Maya was comforted by her sister Katie and Caitlin was comforted by her ex-fiancee, Joey .
Maya has appeared in the most episodes in Season 12, while Dallas has appeared in the second most.
She has been involved in the most love triangles. Ironically, she has only ever been in two relationships.
Maya's first relationship and kiss was with Campbell Saunders. The relationship ended when he killed himself as a result of severe depression 3 1/2 months later.
Maya shares the nickname "Grasshopper" with both Adam Torres and Drew Torres
She is the second girl that has kissed Tristan despite him being openly homosexual. The first was Tori.
She is left handed. 
Maya lost two people whom she was close with in the year 2013. She lost her boyfriend Cam in the Spring due to suicide and her friend and former bandmate Adam in the Summer due to a car accident.
Maya has been interested in two of Tristan's crushes. Ironically, both times she was interested in them, they fell for Maya as well. 
In This Is How We Do It, Maya wore contacts instead of glasses. However, as of Who Do You Think You Are, she has gone back to wearing glasses. 
She shares similarities with Manny Santos. Like Manny, Maya has also been slut shamed and called out the double standard between guys and girls. The two have also shared a scene where they take a drastic change in their fashion appearance and strut down the hallways as everyone stares at them. Manny's being in U Got The Look (with her blue thong visible) and Maya's being in Zombie (1) (with her hot pink bra clearly visible through her white sheer shirt). Also, like Manny, they both had conflicts with "Mean Girls".
In Barely Breathing, Maya says that she's kissed three guys. However, prior to the episode, Maya has kissed Cam, Zig, Harry, Tristan and Oliver thus actually making the number five. It is likely though that Maya didn't count Tristan and Oliver since they were staged kisses, not real ones. Also in the episode, Maya shares a kiss with Miles. Therefore, Maya has kissed a total of six guys (or four if only counting "real" kisses). 
Maya, along with nine other female characters were sexually assaulted:

She was sexually harassed following being cyber bullied and slut shamed online.
Liz was molested by her mother's ex-boyfriend as a young girl.
Darcy was raped by a serial rapist who spiked teenage girls' drinks at a party.
Jane was molested by her father as a child.
Bianca was blackmailed and forced into sex with Vince on numerous occasions and was almost raped by her ex-boyfriend Anson.

She has a tendency to write songs directed at or inspired by guys she dates or likes. She wrote two songs about Cam called "Jersey Boy" in Waterfalls (1) and "Actions vs. Words" in Doll Parts (1). She also wrote a song inspired by her growing feelings towards Miles called "Undress Me" in Who Do You Think You Are.
She can play the guitar as well as her real life actress. 
She is the second character to be a victim of cyberbullying. The first was Holly J.
Maya shares similarities with past "good girls" Emma, Caitlin, Manny, and senior, Clare.
Maya is considered the female lead in her era. 
Maya has called herself a bitch twice.
Quotes
Maya: "Yep, there's 199 more like it 'till summer." (first line)
Katie: "Maya, I know you wanted to go to an arts school, but I promise that you'll like it here."
Maya: "Is that an order?"
Katie: "Don't worry, you'll have friends in no time."
-- Underneath It All
(To Zig): "You were with Bethany, weren't you?! You, you scoundrel!"
-- Underneath It All
"I'd tell them to eat my bow..."
"It's a good thing our house is already wheelchair accessible."
Maya: "I'm flat."
Tristan: "Musically?"
Maya: "Chestily."
Owen: "I think you might want this back."
Maya: "Keep it. It's the most action you'll get all year."
Maya: "Zig... I'm so, so sorry. You're officially a member of WhisperHug!
Zig: "No freaking way!"
-- Got Your Money (1)
(To Mo Mashkour) "Shut it, Mo!"
(To Cam): "I guess those four leaf clover boxers actually worked."
-- Say It Ain't So (2)
(To Cam): "Cam, come on. We've been dating for like a month, and we've only kissed six times."
-- Doll Parts (1)
(To Zig) "What part of falling on my ass did you miss?"
(To everyone at the pageant): "I'm a huge bitch."
-- Doll Parts (2)
(To Cam): "You were right, pageants are stupid. I'm so sorry. Please. Will you forgive me?"
-- Doll Parts (2)
"This is so stupid. This is so stupid! Cam doesn't deserve a candlelight vigil. He made a choice. It was the wrong one, but us standing here, feeling sad like this, everyone blaming themselves, feeling guilty, it's no one's fault. I mean it's his fault! He should have fought. He should have fought harder or found someone to help. I would have helped him, but he didn't give me the chance. Cam had so many reasons to stay, but instead he just checked out. Well fine. But I'm not lighting any candles and I won't cry. I won't."
-- Bitter Sweet Symphony (2)
(To Mom & Katie): "What can I say, the Matlin girls like to get busy at the Torres house... while we're being honest here."
-- Zombie (2)
Mrs. Matlin: "What is going on with you and this boy?"
Maya: "Harry makes me feel good. Is there something wrong with that?"
Katie: "It's scary!"
Maya: "Scary?"
Katie: "Yes, Maya. It's scary for you to be hooking up with some guy you barely know!"
Mrs. Matlin: "Katie-"
Katie: "You can't replace Cam!"
Maya: "Why not?! He broke up with me by killing himself! I hate him! I hate him! I feel like I'm never gonna be happy again! And every day it just gets worse and worse - I can't miss him anymore! I can't! I don't want to! He never even said goodbye..."
-- Zombie (2)
(To Zig ) "I am so sick of people telling me who I am supposed to be!"
-- Zombie (2)
Zig: "Maya, saying no to you was the hardest thing because... I really like you. I only want us when it's what you want too."
Maya: "And I don't know when that will be."
Zig: "I know... so I'll wait."
-- Zombie (2)
(To Chewy about Miles) "No, I can't be here. I can't be around guys like him."
-- Summertime
(To Tristan): "We want different things. Actually, we want the same thing. Boys."
-- All I Wanna Do
Maya: "Oh, so you just make out with whoever?"
Miles: "Whoever asks nicely."
-- About A Girl
(To Tristan about Zoë): "Hey, do these look like Converse to you, bitch?"
-- Honey
(To Tori): "Don't tell me what I am."
-- Bitter Sweet Symphony (2)
Miles: "Someone should make a page about me."
Maya: "They would never. You're a guy. They'd probably build you a statue."
Maya in her song about Zoë:
"You were a superstar, now you're a has been
Thought we were friends, but you were just acting
One day I'll watch you die, maybe in your sleep
Put you six feet under so you don't make a peep
Watch your back, you're dead with a capital D e e e e eeeee
The world will be a much better place with out you, Zo e e e e eeeee..."
-- Barely Breathing
Mrs. Matlin: "Suspended, Maya? For threatening a girl's life?"
Maya: "It was a song. Do you really think I'm capable of murder?"
-- Barely Breathing
(To her mom): "You don't get it, do you? I was groped by a random jerk today and people look at me like I have a disease and Zoë gets to go around, laughing and flipping her hair going 'OMG!'"
-- Barely Breathing
Zoë (after Maya spills her nail polish on her pants): "Do you know how hard it is to get out nail polish?!"
Maya: "Not as hard as it is to get out bitch!"
-- Barely Breathing
Maya and Miles duet about Zoë and Maya's anger towards her:
Miles: "You want her dead."
Maya: "Really dead.
Can't stand all of these rumors and fake pics of me in my bloomers.
Got a fan page that's photo shopped and Simpson says it can't be stopped."
Miles: "You want her dead."
Maya: "Really, really dead.
I got the lying, sneaky bitch is gonna rot in hell backstabbing friend blues. Yeah."
Relationships
Campbell Saunders

First Relationship:
Second Relationship:

Start Up: Doll Parts (2) (1224)
Broke Up: Bitter Sweet Symphony (1) (1231)

Reason: Zig made Campbell think that Maya's life would be better off without him, which triggered his break down. He broke up with her over text and committed suicide in Degrassi's green house.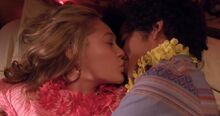 Main Article: Maya-Harry Friendship
Harry (Ex-Friends-With-Benefits)

Start Up: Zombie (1)  (1237)
Broke Up: Zombie (2)  (1238)

Reason: Maya was only using him as a replacement for her dead boyfriend, Cam, and she finally learned to properly deal with her grief.
Love Triangles
Zig Novak and Harry

Start: Zombie (1) (1237)
End: Zombie (2) (1238)

Reason: Maya realized she wasn't ready for a relationship with any boy until she was finished coping with Cam's suicide.