Maya Matlin
is a freshman (Grade 9) at
Degrassi Community School
. Unlike her older sister Katie who is a soccer star, Maya loves music, and is a virtuoso cellist. However, like Katie, she's always up for a new adventure or challenge and is always determined to do the best she can. Unafraid to speak her mind and not interested in gaining popularity or what people think of her, she often finds herself in trouble. Maya is insecure about her body image and wants to look more "mature." She is caring and understanding towards her friends and is always there for advice. After the suicide of her first boyfriend,
Campbell Saunders
, Maya began acting out in a sleazy manner; flirting with all the guys, dressing in revealing clothes, partying, and drastically changing her personality. She is the younger sister of
Katie Matlin
, and
 best friends with
Tori Santamaria
 and Tristan Milligan
. She is also good friends with Zig Novak, who she used to have a crush on. Maya is also shown to be friends with 
Marisol Lewis
,
Mo Mashkour
,
Adam Torres
, Talia, and
Imogen Moreno
, while being on good terms with
Damon
and
Mike Dallas
. She is currently a member of the band
WhisperHug
, and even writes some of their songs.
Maya is portrayed by
Olivia Scriven
.
Character History
Season 11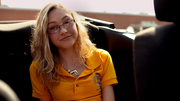 In
Underneath It All
, Maya is first seen in
Marisol
's car along with older sister,
Katie
. Katie gives Maya advice and tells her to try to have fun in Degrassi, though Maya does not seem enthused. While looking for the music classroom, Maya runs into
Zig Novak
, and agrees to pretend to be his girlfriend while he avoids the flirtatious attention of his classmates. The two introduce themselves and Zig invites Maya to
The Dot
after school. Maya apologizes to
Ms. Oh
for being late to class and picks up the cello to play. She overhears
Tori
and
Tristan
talking about Zig and asks if they are friends. The two reply and tell Maya to stay away from Zig. Maya is then left confused. While waiting for Katie to pick her up, Maya is on Zig's
Facerange
page and closes it when Katie notices. Katie tells her not to listen to the gossip and give Zig a chance. At
The Dot
, Maya asks Zig about the rumors and he tells her about his relationship with Tori. In music class the next day, Maya is confronted by Tori, who spits on her from her trombone. Maya and Tori get into a fight and are sent to
Principal Simpson
. Maya tells Mr. Simpson that Tori is just jealous. Maya then agrees to help Tori, unknowingly getting them back together. Maya then realizes how much she may actually like Zig, but cant do anything about it because Tori demands she gets back together with him.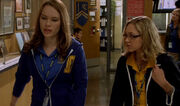 In Can't Tell Me Nothing (1), Maya asks Katie if she's okay suspecting purging when she catches her going through the fridge. Katie tells her she's fine. Maya believes her and leaves.
In Can't Tell Me Nothing (2), Maya catches Katie sneaking pills from their mom's bottles and promises to not tell on atie. She just needs to make it through her try out and then she'll stop taking the pills. Maya is even more worried about Katie once she gets detention and tells her its a bad idea to run on her leg. Maya greets Katie along with her mom and takes the rest of the pills so Katie can't.
Need You Now (1)
, Maya is seen in the hall with Tori and Zig, as the three go to their lockers while Tori goes on about Power Squad. Maya seems sad when Zig and Tori hug, and annoyed at them being a couple.
In Need You Now (2), she notices Tori sad in her mascot uniform. Maya tells her that she should stand up to Zig, and not let his skateboarding come between her cheerleading.
In Hollaback Girl (1), she was seen entering the kitchen in the middle of the night to see Katie soaking wet (when Bianca sprayed her with water) and Bianca informing her that her older sister is high on pills.
In
Hollaback Girl (2)
,
Maya interrupts a conversation between Drew and Bianca to deliver the news that Katie has had an overdose. As she walks into school, she can be heard complaining about the fact that she shouldn't have had to come to school given the circumstances. In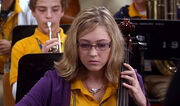 In The Cold, Cold Night (1)
, Maya feels frustrated in music class where the piece they've been assigned is far below her capabilities. Maya tries to practice at home, but Katie is exhausted after her first day at rehab and Maya has to stay quiet. Still disappointed that she's not at an arts school, Maya's dad suggests she drop the attitude and talk to Ms. Oh. Maya apologizes to Ms. Oh and asks her to be bumped up to the Grade 11 band, but Ms. Oh won't consider it for another year. Ms. Oh suggest that Maya study theory instead of playing with the band, and Maya agrees. While studying theory, Maya spots an advertisement in the classified sector of the paper asking for a cellist for an Indie band. She ambitiously circles it.

In In The Cold, Cold Night (2), Maya is debating which shirt to wear to her audition that evening outside of her locker. Tori comes along and tells her to wear the "Foxy" shirt, but to be sure to expose her shoulder when doing so. That night she is sneaking out of the house in the said shirt with her cello when her father catches her. Maya and her father argue, and she tell him she doesn't feel challenged enough in the school band. She is eventually persuaded to go to bed without attending the audition. The next day at the Frostival, she arrives with Katie 's trumpet, saying that it's her musical challenge. When she epically fails on the trumpet during the band's performance, Ms. Oh, Tori, and Tristan, as well as Maya, all find it amusing.
Season 12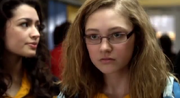 In
Come As You Are (1)
, after the annoucement about uniforms being gone, Maya, Tori and Tristan are at their lockers talking about going shopping at the mall. Maya tells the two that she's going to try and audition for Mo's rock band. While the 3 are talking,
Dallas
and his
hockey team
walk by and he makes a comment about Maya's chest being flat which Maya is obviously angered by. During lunch, Maya talks to Mo about auditioning for his band, which he replies to her needing to be more "mature" while glancing at her chest implying she looks too young. While at the mall with Tori, Tristan, and Zig, they talk about how she is flat chested, Tori and Tristan try telling her she has an amazing body, but Maya is seen looking at a poster of a girl with a bigger chest and starts feeling insecure. She tells Tori she needs to look like "that" to be in the band to which Tori replies that she doesn't need implants because she has another idea. While practicing her cello, Maya looks at herself in the mirror and puts in the breast pads that she got and thinks this will make her look more "mature" for her audition.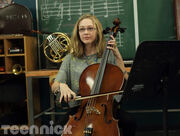 In Come As You Are (2), Maya comes to school with her "chicken cutlets" on but when she shows Tori, they seemed to be looking like a "uniboob" instead. Tori tries helping her fix the chicken cutlets in the hall while people look at them and than Tristan shows up from behind and ask them how they're doing. While Tristan and Tori are talking, Maya looks at herself thinking she looks more "mature." Later while Mo's having his auditions, Maya volunteers to go next. Mo seems to be very impressed with Maya's musical skills. Towards the end of her song one of her "cutlets" falls out of her shirt and everyone including Maya look towards the ground. Maya continues to play her music while Mo tries pointing out her "cutlet" fell out but Maya ignores this. Once Maya finishes her audition she looks at everyone and runs out of the room. While at her locker (trying to find her sheet music), Tori approches her and tells her she heard about the incident and the fact that everyone is calling her "chicken cutlet." Maya than asks her why does she have to wait to get boobs where as Tori already has them. Tori reveals that she failed 4th grade and that she would trade her boobs for Maya's musical talents anyday. The two walk down the hall while Tori supports Maya throughout the rest of the day. While leaving school, Mo tries to talk to Maya, but she and Tori start walking away fast, when Mo catches up to them, Maya is expecting him to make fun of her, but instead he asks her to be in the band which Maya happily accepts. As Maya and Tori are about to leave, Owen and his hockey team walk by with Owen making a comment about being hungry for a "chicken cutlet". Instead, Maya throws the other cutlet at his head. Owen tells her she might need it which Maya replies, "It's the most action you'll get all year." Maya starts to apologize to Tori about her cutlets, but Tori says it's okay and that Maya is her hero and the two girls walk away.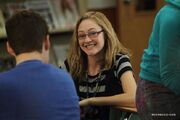 In Gives You Hell (1), Maya is first seen in French class with Tristan translating. When the teacher asks for a volunteer to be in Campbell's group, Tristan forces Maya to raise her hand. Maya introduces herself and says that the class is a wild ride. The next day Maya tries to make Tristan feel better about how he acted around Campbell, unknowingly revealing that Campbell friended her and not him. Maya accidently leaves her Facerange profile up, just as Campbell tries to talk to her. At lunch, Campbell comes up to Maya and offers to lend her his Lost DVDs, because she supposedly mentioned it in their chat. Tristan urges her to play along, so she does and smiles at Campbell as he leaves. Tristan confesses that it was him talking to Campbell and that they have a lot in common. Maya convices him to go talk to him, and apologizes when it doesn't go well. Campbell later comes up to Maya and Tristan to apologizes and hopes they don't think he's a jerk. Maya looks at him as he walks away.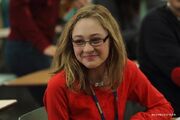 In Gives You Hell (2), Maya is first seen getting her French homework and Campbell chat logs from Tristan. Maya tries to get Tristan to confess about faking being her. He says he will once they're besties. Before Tristan can warn her, Campbell comes in and asks if she's psyched. Tristan secretly explains to her that he's talking about the school musical, to which Maya complains. Campbell offers her advice, and they continue with class. Later we see Maya with Tori and Tristan at the audition supporting them. Later, Campbell comes up to congratulate Maya on her role in the musical, when it was actually Tristan who got it. Maya forces Tristan to come clean and says to Campbell it was partially her fault as well. She is seen comforting Tristan after Campbell says they'll never be friends.
In Got Your Money (1), she is first seen telling Zig that he made it into WhisperHug. After Tori comes over to congratulate him, the three walk into their class. Later on, Maya is seen rehearsing Be My Someone with the band. When the group begins to call Zig cheap she tells him that Tori spent five-years worth of allowance and that she really cares about him. After Tori and Zig start having problems and Zig tries to join her and Tori, she tells him that Tori doesn't want to talk to him and that he should leave. Later on, she helps Zig by bringing Tori to Little Miss Steaks and leaving them to work things out.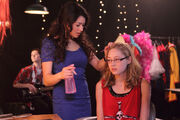 In
Got Your Money (2)
, she is shown at the front of the school telling Tori and Zig that Marisol booked WhisperHug to play at the dance. The three are excited and when the bell rings, she and Tori go to their class. Later in the day her locker is searched and she follows Zig with Tori to find out that he had stolen the student council money. He gives it to her and she tells him that she won't tell anyone. That night, she is seen having her hair fixed by Tori. Once they go onstage she performs
By My Someone
with the band.
In Say It Ain't So (1), she invites Cam to her table and watches Dallas pull him away.
In Say It Ain't So (2), she is first shown at the cafeteria getting lunch with Campbell, Marisol, and Mo. She compliments Cam on his nice clothing and says it's cool how he has his own group to dress with. She notices that he is nervous and tells Mo to shut up when he makes a comment to him. He tells Cam that he'll be fine and he snaps at her. That night, she is at Little Miss Steaks with her family and goes to get a drink. Cam approaches her and apologizes and he helps her get her drink. He asks if they can hang out some day after school and she accepts before walking back to her family.
In
Waterfalls (1)
, she is first seen in class with
Tori
and
Tristan
and talks about her date with
Cam
. She asks Tristan if it's okay and he tells her to go for it. She and Cam want to go to the mall, so she goes to the garden to ask
Katie
for a ride. Katie asks what it's for and realizes it's a boy. When Maya says that it's Cam, Katie says no and that hockey players are bad news in which Maya replies that just because Drew dumped her doesn't mean all jocks are bad. Katie eventually accepts but says that she will chaperone to Maya's dismay. At the mall, the
three of them are seen getting out of a movie while Katie berates Cam with questions. Maya tells him he doesn't have to answer and points out "Drew and Bianca kissing" to distract Katie while they run. The two turn the corner and head into a photo booth where they talk about their siblings and Cam's home life while taking pictures. Maya tries to kiss him and he pulls back, saying they should probably find Katie. Later on, Maya is seen telling Tori about the date as she gives her advice.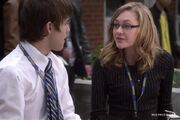 In Waterfalls (2), Maya talks to Cam in front of the school, and gives him the option of where to go for their next date. Cam says the garden, and Maya agrees. Later on, they're at the garden and Maya has a buffet of food set out for them and while they eat, Maya asks him about his hockey career. Cam seems a little disappointed at the conversation, and Maya spills juice on him. Cam gets up and says he'll go change shirts, and they stand there awkwardly in front of each other. As she leans in to kiss Cam, Maya gets a mouthful of Cam's ear when he turns the other way. Maya steps back and tells him to "break a leg" at his game. Cam then walks away. Later in class, Maya is texting Tristan and Tori about her date with Cam. They get caught and the teacher reads aloud the messages. Cam is upset by them, and when the bell rings, he walks out of the room in a rush. Maya follows him and says she's never had a boyfriend before, she doesn't know how anything works, and she just wants him to like her. He then tells her that he thought she actually cared about him, and not the fact that he was a hockey star. He walks away and leaves Maya distraught. After school, Maya is in her room playing the cello when Cam walks in and tells her Katie let him in. He moves Maya's cello over, and kneels in front of her, telling her that he's never had a girlfriend before, and he was just nervous. He then leans in and kisses her, thus beginning their relationship.
In
Rusty Cage (1)
, she is first seen in class with Cam, Tori, and Tristan talking about karaoke night at Little Miss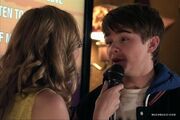 Steaks. She and the others keep trying to convince Cam to take a break and have fun with them but he keeps saying no. At Little Miss Steaks that night, she watches with Tori and Tristan as Zig performs. She is surprised when Cam comes behind her and is happy when he tells her practice was cancelled. When Zig finishes, she tries getting Cam onstage with her and with much persistence, finally gets it. She starts to sing, and tries to get him in the mood and after a bit of lyrics, the two have a lot of fun. Back at school, she sneaks up on him and they talk about the other night. When Dallas and
Luke
walk up and ask about how his flu was, she realizes that he actually skipped practice. When they show him the picture of them at Little Miss Steaks, she watches as they pull him away.
In Scream (1), Maya is seen as Tristan tells her about the cute mystery stage guy. Later, she walks with him to his locker and he finds a rose and a note from a secret admirer so that they can meet. Tristan has rehearsals, but he says 'its for love' and goes.
In Scream (2), she and Zig were jamming together, but Tori interrupts them, and makes them come with her to find Tristan, who is missing. Maya finds Tristan locked in a closet, along with Tori, Zig, and Owen. They tell Tristan to get on stage because they all love him.
In Building a Mystery (2), she is seen performing with WhisperHug at the Student Council fundraiser.
In
Doll Parts (1)
, Cam and Maya are in his room sitting on his bed. He is doing his homework while Maya is practicing a new song she wrote about him. After she asks him for his thoughts about the song he replies about his stressful homework and can't comment. She tells him to take a break in an attempt to get his mind off of the assignment but he says he can't due to an upcoming test. Maya then mentions they have been dating for a month and have only kissed six times, Cam gives Maya a quick kiss and says seven. Maya, a little hurt asks if that's all she's getting, he tells her that with everything going on it's hard to get in the mood with her. To help him she takes off her shirt and throws it at him. Confused, he asks her what she's doing then worries his billet mom might come in the room. She tries to grab her shirt back and falls off the bed before quickly leaving.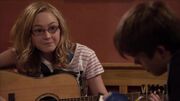 Later at school after asking for girl advice from Tori, Maya decides to have a make over so she would look prettier for Cam and possibly compete in a beauty pageant. After Tori and Tristan finish she asks if Cam would like it, Tristan replies that he'd be crazy not to. She goes to Cam's locker and asks him about her new look. He asks her why she is dressed like that and laughs when she tells him that she was thinking about doing a beauty pageant, saying it's not her thing. Upset and almost in tears she yells that she doesn't know what he wants and runs into the music room. Zig finds Maya crying and alone, she explains to him that Cam laughed and he tells her to compete because she should want to not because of what Cam thinks. After the pageant Maya calls Cam and breaks up with him, ending their first relatonship.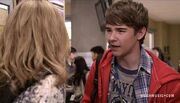 In
Doll Parts (2)
, Maya is talking to Zig about helping her with her song at the pageant when he spots Cam, she mentions that they broke up and he apologized asking why she didn't tell him. She says she didn't feel like broadcasting it to the world, then he asked if things would be awkward. She says no and he leaves. Cam comes up and says he messed up, then asks for a second chance and if she still likes him. Maya says liking him was never the problem, he asks what's wrong and she says he doesn't like her. He says that's crazy. She says that Zig tells Tori she's pretty all the time and he never says it once. Cam says he didn't know he had to, she says he doesn't have to. He apologizes and tells her he's not like smooth like Zig but he really does think she's pretty. Maya asks why he never wants to kiss her, he sighs and says he would try harder. She says he doesn't have to try and that Katie was waiting for her, then walks away leaving Cam hurt. After kissing Zig, Maya feels guilty and regretful. When she is about to admit her flaw, she freezes and calls herself a bitch then runs off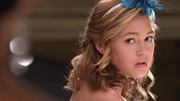 the stage. She goes to Cam's in tears and tells him he was right, that pageants are stupid and asks if he could forgive her. He does. The next day at lunch Cam, Maya, Tori, and Zig are all sitting together discussing the pageant. Tori won from her speech and Maya says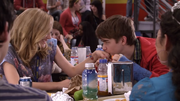 she earned it, they both apologize and Tori mentions that she can't believe Maya lost and that she looks so pretty. Cam says that Maya always looks pretty before kissing her hand as Zig looks on jealous. The bell rings and Maya stays behind telling Zig she regrets the kiss and that she was confused and caught up in the pageant then leaves with Cam before they share a quick kiss.
In I Want It That Way (1), Maya is seen with her best friends Tori and Tristan while all three of them go to yoga class. She is at the mall with them later on. She is also seen telling Tristan a cleanse is a bad decision.
In I Want It That Way (2), Maya is eating lunch with Tori and Tristan, and she is worried about Tristans health. She sees signs of anorexia and warns him that not eating is very unhealthy.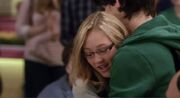 In
Tonight, Tonight
, Maya is helping Cam study for their French exam. She is explaining conjugations to him and he says to her "tu es très belle", meaning you are very beautiful. She smiles and tells him that won't help him pass and they kiss. Tori comes in and apologizes for interrupting, Maya tells her that they were studying and invites her to join them. Cam tries to quiz her and she tells them she might be losing Zig. He tells her that it wasn't French related, earning a small slap from Maya. She asks her what she means and she tells them that he's acting weird and that he might like another girl. Maya nervously asks if he's mentioned anyone and Tori says that when they're together it's like he's somewhere else. Maya says he probably has a lot going on, Tori admits that she could be over reacting which Maya agrees to. She says they should go back to studying and looks regretful.
Later Cam, Maya, and Tori are studying. Tori mentions that Zig never texted her back to which Maya says he's probably studying. The doorbell rings and Maya yells for Katie to get it. When Katie makes a smart comment Maya mimics her. Zig comes into the room only to notice Cam and Tori are there. Maya mentions that the only reason he came over was because Tori was there, he awkwardly agrees. Cam goes through a bag and mentions that Zig should of brought more chips, he takes one and offers to Maya saying ketchup's her favorite. Zig asks Maya about their song and that it should have harmonies to it. Maya says that she already recorded the song and lets Cam and Tori listen to it while they grab drinks.
After their French exam Cam gives Maya a present. She asks what it is and he tells her to open it, she says it's not her birthday and opens it. Cam says that he's terrible at telling her things but he likes her a lot. He then says the charm is for her concert and that every time she plays a show he'll get her a new one. She says she loves it, and he puts it's on her wrist. He says it was his mom's idea but he picked it out. She says she has to be honest and admits that she kissed Zig. He is silent and she tells him to say something. He says it sucks and wishes her luck at her show.
At the competition, Tori walks in on Zig and Maya talking about when they kissed, and throws the drinks she got for them on the ground in front of Maya. She angrily storms out, and neither Maya or Zig follow her.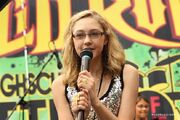 At the Battle of the Bands, Maya says she'll sing when they get re-instated to perform because she has a message to send out and hopes Cam will be there to hear it. While she's singing he shows up and listens to her song. After the tournament Maya takes out her earrings and holds her head. Cam comes in and sits next to her saying congrats on her winning third place. She tells him that he probably wants the bracelet back and proceeds to take it off, he gently grabs her wrist and says that when they broke up she was confused and that since she came back to him was she was still confused. Maya tells him that she always wanted him and they share a passionate kiss. Cam tells her that he'd never let her get away that easily and they embrace.
In Degrassi: Las Vegas, Maya is seen in the Matlins home with Cam, Katie, and Jake. She tells Katie she got a letter in the mail and watches her open it. She is then she jumping around and congradulating her older sister on her acceptance to Stanford.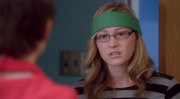 In
Bitter Sweet Symphony (1)
, it's Spirit Week at Degrassi, and the school is split into color-themed teams.  Maya and Cam are split into different teams, Maya being on the same team as Zig. At the first event of Spirit Week, floor hockey, Cam's jealousy gets the best of him and he begins to fight Zig, giving him a black eye. Maya and Dallas try to stop the fight and all four of them are sent to the principal's office. There, Maya admits that Cam started the fight, and therefore Cam is suspended for the rest of the week.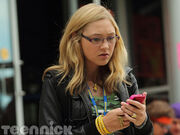 Maya is then seen practicing her cello, and Cam comes over and gives her a large b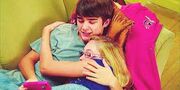 ouquet of pink flowers, which Maya accepts. She allows him to stay over and she cuddles with him on the couch as they watch videos on her phone. She then shows him Hoot, her stuffed owl that she had from night camp. Katie interrupts, telling Cam it's time to go home, but Maya pleads Katie into letting him sleep over. 
The next morning, Cam is gone, but he left Maya a playful video of him telling her to meet him at the front steps of Degrassi to retrieve Hoot, which he took. When she gets there, Cam is nowhere to be found. She then receives a cold text message from him saying that he couldn't make it and that they're over. Maya is upset and hurt by this.
In Bitter Sweet Symphony (2) , On their way into school, Maya tells Katie that Cam "maybe text dumped" her, telling her that she called him several times and that he did not answer. Katie tells her that its not unusual for Cam to be acting weird, and advices Maya to focus on her National Young Musicians Orchestra audition, which she has later in the day, and to deal with Cam later. Mike asks Maya if she has seen Cam, and Maya tells Mike that she thinks Cam is at home due to his week-long suspension.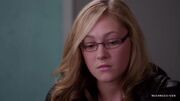 Mike, Maya, and Katie then notice that police cars, ambulances, and fire trucks are on campus, and Maya asks what is going on. Maya and Katie approach the vehicles, where they see
Madame Jean-Aux
. Maya asks Madame if she can skip first period in order to practice for her audition, but Madame does not reply; telling Maya that she and Katie need to go to the Principal's Office immediately. Upon their arrival, Maya does not know what is happening, joking that "whatever it is, I swear I didn't do it". Principal Archie tells Maya that Cam committed suicide in the greenhouse the previous night. Maya appears visibly shaken, but says that she wants to practice for her audition.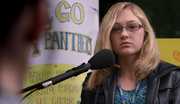 Marisol asks Maya to speak at Cam's candlelight vigil. Maya says that she needs to go to her audition so she can't go to the vigil, but Katie tells Maya that she should speak at the vigil in order to deal with the shock of Cam's death and because the way that she is acting is not normal. Maya attempts to write her speech, but doesn't know what people say at vigils. She re-watches the playful video that Cam had sent her and smiles. Tori offers her condolences, and Maya angrily tells Tori not to be nice to her just because Cam is dead. Zig tells Maya that he is the reason Cam killed himself, saying "I told Cam to get out of your life, so he did - its all my fault". Maya tells Zig that that is ridiculous, and starts to laugh. Zig angrily asks her how she is laughing right now, and Maya says that people keep telling her to do whatever she feels, but that whatever she feels must be wrong.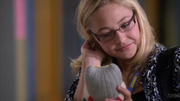 During her speech at the vigil, Maya says that the vigil is "so stupid" and that Cam doesn't deserve a candlelight vigil because it was his choice to commit suicide. She says that people shouldn't blame themselves or feel guilty because its no ones fault but Cam's and that Cam should have faught harder or found someone to help him. She says that she won't light any candles and that she won't cry. The next day, Maya tells Katie that she meant everything that she said at the vigil. Maya and Tori apologize to each other, and they make up. They hug and they both begin to cry. Maya takes out Hoot (the stuffed owl that Cam gave her), smiles, and proceeds to class.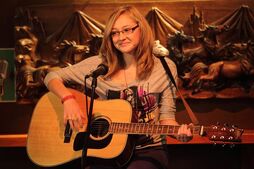 In Ray of Light (1), Katie comes to sit her, Tori, and Tristan, which leaves Maya very confused on why Katie isn't sitting with her friends.  Maya gets mad when Tori tells Katie that Maya is performing at open mic night at Little Miss Steaks and wants to go with.  Maya thinks that Katie only wants to go because of her well being after Cam's suicide.  They all go to Little Miss Steaks later that night where Maya sings and plays guitar and even gets a business card from a manager who will allow her to play there any time she wants.  Katie is displeased by that and flips him over, which leaves Maya to believe that Katie is only hanging out with her and her friends because of something happening in Vegas.  She then tells Katie that she's the one that needs help.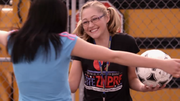 In Ray of Light (2), she is seen coming out of Dr. Tara's office while Katie is waiting is waiting for her.  Maya tells Katie to go in, and Katie refuses.  Maya finally convinces her to go in.  Later, Maya helps Katie practice soccer.  The two discuss how Katie will have to be out of town and they will barely see each other. Maya doesn't seem sad about it and says she'll be taking Katie's room while she's gone.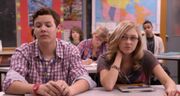 In
Karma Police (1)
, she is seen in French class and watches Tori's presentation on how she could go back in time and help Cam before he commited suicide and it seems to sadden Maya. Then, Tristan brings up that Zig kissed Maya, which seems to frustrate Maya. After the debacle, she witnesses Zig storm out of class after he says he wishes the assignment the class is supposed to do never existed.
In Karma Police (2), Maya is shown sitting in french class while Zig apologizes for messing up his friendship with her, Tori, Tristan, and Cam. Later, she is seen eating lunch with Tori and Tristan. Zig walks over to try to talk to them and the three walk away, not willing to forgive. However, Maya then turns around and asks Zig if he wants to be an extra in Eli's zombie movie. Maya is the only one to sincerely accept Zig's apology.
In 
Zombie (1)
, she is seen filming a scene as an extra in Eli's zombie movie, along with Zig and Tristan. After filming her scene, Maya asks Zig if he'd like to go on a date with her to the movies, to which Zig asks her about Cam. Maya then responds sarcastically in annoyance at his comment and accidentally bumps into 
Harry
, whom she apologises to and soon begins to flirt with.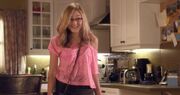 At home, Maya is seen looking in the mirror wearing a sheer, chiffon shirt and is questioned by Katie who asks if she's going through a 'phase' where she dresses all slutty. Maya says she's not and asks Katie whether it is too soon for her to begin dating again, to which Katie says yes. When she is about to leave for school, Maya looks down at her sneakers and at the last minute decides to change into red heeled ankle boots.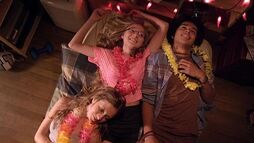 Maya is seen walking down the hallway in her heels and falls into Tristan's arms, claiming that it's difficult being four inches off the ground. She voices her desire to find a cute boy as Tristan is handed an invitation to
Drew's
 campaign party; also her first 'senior party'. Further into the episode, Maya walks downstairs in an off the shoulder pink t-shirt, black short shorts and the same red boots she wore earlier in the episode. Maya is questioned by her mom, who says that she can't go to the party, however Maya later sneaks out without her mother's knowledge. At the party, Maya struggles to open a drink and is helped by Harry. She begins to drink and party with Harry and 
Talia
 however is interrupted by a text from Zig asking to talk. Maya texts back a photo of her, Talia and Harry having fun with the caption "too soon?" When Zig turns up to the party in search of Maya, she begins taunting him to which he calls her a 'mean drunk' and leaves. She then hops around on a table cheering with many drunk teens while she yells, "Who's ready to party! Yeah!" while Drew makes sure she doesn't fall.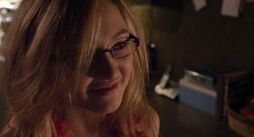 Later, Maya, Talia and Harry go into a bedroom to get away from the party people, and they talk further. Talia looks through Maya's phone and realises that she was Cam's girlfriend. After discussing further, Talia records a video of Maya saying that she didn't ask to be the girlfriend of the dead guy and for them to "get over it". Talia then goes on about life and how they are wasting time at parties, but her friends aren't listening. Harry and Maya begin making out, which Talia records on Maya's phone. 
After the party, Maya is seen sneaking into her house late at night. She receives a Facerange message from Zig asking if she is okay. She replies with a "yup" then proceeds to post the video of her and Harry making out on her Facerange page.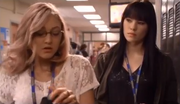 In
Zombie (2)
, Maya is seen walking through the halls of Degrassi as Katie runs over to her. Katie asks Maya about the video she posted on Face Range of her and Harry making out. Maya is careless about this video, as Katie notices that it is a bad idea for this to be on the internet. Maya makes sure Katie doesnt tell their parents about the video. It is also revealed that Maya's cello audition is that day. Later at school, Maya is in the music room practicing her cello, as Harry walks in. Maya fears that Harry will think of her as a geek for playing the cello, but he states he doesn't. He mentions he had fun the other night then invites her to the prop closet to hook up, she turns him down since she has the audition.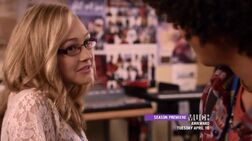 At the audition, Maya introduces herself to the strict judges and sits down. Before she starts playing, she gets a rush of stress through her mind and takes a moment to look up at Cam. She takes a deep breath and starts playing her piece, most likely thinking about him while playing. Once she finishes, a judge tells her she did an amazing job. However, the orchestra has a policy where they keep an eye out on all the contestants. The judge pulls out his laptop and opens the video of Maya kissing Harry, which she posted on her Face Range. Due to this video being released to the public, Maya doesn't get in.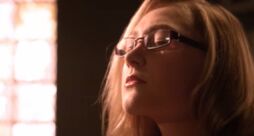 Later that day, Maya is sitting outside of Degrassi in the pouring rain. Zig gives her a disappointed look and begins to walk by her as she tells him not to go. They both say they don't want to fight, but end up arguing anyway. She apologizes for posting the video and says she took it down. They fight about her being with Harry which leads Zig to say "Maya, this isnt you" making Maya go off about people telling her who she should be. She then takes her cello and chucks it in the dumpster stating that she's quitting. She angrily storms off leaving Zig very worried. The following day at school, she is seen talking to Harry at his locker and invites him over to watch a movie. Harry makes it clear that he wants to do more than just watching movies, referencing sex. Maya then kisses him and walks to class.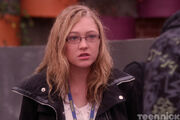 Maya and Harry are now making out on the couch in Maya's living room. Maya is happy at first, but then pulls out as Harry continues to kiss her neck. She thinks for a moment, and remembers that she is now kissing a stranger in the same spot where she spent her last moments with Cam. She asks Harry if they're gonna watch movies or just kiss for the rest of the night, and Harry says we can do other things. He begins to take off his pants and Maya is worried and tells him she has never done this before. He tells her to just go with it and to trust him.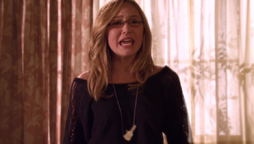 Katie and her mother then walk in the house as they got home from their shopping trip. Katie immediately screams "WHAT THE HELL" as she sees Maya on the couch and Harry with his pants unbuckled. Katie tells Harry to get out, so she can talk with Maya. Katie and her mother are extremely disappointed and worried. Katie asks why Maya was with the guy who she was making out with in her Face Range video, which makes her mother find out about it and how Maya snuck out to Drew's graduation party instead of practicing her cello. Maya screams to them that it must be a thing for Matlin girls to get busy at the Torres house, referencing to the time when Katie had sex with Drew there. Katie is almost as furious as Maya at this point and tells her that this behavior is insane and not acceptable. Katie then tells Maya to stop hooking up with randoms because she cant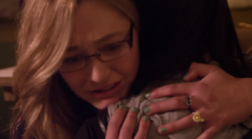 replace Cam. These words immediately hit home for Maya and she breaks down. She screams back "WHY NOT" then pauses and thinks about what Cam did. She screams to her mother and sister about how Cam broke up with her by killing himself, and that she hates him. Maya begins to cry as she tells them that she feels like she will never be happy again and everyday it gets worse missing him. She then says he never even said goodbye to her. Katie runs over to Maya and hugs her, as she continues to sob. Cam was Mayas first love, and she finally shows how much it is affecting her that he is gone.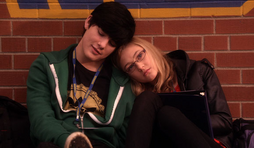 Maya is seen at school the next day writing an apology letter to the Youth Orchestra. Zig is sitting next to her and she also apologizes for treating him so badly. Maya is about to go "dumpster diving" to go take out her cello, because if her parents found out that she disposed it she would be dead. Zig reveals that he already took it out for her, showing that he really cares about Maya. They then hold hands and Zig tells her saying no to her was hard since he really likes her. He also states he only wants them to be together when its what she wants too. However, Maya says she doesn't know when that will be. Zig admits that he is willing to wait for Maya to be ready. She then rests her head on his shoulder for a while. Zig walks away and both are left happy and content with the situation.
Trivia
Maya has appeared in 40 episodes.
She is the second Maya in the Degrassi Franchise, the first being Maya Goldberg.
Whilst Katie and Maya outwardly appear to be typically rivaling siblings, Maya understands Katie, and does her best to help her.
She plays the cello, and intends to play in the New York Philharmonic Orchestra as an adult.
She takes up the trumpet during In the Cold, Cold Night (2), due to wanting a musical challenge, after playing it for a little bit, she goes back to playing cello.
Her Twitter.
During In the Cold, Cold Night (2), Mr. Matlin refers to Maya as being thirteen years old, which some may consider unusual, as most children begin High School at 14, whereas Maya was still 13 at the end of the first semester. This implies that she was born sometime at the end of 1997.
Maya is the third character to feel self-conscious by her breast size. The other two being Melanie, and Manny.
Both she and her sister, Katie, feel self-conscious about their bodies.
She is in a band called WhisperHug.
Maya is the third character to participate in beauty pageants. The first was Spinner Mason who particpated in male pageants, and the second is Tori Santamaria.
Maya is the third character to have her significant other pass away, the first two being Liberty and Mia.
Maya has appeared in the most episodes in Season 12, Mike Dallas has appeared in the second most.
She was in the most Love-Triangles.
Quotes
Maya: "Yep, and there's 199 more just like it 'till summer." (first line)
Katie: "Maya, I know you wanted to go to an arts school, but I promise that you'll like it here."
Maya: "Is that an order?"
Katie: "Don't worry you'll have friends in no time."
Maya: "Is high school always this complicated?"
Katie: "At least."
"You scoundrel!"
"You were with Bethany, weren't you?!"
"I'd tell them to eat my bow..."
"It's a good thing our house is already wheelchair accessible."
Mr. Matlin: "...We've just been so focused on Katie and her rehab lately..."
Maya: "The squeaky wheel gets the grease..."
"Grade nine band has been terrible, it's like I'm playing with a bunch of Idol rejects!"
Maya: "I'm flat."
Tristan: "Musically?"
Maya: "Chestily."
Owen: "I think you might want this back"
Maya: "Keep it. It's the most action you'll get all year."
Maya: "Zig... I'm so, so sorry. You're officially a member of WhisperHug!
Zig: "No freaking way!"
(To Mo Mashkour) "Shut it, Mo!"
(To

Campbell

) "I guess those a four leaf clover boxers actually worked."

--Say It Ain't So (2)
(To Cam): "Cam come on. We've been dating for like a month, and we've only kissed six times."
(To Zig) "What part of falling on my ass did you miss?"
(To Everyone) "I'm a huge bitch."
(To Cam): "You were right, pageants are stupid. I'm so sorry. Please, will you forgive me?"
(To Cam): "I've crazy missed you!"
(To Talia and Harry): "I'm so glad I met you guys. You just want to have fun, you don't look at me with a worry face all the freakin' time."
"This is so stupid. This is so stupid! Cam doesn't deserve a candlelight vigil. He made a choice. It was the wrong one, but us standing here, feeling sad like this, everyone blaming themselves, feeling guilty, it's no one's fault. I mean it's his fault! He should of fought, he should have fought harder, or found someone to help. I would have helped him, but he didn't give me the chance. Cam had so many reasons to stay but instead he just checked out, well fine. But I'm not lighting any candles, and I won't cry. I won't.
(To Mom & Katie): "What can I say, the Matlin girls like to get busy at the Torres house... while we're being honest here."
Mrs. Matlin: "What is going on with you and this boy?"
Maya: "Harry makes me feel good... Is there something wrong with that?"
Katie: "It's scary!"
Maya: "Scary?"
Katie: "Yes Maya, it's scary for you to be hooking up with some guy you barely know... You can't replace Cam!"
Maya: "Why not?! He broke up with me by killing himself! I hate him! I hate him.. I feel like I'm never gonna be happy again.. And every day it just gets worse and worse.. I can't miss him anymore! I can't, I don't want to... He never even said goodbye..."
(To Zig) "I am so sick of people telling me who I am supposed to be!"
(To Cam) "Good. Then be happy."
Relationships
Campbell Saunders

First Relationship:
Second Relationship:

Start Up: Doll Parts (2) (1224)
Broke Up: Bitter Sweet Symphony (1) (1231)

Reason: Zig made Campbell think that Maya's life would be better off without him, which triggered his break down, so he broke up with her over text and committed suicide in Degrassi's green house.
Love Triangles
Zig Novak and Harry

Start: Zombie (1) (1237)
End: Zombie (2) (1238)

Reason: Maya realized she wasn't ready for a relationship with any new boy until she was finished coping with Cam's suicide.