Michelle Accette
Comments

7
1,894pages on
this wiki
Michelle Accette
 was played by
Maureen McKay
.
Michelle Accette
Edit
Starts as: Grade 8
Degrassi Season 2 (Junior High Years)
Edit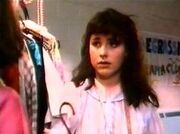 Michelle was first introduced as a shy girl who did not like to make speeches in front of the class. Her best friend, Alexa, tried to help her by telling Mr. Raditch that she had cramps, but to little success. Joey picked on her because of that reason. During this season, she quickly got over it.
Degassi Season 3 (Junior High Years)
Edit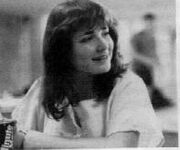 B.L.T. asks Michelle out and she is too shy, but they continue to go out. Later she finds out her parents do not approve of her relationship with B.L.T., because he is black. She continues to go out with him, because she does not care if he is black or white. Michelle goes to the graduation dance with B.L.T., and they safely evacuate the school before the school explodes, and burns down.
Degrassi Season 4 (High School Years)
Edit
In this season Michelle cannot live with her father anymore after her dad and her mom get divorced as he has too many strict rules. She moves out with the help of her friends, but later cannot handle work, school, and a social life.
Degrassi Season 5 (High School Years)
Edit
B.L.T. wants to break up with Michelle because he is cheating on her, and his new girlfriend Cindy demands he go through with it. When he does, Michelle is devastated. Alexa later finds out that he was cheating on Michelle, so Michelle confronts him, and pours milk on him. She also gets mad when she learns that Alexa and Simon have been hanging out with Cindy and B.L.T. instead of her. She and Alexa have a fight and they stop being friends. Later Alexa wants to repair their relationship, and the two become friends again. She wants to go the prom with Snake but she ruined their last date. Spike also wants to go with Snake, so he has to choose. He chooses Michelle in the end.
Michelle's father was played by Frank Quinlan in the third season of Degrassi Junior High, and by Richard Kovsky in Degrassi High, and her mother was played by Rose Newlove.
Relationships
Edit
Main article: Archie-Michelle Relationship
She was the first character ever to move out her parents house and live on her own.
She was also the first character to ever have an addiction to caffeine pills.
She was the first character to ever been cheated on. By B.L.T. Thomas with his newgirlfriend Cindy for 4 weeks prior to Bad Blood (2).