Mr. Fowler
is a soft-spoken, sympathetic, and encouraging teacher that taught the music master class at Degrassi. He appeared briefly towards the end of season 8, and at the beginning of season 9. He was portrayed by
Ed Robertson
.
Character History
Season 8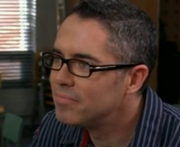 Mr. Fowler first appears in
Up Where We Belong
. He is in his class tuning a mandolin when
Sav
comes in. When Mr. Fowler asks him if he has come to audition for a chance to be part of the course, Sav sadly tells him that he will not be able to be in the class, as it conflicts with grade 11 physics the following semester, which he will need if he is to pursue a degree in electrical engineering in university. Sav tells the teacher that his father is insisting that he think realistically about his future, rather than waste it pursuing a career in music. In the meantime, he tunes Mr. Fowler's mandolin in under a minute. Impressed by Sav's abilities, Mr. Fowler reminds him that not every course he takes in high school needs to be about finding a career, and that Sav should use high school as an opportunity to experiment with the courses he takes in order to figure out what he wants to do. He mentions that a passion for music does not necessarily need to lead Sav to a career as a musician; he can become a record producer, composer, or audio engineer. Sav thanks Mr. Fowler for his time, but nonetheless declines the offer to audition for the class.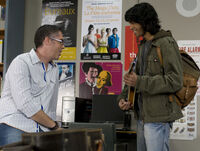 After a discussion with
his father
, Sav realizes that the only reason he wanted to become an electrical engineer was because he felt pressured to by his family. The next day, he auditions for Mr. Fowler's class playing a trumpet. Though nervous at first, Mr. Fowler tells him to take his time. Sav manages to relax, and Mr. Fowler is seen smiling as Sav plays his trumpet, implying that he would make it into the class.
Season 9
In Just Can't Get Enough (1), Sav and Danny are accepted into Mr. Fowler's music course. Peter, having auditioned, is under the impression that he will be joining them. On the first day of class, the boys are seated together, when Mr. Fowler takes Peter aside and tells him that there is not enough space in the course for him. Peter storms out of the room, muttering to his friends that, "That loser doesn't know the first thing about music".
Trivia
Ed Robertson probably knows as much about music as the character he plays: he is the lead singer of the Canadian alternative rock band, Barenaked Ladies.