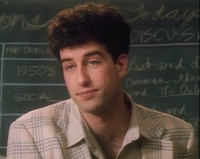 James Walfish
was an English and literature teacher at
Degrassi High School
in the 1989-1991 school years. He was portrayed by
Adam David
.
Life at Degrassi (season 4-5)
Mr. Walfish was a teacher at Degrassi whom most of the girls had a crush on. He broke up the girl fight of Erica Farrell and Liz O'Rourke. He was also very supportive with Joey Jeremiah he helped him all that he could and he helped get some more professional help and tutoring for his learning disability. Also he felt Lucy Fernandez had a talent for writing fiction and gave them permission to film her movie It Creeps!! at the school on a weekend, and he encouraged her not to give up on making more movies and stories when some students were laughing at the movie instead of taking it seriously and feeling scared. He also was the first teacher who informed his class of the shooting suicide of Claude Tanner.
Ad blocker interference detected!
Wikia is a free-to-use site that makes money from advertising. We have a modified experience for viewers using ad blockers

Wikia is not accessible if you've made further modifications. Remove the custom ad blocker rule(s) and the page will load as expected.