Mrs. Cohen
was a science teacher at
Degrassi Community School
and head of the
Science Olympics
at one point.
Character History
Season 11
In Need You Now (2), Mrs. Cohen asks K.C. for his assignment. She later calls him to the side and informs him that he was the only one in the entire class to get one of the questions correct.
Season 12
In Sabotage (1), Mrs. Cohen is teaching her class about covalent bonding when Drew sneaks in to speak to Bianca and Owen. When she notices him, she kicks him out.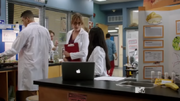 Season 13
In Power to the People, she judges Alli and Dallas's project for the science fair.
Appearances