Mrs. Mason is the mother of Spinner and the adoptive mother of Kendra. She works at Zellers. She is seen in various episodes throughout the seasons. Mrs. Mason can be seen comforting Spinner when he found out he had testicular cancer, and walking Spinner down the aisle at his and Emma's wedding. She was portrayed by Robin Craig.
Character History
Season 3
In I Want Candy, Spinner fakes being sick so that he would be able to skip school with Paige Michalchuk, and Mrs. Mason successfully falls for his act, despite Kendra's protests that he is faking. She heads to work at Zellers, leaving her son at home.
Season 7
In Death Or Glory (1), Mrs. Mason sits with her son at a follow-up doctor's appointment when they reveal that Spinner has testicular cancer. She is shocked for her son.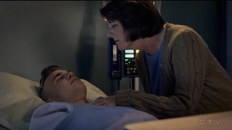 In
Death Or Glory (2)
, Mrs. Mason goes to another doctor's appointment with Spinner, and questions the doctor if Spinner will still be able to have children after his surgery. After Spinner's surgery is successful, he awakens to find his mother by his bedside, who tells him that she is proud of him.
Season 9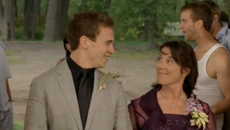 In
Degrassi Takes Manhattan
, Mrs. Mason proudly walks Spinner down the aisle at his wedding to
Emma Nelson
. She seems happy for her son.
Trivia
Her husband, Spinner's father, died from lung cancer. Spinner was diagnosed with testicular cancer, but he lived.