Ms. Badger
is the Chemistry teacher at
Degrassi Community School
. She is portrayed by Ashley Comeau.
Character History
Degrassi: Next Class
Season 1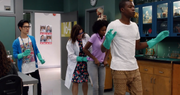 In
#BootyCall
, she is the new chemistry teacher.
Shay
,
Tiny
, and
Winston
are all seen in her class. Shay previously stuffed her pants with cotton pads to make it appear that she had a bigger butt, but during class, Winston accidentally spills Bromine on Shay's pants. Shay is forced to take off her pants in front of the entire class, revealing her cotton pads, and Ms. Badger tries to cover her with her lab coat.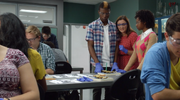 In #NotOkay, the class is dissecting frogs, and she jokes to Shay and Tiny that a student once failed because they just couldn't "cut" it. Shay accidentally stabs the frog in the heart, and Ms. Badger comments on it, not knowing Tiny and Shay's situation also paralleled the frog.
Season 3
In #WorstGiftEver, the class is learning chemistry equations, and she jokes about Esme doing "quite the balancing act" and laughs at it. As a revenge plot against Esme, Shay puts a red syrup, of which resembles blood, on Esme's chair, much to her chagrin. Ms. Badger keeps Shay after class.
Season 4
In #Preach
Quotes
"I once had a student that failed this unit. She just couldn't cut it." (#NotOkay)