Ms. Dawes
is an Art, English, and Drama teacher at
Degrassi Community School
. It has also been mentioned by
Holly J.
that she is a retired artist.
Character History
Season 8
Ms. Dawes makes her first appearance in Didn't We Almost Have It All as Degrassi's Art teacher.
In Heat of the Moment, Ms. Dawes comes into the Media Immersion room with Mr. Simpson, who says that Ms. Dawes will cover for him in teaching for a few minutes while he attends to some acting principal duties before asking Alli to come with him.
In Up Where We Belong, Ms. Dawes did not think Holly J. Sinclair had what it took to make the grade. Holly J. called her a "failed artist" and Ms. Dawes asked her to leave.
Season 9
In Beat It (1), Ms. Dawes and Anya are seen after school doing roleplay in the woods, known as LARPing.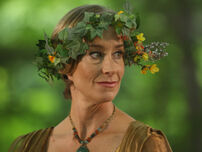 In Beat It (2), Ms. Dawes is seen at Anya's LARPing "wedding" in order to unite the enemy tribes.
Season 10
In Better Off Alone (1), she says Eli's writing is a bit wordy. She assigns Eli and Clare as writing partners, and Eli is to help Clare with her writer's block.
In Better Off Alone (2), Eli and Clare skip English class and they both receive detentions for skipping class. Ms. Dawes tells her to read the assignment she has been working on, a letter to her mother. As she reads, Eli is listening raptly with a smile on his face. Ms. Dawes asks him his opinion on it, and he says he believes it is so good that she should read it at the school showcase that night.
In Still Fighting It (1), Eli, Clare, and Adam are doing an English video project for a modern Romeo and Juliet. Later in the episode, Clare talks to Ms. Dawes, who said that a lack of communication caused the star crossed lover's death.
In Still Fighting It (2), Ms. Dawes loves Eli, Clare, and Adam's video assignment.
In Love Lockdown (1), Eli arrives at school in his usual black clothing, not the now-required uniform, and is warned by Ms. Dawes on the matter.
Season 11
In Cry Me A River (1), Eli asks her about a Drama assignment.
Appearances