Ad blocker interference detected!
Wikia is a free-to-use site that makes money from advertising. We have a modified experience for viewers using ad blockers

Wikia is not accessible if you've made further modifications. Remove the custom ad blocker rule(s) and the page will load as expected.
Ms. Rivas

Information
Full Name
Ms. Rivas
Gender
Female
Eye Color
Brown
Hair Color
Brown
Network
Family
Unnamed Husband
Zoë Rivas (Daughter)
Production
First Episode
This Is How We Do It (1309)
Episode Count
7
Portrayed By
America Olivo
Ms. Rivas
is the mother of
Zoë Rivas
. She is portrayed by
America Olivo
.
Character History
Season 13
In This Is How We Do It, she makes her first appearance talking to her daughter. Zoë did not want to attend Degrassi, and her mother responds that she sent her to Paris alongside Degrassi students in order to make friends. Zoë is worried that the students will find out the real reason she was fired from West Drive. She assures her that they won't and gives her a comforting hug. She later comes back for a meeting with Mr. Simpson when her daughter threw coffee at a Mr. Perino and may face expulsion. She scolds Zoë that now she is out of the show business, she must pull her act together.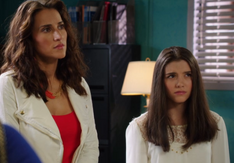 In
Barely Breathing
, she is present in Mr. Simpson's office after Maya and Zoë get into a fight. Zoë "apologizes" to Maya and her mother. When the issue of possible charges comes up for Zoë cyber bullying Maya, Mrs. Rivas insists that there is no need to involve the police. Maya is upset that Zoë isn't getting any punishment for her actions, and Mrs. Rivas assures Maya that she will deal with Zoë's punishment at home.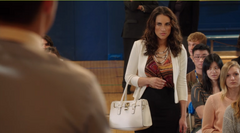 In Power to the People, she storms into the public forum held for Miles Hollingsworth II, and publicly yells at Drew Torres for having sex with Zoë in front of the entire audience of people. She takes the issue to Mr. Simpson, claiming that it is statutory rape due to Zoë being fifteen, hence a minor and under the age of consent. However, due to Canada's close-in-age exemption for sex between 14-15 year olds and partners up to 5 years older than them (and that the sex was consensual), there is nothing illegal about it.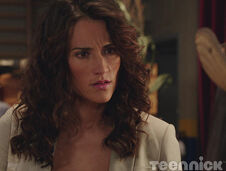 In Sparks Will Fly (2), she is seen walking in while Zoë was singing. When Zoë was finished with her singing, she talks to Zoë about how she quit the movie and that she understood why she did it. She calls Zoë's agent and says to Zoë that hopefully it doesn't ruin her acting career.
In
Believe (1)
, she is with Zoë when they are meeting with their lawyer,
Danny Yegovan
, and she is later seen at the trial. She seems fully supportive of her daughter.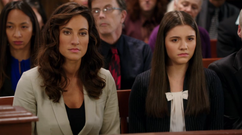 In Believe (2), she is seen sitting next to her daughter fully supporting her at the trial. After Zoë wins the case, Mrs. Rivas hugs her.
Season 15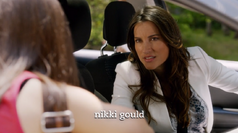 In
#NotAllMen
, Mrs. Rivas drops off
Zoë
and
Grace
at school. After the girls get out, Mrs. Rivas asks to talk to Zoë. She tells Zoë that she believes Grace might like her and that it's best they don't hang out anymore. Afterwards, she drives off.
Quotes
Trivia
She previously did not work while Zoë was working on West Drive, implying she lived off of her daughter's money. 
She did not seem to approve of her daughter and Drew's relationship since they had sex. 
She is a Roman Catholic.
She was an extra on Gilmore Girls.