MyRoom is a fictional social networking site.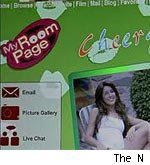 Characters Confirmed as Using MyRoom
Trivia
MyRoom is the first social networking website in Degrassi history.
It is similar to the social networking site Myspace in the show's universe in much the same way as Facerange is a stand-in for Facebook. This is done because in most cases, using a legitimate web site without the original owner's permission would violate copyright laws.
MyRoom became less popular because Facerange took over.
Gallery
Ad blocker interference detected!
Wikia is a free-to-use site that makes money from advertising. We have a modified experience for viewers using ad blockers

Wikia is not accessible if you've made further modifications. Remove the custom ad blocker rule(s) and the page will load as expected.