MyRoom is a fictional social networking site.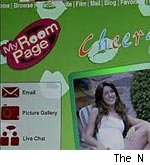 Confirmed Characters that Use MyRoom Page
Trivia
MyRoomPage is the first social networking website in Degrassi history.
It is similar to the social networking site Myspace in the show's universe

,

like FaceRange is for Facebook. This is done because in most cases, using a legitimate web site without the original owner's permission would violate copyright laws.
MyRoom got less popular because FaceRange took over.
Gallery