Nadia Yamir was a character on Degrassi: The Next Generation. She is disabled and is confined to a wheelchair. Her best friend was Kendra Mason. She appeared in seasons two and three as a recurring character. She didn't interact with many of the characters, and didn't have any story lines to her own. She appeared to be involved in a lot of extracurricular activities. In season 2, she was part of the Yearbook Club and also helped protest against GM Foods. In season 3, she was part of the Chess Club. She disappeared before season 4 along with Kendra. She was portrayed by Mony Yassir.
Character History
Season 2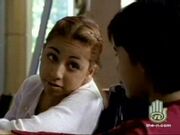 In Weird Science, Nadia's science project was about wolves, and she won first prize for the grade 7 class at the Junior Science Fair.
In
Mirror in the Bathroom
, she is seen talking to Kendra before Toby interrupts their conversation, telling Nadia to take a picture of him for the yearbook. She takes the picture, but looks repulsed by Toby's arrogant attitude. She later attends Toby's wrestling match with Kendra, and looks shocked when Toby faints.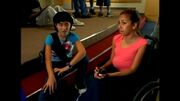 In Don't Believe the Hype, Nadia is sitting next to Kendra while she talks about her family.
Season 3
In Gangsta, Gangsta, she is a part of the Chess Club, also known as the "Rooks and Knights Society", with Toby, Kendra, and Liberty.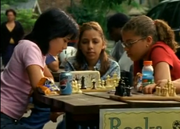 Appearances
Trivia