Natasha
is the main spokesmodel for
Purple Dragon
. She arrives at
Degrassi
looking for potential Degrassi students to sponsor her Purple Dragon products.
Character History
Season 7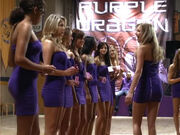 She first appears in
Hungry Eyes
as a spokes model for Purple Dragon. She sorts through girls auditioning to be models for the brand, and dismisses
Manny Santos
,
Liberty Van Zandt
and
Holly J. Sinclair
, among others, while
Emma
makes the final cut. Later, at the school assembly before the badminton match, she introduces the new models.
During a break in the badminton match, when the girls were giving out samples of Purple Dragon, she looks shocked when Emma openly kisses Damian. She tells Emma that she is doing a great job selling the product, but the kissing was too over the top, saying to limit to the cheek only, as Purple Dragon girls are supposed to be "approachable, yet unattainable". When Emma throws a drink on Bruce after he sexually harasses her, Natasha quickly hurries over and tries to make him happy, even offering him a free t-shirt. She storms off, giving Emma an angry look as she walks off. Later, in the girls locker room, Emma admits to her that she shouldn't have poured the drink on Bruce, and Nastasha tells her she should have poured it on herself. She gives Emma a lesson about how sex sells and that while she is wearing the Purple Dragon dress, her body is more important than her mind. When Emma goes to drink a Purple Dragon drink herself, Natasha snatches it away, saying it leads to "Obese city". She goes on to tell Emma that she wears the biggest size that they make, insinuating that Emma weighs too much.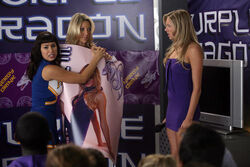 After the Degrassi Panthers win the badminton match, Natasha introduces Emma on the stage to announce the winner for the Men's Single Championship trophy. When Emma reveals she is protesting Purple Dragon, Natasha asks her what she thinks she is doing. She tells Emma to shut up or take off the dress, while Emma chooses the latter option. While a naked Emma faces the crowd, Natasha looks around in a fit of anger. The next day, on the announcements, Natasha announces that Purple Dragon is continuing its partnership with Degrassi.
She is seen once again in Bust a Move (2), introducing Craig Manning for a musical performance at the Purple Dragon concert at Smithdale University.