The love triangle between Paige Michalchuk, Spinner Mason, and Jesse Stefanovic occurred in the sixth season of Degrassi: The Next Generation. Paige was in the center of the love triangle.
Love Triangle History
Season 6
In the episode
Love My Way
, Paige wanted to return to her pre-
Banting University
glory and that included dating. Following Alex's advice to get out and 'play the field', Paige begins to see
Ellie Nash
's
ex-boyfriend
Jesse Stefanovic
and
Spinner Mason
at the same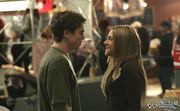 time. As Paige develops feelings for Jesse after a night out, Spinner develops them for Paige when they start seeing each other more and more. This kind of made Alex jealous because after her dates with Spinner and Jesse they were going to hang out but she never showed up, and Alex got mad over that. At Paige's fashion show, both Jesse and Spinner showed up where Spinner gave Paige an ultimatium, either she dates Spinner exclusively or the end of their relationship.
Eventually, Paige decides to stop seeing Spinner and continues to date Jesse, following a fight between Spinner and Jesse at the mall.
Timeline
Gallery