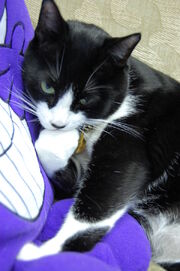 Panther is a cat that lives in the Epitome studios. He is a bicolor, Tuxedo cat, and is the brother of Noggin. He portrays the Bhandari family's unnamed cat and Mr. Tuxedo Pants.
Trivia
He and Noggin have a Twitter.
Sam Earle mentioned in an interview that Panther is his best friend on set.
Gallery