Perez Hilton
was a minor character appearing in the season finale movie,
Degrassi Goes Hollywood
, of the
eighth season
of
Degrassi: The Next Generation
. He is a famous blogger and television personality known for his controversial opinions and statements. From seasons three to seven, he hosted the reunion specials of Oxygen's hit reality-television show series 'The Bad Girls Club' prior to being replaced as host by Bad Girls Club alum, Tanisha Thomas.
Character History
Season 8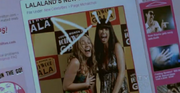 In
Paradise City
,
Hailey Montel
is excited when pictures of her and
Paige Michalchuk
show up Perez's site, and tells Paige it is good that he called her a "celebu-slut". When
Marco Del Rossi
asks why Perez drew antennas on their head, Hailey told him it was a sign of affection.
Later after Paige gets the movie cancelled, Paige runs into Perez, and she confronts him about his post. He at first doesn't recognize her, but tells Paige that she is "yesterday's news". She begs Perez to help her, and he tells her that celebrities are only as hot as their latest scandal. Out of pity, he gives her passes to a movie premiere for her, so that she could do something to redeem her reputation.
Trivia