Peter-Mia Relationship
Comments

40
1,894pages on
this wiki
Peter-Mia Relationship

General Information
Nickname
Pia
Intimacy Level
Ex-Boyfriend/Ex-Girlfriend
Started Dating
Man With Two Hearts (1st time) (805)
Dating Status
Broke up (2nd time) in Just Can't Get Enough (901)
The relationship between
Peter Stone
and
Mia Jones
is known as
Pia
(
P
eter/M
ia
).
Relationship History
Overview
Mia first expressed an interest in Peter when they connected at his party due to their mutual feelings of rejection, as Darcy Edwards had left Peter to go to Kenya, and Danny Van Zandt broke up with Mia. The two formed a relationship on the rebound, which lasted for a short period of time, until Mia found out that Peter was still in contact and had feelings for Darcy. He, however, convinced her that he loved her, and the two reconciled their relationship. After Peter formed a temportary addiction to meth, Mia broke it off with him, and moved to France for a modeling job. It is shown they had no harsh feelings for one another after their break up, as Peter was able to move on and Mia still talked to him occasionally via webcam. Their first relationship began in Fight the Power and ended Heart of Glass. They got back together in Danger Zone, but broke up again in Just Can't Get Enough.
Season 8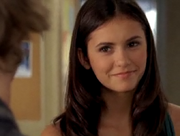 In
Fight the Power,
Darcy
moves to Kenya and tells Peter the day before she goes. He's upset and can't stand to see her go, but when he meets Mia at his back-to-school party, they bond over their differences. Mia later finds out that Peter is not over Darcy and thinks she is just a rebound. They have lunch together and
Clare
delivers a gift from Darcy. To make Mia think that Peter is all hers, he throws the gift in the garbage. However, after Mia leaves, Peter pulls the it out of the garbage and keeps it.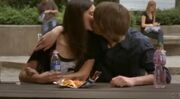 In
Man With Two Hearts,
Mia's pressuring Peter to fully commit himself into a relationship that he's not sure he's ready for yet. Later in the episode, Peter then decides to become official with Mia and is freaked out by Riley kissing him. Mia tells Peter that he shouldn't stop being friends with Riley just because he's gay, so Peter decides to talk to him.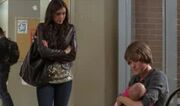 In
Heat of the Moment,
While Mia is hanging out with Peter (and Angel, his half-sister), Mia tells him that he looks cute with her. When Peter makes a comment that he shouldn't be taking care of his sister's responsibilities, Mia takes offense to his comment. Peter then apologizes as he only made the comment because he is actually jealous, because his father never paid a lot of attention to him. Mia advises him to confront his dad and Peter leaves with Angel to do just that. She is then seen with Peter and Angel at school.
In Heart of Glass, Mia finds out Peter has been keeping in touch with Darcy and plans to visit her. Mia dumps him because she knows he still loves her.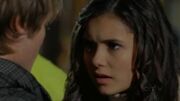 In
Danger Zone
, Peter keeps trying to win Mia back, but she refuses to give in and tells him that she is always going to wonder what would have happened if Darcy never left for Kenya. Later on in the episode Peter and
Sav
are playing video games at Peter's place and Sav gets a phone call from his younger sister
Alli
. He just found out that there were cop cars at
The Dot
, and that's where Anya and Mia were going after shopping. Peter and Sav head to The Dot. They later find out from Blue that there is a man with a gun inside The Dot holding
Holly J
hostage. No one knows for sure who is in there with her. We later find out that it is
Spinner
and he has been shot. Luckily his life has been saved by Holly J. When
Anya
and Mia show up to The Dot, Sav runs to hug Anya and he's is thankful she is alright. Peter hugs Mia and says he glad she was okay and kissed her. Mia looked puzzled, and Peter confessed his love for her, and said he thought he would never see her again and she would never know how he felt about her, and said that he loved her. She then smiled and kissed him back. As a result, they had got back together and enjoyed their night together at the black and white dance.
In Paradise City, Peter and Mia head to Hollywood with Danny, Jay, Manny, and Sav.
Season 9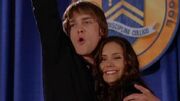 In the season premiere,
Just Can't Get Enough
, Mia is happy to be back from LA with her boyfriend
Peter
and a whole new load of popularity under her belt. After meeting two new rich kids,
Declan
and
Fiona
, Mia and Peter are invited to their party. After they arrive, Mia tells Peter the big news, that she got a job of being a "Euro Fresh Face". She says she is going to take the job and move to France, and after pre-school,
Izzi
and her mom will move there with her. Peter seems happy and decides to go with her. But, when Peter sees Mia's sophisticated ways at the party, he resorts to crystal meth, and decides not to go with her. She notices the meth and tells him to stop. He tells her that everything is all about her and that he's not going with her, signifying that they broke up. Mia leaves for Paris, but tries to tell Peter to stop, even though he doesn't. Later in the episode Mia is seen video chatting with Peter and his mom before a photo shoot. Mia is happy that Peter is clean.
Trivia
Timeline
First Relationship:
Second Relationship:

Start Up: Danger Zone (818)
Broke Up: Just Can't Get Enough (901)

Reason: Mia is offered a modeling job in France, Peter gets hooked on meth, and she says she will never support a "meth-head".
Gallery