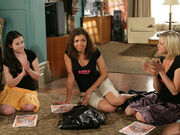 Pi Gamma Pi
is the sorority that
Liberty Van Zandt
tried to get into in
Didn't We Almost Have It All
. The Sorority makes assumptions about Liberty based on her race. Liberty makes it into the sorority, but she turns it down when she discovers they were only using her as a "token" for funding as having her would be considered having diversity. Liberty realizes what this Sorority wanted and claimed it "wasn't her."
Emma
,
Manny
, and
Kelly
had never supported the sorority. The sorority contained girls that were diva-like.
One
even claimed that hardest time in her life was getting a mullet. Liberty is no longer involved with Pi Gamma Pi. It is most likely a female only sorority, since no boys were shown participating in Pi Gamma Pi.
Members
Current/Unknown If Still Member
Former
Ad blocker interference detected!
Wikia is a free-to-use site that makes money from advertising. We have a modified experience for viewers using ad blockers

Wikia is not accessible if you've made further modifications. Remove the custom ad blocker rule(s) and the page will load as expected.