Professor Janes
was a minor character who appeared in the
sixth season
of
Degrassi: The Next Generation
. She was
Paige Michalchuk
's marketing professor at
Banting University
. She was portrayed by Brooke Johnson.
Character History
Season 6
In Free Fallin' (1), she proctors the mid-term college exam for her class which Paige walks out on because she has a panic attack.
After class, she tells Paige that she likes to know why students walk out on her exams.
Paige tells her that she hasn't been sleeping and assumes it is because Paige has been partying.
Paige tells her she has too much work, but Professor Janes tells her that she needs to pass her class to stay in the program.
She says to Paige that not everyone is cut out for Banting, but gives her a take-home midterm to make up along with her other late work, setting the deadline for the work at 5 P.M. Monday. She tells Paige not to let herself down.
In Free Fallin' (2), Paige tries to get a further deadline from Professor Janes due to her dorm room fire and drama-filled weekend.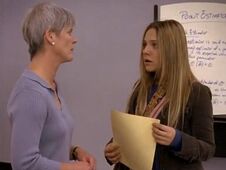 However, Professor Janes does not give her any further extension and tells Paige to hand in what she has at 5:00 that day.
At 5:00, Paige hands in a plagiarized essay which Professor Janes recognizes upon merely skimming it. She gives Paige a 0% on her essay. Paige yells at her about how she hates Banting and is going home.