Rick Munro
was portrayed by
Craig Driscoll
Degrassi Season 1-2
Edit
Starts as: Grade 7
Rick Munro was a former student who attended Degrassi Junior High School in Toronto, Ontario. He has an older brother named Frank and an abusive father . After Joey Jeremiah found out that he was beaten by his father, he was sent to live with Frank. Rick repeated Grade 7, and while repeating was often cautioned about letting his grades slip far enough to repeat again.
Likely due in part to his miserable home life, Rick rarely smiled at school. Caitlin Ryan and Susie Rivera made it their task to get him to smile. Though they never succeeded, they were pleased when they saw him smile at Joey (which was when he told Joey he was moving in with Frank).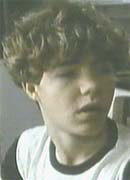 One time, he was suspected to have stolen
Yick Yu
's money, but he didn't - his recent wealth was due to a lottery win (possibly Frank's ticket, shared with Rick or bought for Rick). Some of the students had the mistaken belief that Rick had a criminal record, but this may be the result of his difficult home conditions.
Later, he dated Caitlin, but the two broke up after when she found out he smoked cigarettes. He later moved away, and was not heard of again.
Rick is one of 7 characters to be held back a year, the other 6 were Joey, Sean, Rick, Spinner, Jimmy, and Fiona.
Rick is the first character to be abused by his father, the second is Craig. And they both have been rescued by Joey.
Rick Munro is the first "Rick" in the Degrassi Franchise. The second is Rick Murray.
Rick is the first character to live with an older brother. The second is Sean and the third is Jenna.
Rick was the first student character who ever smoked.

Rick had an influence on 

Craig Manning

 because of his abusive father and the fact that Joey helped both of them. He also had an influence on 

Sean Cameron

 in that Sean had similar personalities and circumstances and noticeable eyebrows. He dated Caitlin and Sean dated Emma who was modeled after Caitlin.

Rick's father was portrayed by Sid Bruyn.