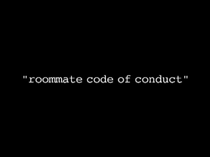 Roommate Code of Conduct
is a
Degrassi Mini
that aired during the
sixth season
, coinciding with the plot of
Love My Way
.
Cast
Plot
Paige Michalchuk, after making a huge breakfast, finally sits down to eat, when roommate Ellie Nash walks into the kitchen. Paige greets her and tells that she made espresso, bacon, and waffles, making Ellie comment that this would be required daily. Ellie said this is exactlly what she needed, as she was up till 3 A.M. playing poker with Marco Del Rossi and Spinner Mason. She tells Paige their game was only interrupted by Spinner going on about him and Paige being "friends-with-benefits". Paige then confesses to her that she happened to be at a show last night and she saw Ellie's ex-boyfriend, Jesse Stefanovic, there. They ended up flirting, and Ellie comments, "Big city.. You had to pick my ex?" Paige awkwardly tells Ellie that she didn't pick him, but they just happened, on a strictly casual relationship. Ellie asks about Spinner though, and tells Paige that dating two guys at once is tacky.
Paige agrees with Ellie, saying dating Jesse is against the "roommate code of conduct", and that Jesse is off-limits. Ellie gives Paige permission to date Jesse, as she was the one to dump Jesse, saying she'll just try to deal. Paige asks her if she is serious and she would only go after him if it was cool with Ellie. She tells Paige that he is never coming back to their house or anywhere where she would possibly be. Paige thanks her, and Ellie walks away, leaving Paige smiling.
Gallery
Video
Alternate Versions
Ad blocker interference detected!
Wikia is a free-to-use site that makes money from advertising. We have a modified experience for viewers using ad blockers

Wikia is not accessible if you've made further modifications. Remove the custom ad blocker rule(s) and the page will load as expected.