Rufus Eggers is the dog of the Nelson-Simpson household. Emma Nelson originally adopted him to impress Damian Hayes, but he soon became a part of the family. He has especially bonded with Archie Simpson.
Character History
Season 7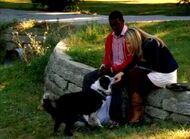 In
Got My Mind Set On You
,
Emma
adopts Eggers off of Craigslist for free, as a way to impress
Damian
. Eggers bonded with the family and became the family dog.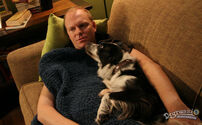 In Another Brick In The Wall, Eggers is lying on top of Snake on the couch when Emma questions if he will be back at school the next day, and sleeps with him that night. The next day, when Snake stays home to get drunk instead of going to work, Eggers is with him on the couch again.
Season 8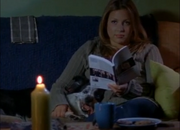 In
Lost in Love (2)
, when
Emma
returns home, before she is serenaded by
Kelly
, Eggers is sitting with her on the couch while she is reading.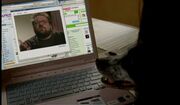 In Degrassi Goes Hollywood, Kevin Smith comes onto Manny's laptop, and Eggers pants over Manny's computer. Later, when Mick comes in to talk to Manny, the second he walks in Eggers starts barking, which shows that Eggers could feel the tension in the room or he is a good judge of character.
Season 9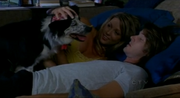 In
Holiday Road
, while Emma and Kelly are making out on the pull-out couch, Eggers jumps onto the couch, preventing the couple from having sex. This was his final appearance.
Trivia
His original name was Rufus but Emma later named him Eggers because Dave Eggers was the author of the novel that Damian had given Emma.