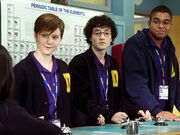 Science Olympics is one of the only clubs not cancelled after the new rules at Degrassi Community School. Alli Bhandari joined in Don't Let Me Get Me, but quit when she transferred schools. Alli was also the captain of the team, however a new captain has not been chosen thus far. The supervisor is Mike Betenkamp, Wesley's uncle and a science teacher at Degrassi.
In Need You Now (2), Connor is recruiting new member(s) for the team, possibly due to Heather Poulette (and others) leaving, in the form of a Science Class exam. He asks the class a Physics question, in which K.C. determines the correct answer before any of his other classmates. It is presumed that the Science Olympics Team will be featured in further episodes.
Members
Former
Ad blocker interference detected!
Wikia is a free-to-use site that makes money from advertising. We have a modified experience for viewers using ad blockers

Wikia is not accessible if you've made further modifications. Remove the custom ad blocker rule(s) and the page will load as expected.