Sean Bell
, (Born In Toronto, Ontario, Canada . December 22, 1970) Is a Canadian Actor who portrayed
K.C. Guthrie
's Dad
Kevin Guthrie
 During season 12 of
Degrassi: The Next Generation
, in the episodes
Rusty Cage (1)
and
Rusty Cage (2)
. He has also made appearances in the T.V. shows
Power Play, Total Recall 2070, Mutant X, Tracker,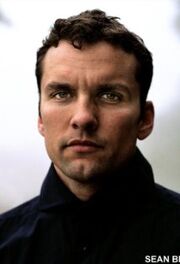 Adventures Inc, Blue Murder, Metropia, 1-800-Missing, Paradise Falls
in which he co-starred in some episodes with Former Degrassi actor Cameron Graham. He also made appearances in the T.V. shows
Puppets Who Kill, Bionic Woman, The L Word, Psych, XIII: The Series, Suits, Bomb Girls, Heartland, Nikita
,
Copper
and
Warehouse 13.
He's also appeared in the movies
To Love, Honor & Betray, The Contract, Who Killed Atlanta's Children ?, One Kill, The Uncles, The Moving of Sophia Myles, Jewel, Crossed Over, Bullet Proof Monk, Against the Ropes, Devil's Perch, Yeti: Curse of the Snow Demon, Storm Seekers
.