Ad blocker interference detected!
Wikia is a free-to-use site that makes money from advertising. We have a modified experience for viewers using ad blockers

Wikia is not accessible if you've made further modifications. Remove the custom ad blocker rule(s) and the page will load as expected.
Sean Bell
, (Born In Toronto, Ontario, Canada . December 22, 1970) Is a Canadian Actor who portrayed
K.C. Guthrie
's Dad
Kevin Guthrie
 During season 12 of
Degrassi: The Next Generation
, in the episodes
Rusty Cage (1)
and
Rusty Cage (2)
. He has also made appearances in the T.V. shows
Power Play, Total Recall 2070, Mutant X, Tracker,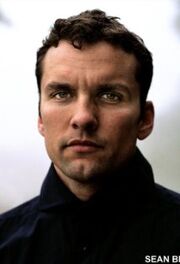 Adventures Inc, Blue Murder, Metropia, 1-800-Missing, Paradise Falls
in which he co-starred in some episodes with Former Degrassi actor Cameron Graham. He also made appearances in the T.V. shows
Puppets Who Kill, Bionic Woman, The L Word, Psych, XIII: The Series, Suits, Bomb Girls, Heartland, Nikita
,
Copper
and
Warehouse 13.
He's also appeared in the movies
To Love, Honor & Betray, The Contract, Who Killed Atlanta's Children ?, One Kill, The Uncles, The Moving of Sophia Myles, Jewel, Crossed Over, Bullet Proof Monk, Against the Ropes, Devil's Perch, Yeti: Curse of the Snow Demon, Storm Seekers
.