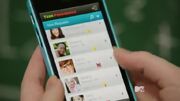 Teen Personals is a fictional dating site.
Instances Of Use
Season 13
In Army of Me, Clare was helping Drew to find a girl online so she can avoid her feelings towards him. Clare makes a fake profile of herself as Annabella. When Clare shows Drew all the girl that want to go out with him, including " Annabella", he choose a girl name Eden.
Season 14
In If You Could Only See, Imogen and Jack help Becky meet a new guy online but it doesn't work out well in the end. Becky then tells Imogen and Jack she isn't the girl she used to be anymore.
Confirmed Characters that Use Teen Personals
Trivia
Teen Personals is the sixth social networking website in Degrassi history.
Teen Personals is the first social dating website in Degrassi history.
Gallery