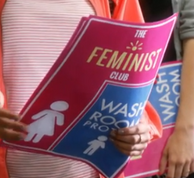 The Feminist Club is a student organization at Degrassi Community School. They have been seen advocating against unequal gender rights with a project to turn one of the male restrooms into a female restroom.
Members
Current
Former
Trivia
Zig Novak and Tiny Bell were against the concept of this club, though Zig eventually became involved due to Maya's role in the club.
They complained about the Degrassi Panthers Gaming Club for their misogyny and celebration of sexual violence. The gaming club was subsequently shut down by Archie Simpson and the PTA.
Due to her involvement in this club and writing her song "Not Okay", Maya has been harassed online with threats of rape and stalking. She was doxxed online, and someone anonymously called the SWAT team on her house.
Gallery