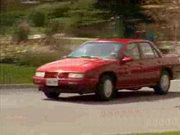 The Love Mobile
is
Spinner Mason
's red Chevrolet Corsica. He bought it from
Jeremiah Motors
in
Ghost in the Machine (1)
.
Paige Michalchuk crashed it into Dean Walton's car, in Ghost in the Machine (2), and subsequently paid Spinner back for the damage, leading to their breakup. Along with Jay Hogart's car, it was vandalized by Rick Murray.
By the time of Degrassi Takes Manhattan, he had repainted it matte green (somewhat brighter and "greener" than military olive drab, but similar), perhaps as a response to the model's known tendency for the factory paint to peel off the primer.
Trivia
This is the first car to be crashed on purpose. The second was Morty by Eli. The third was Miles' car by Hunter.
Unlike Morty, this car was crashed on-camera with serious damage. It's unclear whether the same car was repaired out-of-story or replaced by Epitome.
Paige's actions forced her to get a job to pay back Spinner for repairs.
This was the second car to be vandalized. The first was Laura Kwan's car being egged by Spinner and Jimmy Brooks. The Love Mobile was vandalized when Rick Murray spray painted the windows. The third instance was with Morty when Mark Fitzgerald pulled off the skull ornament on the bonnet. The fourth was Mr. Armstrong's car which was keyed by K.C. Guthrie. The fifth Mr. Simpson's car when Chantay Black covered it with sticky notes. The sixth was when Katie Matlin and Jake Martin egged Bianca DeSousa's car, followed by Katie smashing one of the rearview mirrors. The seventh was when Zig Novak dumped garbage on Madame Jean-Aux's car.
Its license plate number was ADEY502.
In Ghost in the Machine (1), Craig Manning suggested the names "Sparky," "Herbie" and "Thomas" for the car.
The Love Mobile cost $2,700.
Gallery