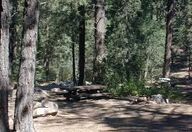 The Ravine
refers to the woods behind
Degrassi Community School
, a central location most infamous for parties and sexual activity. It was first introduced in
Season 3
.
History
Season 3
In Gangsta, Gangsta, Emma, Sean, and a group of other people work on a project to clean the ravine. Sean and Emma end up making out in the forest.
Season 4
In Secret (1), Emma meets Jay down at the ravine and performs oral sex on him in a black van.
Season 5
In Turned Out (2), J.T. begins to sell drugs to help pay for money for his apartment with Liberty. After he is later dumped by Liberty, he overdoses on prescription drugs and passes out.
Season 8
In Heart of Glass, Alli loses her virginity to Johnny in a van.
Season 10
In The Way We Get By (2), Drew and Bianca go to the ravine and do shrooms which they get from Bianca's friend, Ron Ron.
Notorious Characters
Characters from Degrassi who have been known to attend one of the parties at the Ravine include the following: