Tom Blake
is
a fictional football star in Toronto. He is in the episode
Uptown Girl
. He was portrayed by
Jon Cor
.
Character History
Season 8
After
Mia
has her first runway show, she has a party, which Tom approaches. Afterwards, Tom takes Mia and
Leia
back to his apartment and wants to have group sex with Mia and Leia. Leia immediately backs out, expecting Mia to as well, but Mia explains she does it for her job. She is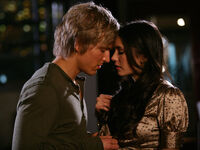 late for school the next day and later has a shoot with Tom. She beats him because she found out she had the job before she slept with him. She then finds out that he has been married for two years.
Gallery