Toni Stark

Information
Full Name
Toni Stark
Nickname(s)
Iron Lady (By Fiona), The Great White
Gender
Female
Hair Color
Blonde
Network
Job
Lawyer
Production
First Episode
Purple Pills (2) (1022)
Last Episode
Chasing Pavements (1) (1041)
Reason
Fiona won the trial over Bobby.
Portrayed By
Jayne Heitmeyer
Toni Stark
was
Bobby's
lawyer in the trial against him. She is known as "The Great White" for her ruthless, almost shark-like approach to cross-examination during a trial.
Character History
Season 10
In Purple Pills (2), she appeared to ask questions to Fiona.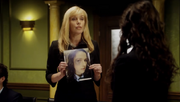 In
Chasing Pavements (1)
, she appeared in the trial and asked Fiona questions, which pressures her and also with irrelevant questions such as if she ever had a successful relationship. Then, a break is scheduled and afterwards, and thanks to
Tinsley
, Fiona won and Bobby has lost the case.
Ad blocker interference detected!
Wikia is a free-to-use site that makes money from advertising. We have a modified experience for viewers using ad blockers

Wikia is not accessible if you've made further modifications. Remove the custom ad blocker rule(s) and the page will load as expected.