Trina Brooks is the fiancée (and possible wife) of Jimmy Brooks, who he met at physical therapy. She became disabled from a fall while rock climbing, but she tries to adjust to her conditions, encouraging Jimmy to do the same. In time, Jimmy grows to like her and realizes he likes Trina more than Ashley Kerwin, his girlfriend at the time. After he breaks up with Ashley, he begins to date Trina, and he later proposes to her, which she accepts. Trina inspires Jimmy to have stem cell surgery. She was portrayed by Terra Vnesa.
Character History
Season 7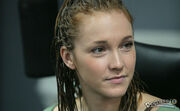 In
We Got the Beat
, Trina first appears busting Jimmy's chops. Later on, they start to flirt and giggle. Trina tells Jimmy how she was paralyzed. She was paralyzed by falling and injuring herself while rock-climbing. Jimmy tells her that he was shot.
Later on in the season, they start dating. She is very supportive of his rehab and believes he can do anything. She even teaches him how to drive with a hand operated car.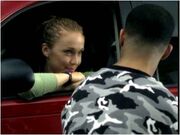 In
We Built This City
, Jimmy brought Trina to his prom, and when Spinner found the key to the hall's swimming pool, they all went swimming together.
Season 8
In Lost in Love (1), Trina and Jimmy return to celebrate Spinner Mason getting into police school, which they find out is a lie Spinner told to Jane Vaughn. They tell them that their conditions are getting better, and Jimmy admits to Spinner that he will be proposing to Trina soon. It is here revealed that her stem cell surgery was a success and is able to walk without the assistance of crutches.
In a deleted scene, Jimmy proposes to Trina and she says yes.
Appearances
Trivia
Relationships
Main article: Jimmy-Trina Relationship