The friendship between Tristan Milligan and Grace Cardinal began in Season 13 of Degrassi.
Friendship History
Degrassi
Season 13
In Close to Me, Tristan comments how he likes her shoes and then he asks her to dance.
Season 14
In I Wanna Be Adored, Grace gives Tristan advice on his dating app profile.
In Don't Look Back, Tristan hangs out with Grace and Zoë at summer school during the summer. Zoë wanted to spend more time doing science after school activities with Grace, which Tristan tried to talk her out of since he wanted to spend more time with her.
Degrassi: Next Class
Season 4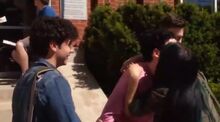 In #BackToReality, Grace is happy to see that Tristan is back at school and hugs him. As they hug, Tristan notices a love bite on her neck.
Trivia
Tristan had a conflict with Grace's best friend, Zig.
Both were on the bus that crashed on the way to the volleyball team match.
Both Grace and Tristan are friends with Maya and Zoë.
Tristan is the only one who knows that Grace and Zoë had sex.
Gallery