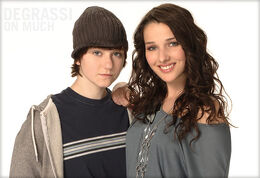 Favorite Characters- Adam, Fiona, Anya, and Declan.
Older Characters- Manny and Toby.
Even Older Characters- Derek and Snake.
Least Favorite- Jane and Alex.
My favorite movies are, In Good Company, Pans Labriyth, Little Shops of horrors (a classic), Taledaga Nights, May, Critters, Rocky Horror picuture show and the south park movie.
My favorite T.V shows are DEGRASSI (of course), that 70's show, Flight of the Conchords,Buffy the vampire slayer, Who the **** did I marry?, 48 hour mystery, Deadly Women, Veronica Mars, House,Aqua Teen Hungar Force, Supernatural, Heroes,South Park, Doctor Who ,Curb your enthusiasm, The Colbert Report,Family Guy, and The Daily Show. Usually though my favorite movies are horror.
My favorite books are The perks of being a wallflower, It's kind of a funny story and Hitch Hikers Guide to the galaxy. My favorite poet is Edgar Allen Poe.Thank you for reading my page, I guess
My favorite pages
Add links to your favorite pages on the wiki here!
Favorite page #2
Favorite page #3