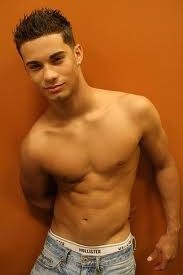 My name is Sirus.
My parents don't know I like Degrassi, so every time you see on my page it's a new join day that means I deleted the wikia. My mom thinks that I'm a perfect person, even though I'm way to shy, have little confidence in myself, and not very athletic,i think my closest friend on this wikia is Degrassi90210. I just came out to my parents! My all time favorite songs are of T.A.T.U. they are amazing, especially their song "Clowns".
My favorite pages
Edit
Adamo Ruggiero
Marco Del Rossi
Fiona Coyne
Clare Edwards
Bianca
Spinner
Emma Nelson
Manny
Pride
and more (not a page)
My Personality
Edit
I am a gay teen, ( the photo on the right is not me, but I wish it was). I love Degrassi: The Next Generation, my favorite characters would have to be: 3.Riley, 2. Jimmy, and 1. Marco <3. My favorite episodes would be: 3. Raining Men, 2: Moonlight Desires, and 1. Pride part 1 & 2. my hobbies are: soccer, drawing anime, singing, and playing V games. My fav female characters are: 3.) Fiona, 2.) Ellie, and 1.) Manny/ Anya.
Favorite movies.
Edit
Make the Yuletide Gay (hopefully 2 will be awesome like the first)
Soul Surfer
Romeo & Juliet
Gnomio and Juliet
Degrassi movies
Pretty Cure Movies
You again (too funny)
Spirited Away
Kiki's Delivery Service
Castle in the Sky
Howl's Moving Castle
The Adventures of Arrietty
and even more (not a movie)