About me
Hey guys! I'm a 13 year old girl who (as you can see) has a total crush on Eli Goldsworthy!!!!! I love how he doesn't care what people think and that him and Clare have an actual connection and are kind of easing into getting together, unlike other Degrassi couples (coughHollyJ and Declan cough). Anyway, I've been watching Degrassi since last year and I've become addicted to season 10!!! My favorite characters in order are: Eli, Adam, Clare, Emma, JT (R.I.P), Toby, Liberty, Ellie, Marco, Fiona, and Holly J. My least favorite character is Alli because all she cares about is popularity and boys!!! Plus, Clare is a good friend to her and she just takes her for granted! GRRRRRR!
Now that I threw my little Alli tantrum, I'm going to say that I love listening to music, reading, watching Degrassi and Glee, writing, and playing Kingdom Hear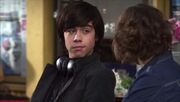 ts 2!!!
Current favorite song: Spinnin by The Ready Set
Favorite Degrassi episode: I have a lot so I can't narrow it down to one! Some of my favorites are Time Stands Still, Standing in the Dark, We Built This City, and all the Boiling Point episodes except the two with Jenna's pregnancies (not sure of the name).
Favorite Movies: Toy Story 1 & 2 & 3, The Dark Knight, Finding Nemo, The Lion King, Mean Girls
What I Hope to Be When I Grow Up: I want to be either an author, screen writer, zoo keeper, or any job at Pixar Animation Studios!