About me
Hi, my name's Halely (if you're wondering what H.R.S. stands for, it's my first name and two middle names: Ruth Sigal) and I'm 18 years old. I used to live in Pittsburgh PA, now I live in Israel.
I prefer the old Degrassi TNG seasons (with Emma, Paige etc.) because they were much more realistic, though my favorit characters are Adam Torres and Eli Goldsworthy.
I think Degrassi's a great TV show.
Current favs: Adam, Bianca, Eli, Ellie.
Current fav couples: Becky and Adam-Beckam, Adam and Fiona-Fadam, Adam and Bianca-Badam, Eli and Clare-Eclare, Sean and Ellie-Sellie.
Current least favs: Jessy, Damian.
Least fav couples: spinner and Emma, Sav and Holly J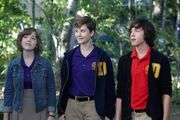 My favorite pages