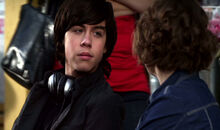 About meh
Hellar!!
I'm Hannah.
I'm 13. My birthday's on June 17th
I live in New York.
I like to listen to Panic! At The Disco, Paramore, Christina Aguilera, Avril Lavigne, We The Kings, Weird Al, Shakira, Natasha Bedingfield, Maroon 5, The Lonely Island, B.o.B., Glee Songs, and The Downtown Fiction
Shows I like to watch are Degrassi, Glee, The Glee Project, Pretty Little Liars, SNL, TMZ, The Secret Life, ans Switched At Birth.
My favorite characters are Eli, Bianca, Imogen, Holly J, Anya, Fiona, Adam, Sav, and Katie.
Yep. That's pretty much it.