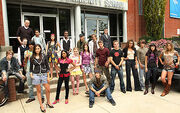 About me
Hi My name is Purple2 and i love love LOVE Degrassi. Honestly i like seasons 1-7 better then season 8-10. My favorite chracters are Emma, Manny, Liberty, J.T, Paige, Spinner, Darcy, Clare, Eli, Holly J, and Anya.
Favorite Couples
Jiberty (Jt/Liberty)
Janny (Jay/Manny)
Spemma (Spinner/Emma)
Klare (KC/Clare)
Eclare(Eli/Clare)
Palex (Paige/Alex)
Crashley (Craig/Ashley)
Savvy J. (Sav/Holly J.