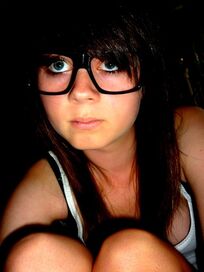 A Warm Welcome to who ever's reading this ish
Hello durr stalker.....Why are you reading my proflie???? You seem a bit stalker-ish :3 Well, My name is Marceline, But you can call me Marcy........I been watching Degrassi ever since, Mary had jesus. Thats a pretty long time....Uhm...Well i'm pretty nice Most of the time :P But don't piss me off, or i can be total Asshole. I'm not as sweet as people think bo. Well that is all...Bye my LOVES!!!
More Ish about me
I can troll you to DEATH
I read shojen jump alot
I'm a Anime/ Manga Freak...
I am 16 years old
I ship: Parcy, Eclare, Drinca, ect...
I'm a pretty boring chick.
I shall always love da characters : Spinner, Sean, Manny, Jt, Eli, Imogen, Fiona, Declan, Drew, Ect....
I am so happy Cake is history! ( Bye Bitches)
My fave food is Curry udon.
Well thats all gtfo.