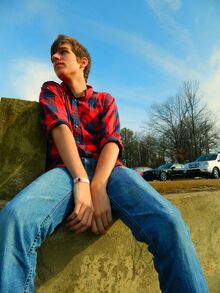 Hey there! My name's Michael. I'm 17 and MALE, my username is the name of a character I came up with. I'm gay. I'm from Arkansas, US, to my chagrin. I'm incredibly liberal. I love videogames (Final Fantasy and Kingdom Hearts ftw). I love Utada Hikaru (favorite singer ever). I love Degrassi (obvs). I love Skins. Like. Oh my god, so much. It rivals my love of old Degrassi, if not surpasses it.
Favorite Degrassi Characters:
Alex
Marco
Ellie
Adam
Bianca
Holly J
Fiona
Sean
Anya
Darcy
Jay
Least Favorite Degrassi Characters:
Riley
Derek
Eli
Clare
Katie
Marisol
Peter
Mia
Blue
Owen
Ships:
Alex/Paige
Drew/Bianca
Adam/Bianca
Fiona/Imogen
Fiona/Charlie (even though it's unpopular to say the least)
Craig/Ellie
Sean/Emma
Peter/Darcy
Least Favorite Ships:
Drew/Katie
Jake/Clare
Spinner/Manny
Peter/Mia
Blue/Holly J
Owen/Anya
Favorite Skins characters, for those who care (in no particular order):
1st Gen: Chris, Jal, Cassie, Michelle, Sid
2nd Gen: Katie, Emily (really just hated this gen, so can't pick out many characters I LOVE)
3rd Gen: Franky, Mini, Rich, Nick, Alex,...really all of them.
Skins Ships:
1st Gen: Chris/Jal, Sid/Cassie, Tony/Michelle
2nd Gen: Uh...
3rd Gen: Franky/Nick, Nick/Alex (crackship but whatever), Rich/Grace, Mini/Franky (even though it'll never happen), Alo/Mini

Movies-All Studio Ghibli movies, all Pixar movies, a lot of Disney movies (my favorite is Beauty and the Beast), Dummy, Ghost World, Juno, X-Men trilogy, Lord of the Rings trilogy, Resident Evil series, Kill Bill, Metropolis, Black Swan, so many more.
TV- Skins, Degrassi, Casshern Sins, Neon Genesis Evangelion, King of the Hill, Avatar: the Last Airibender
Books-Harry Potter, His Dark Materials, Abarat
Videogames-Final Fantasy, Kingdom Hearts, Pokemon, Soul Calibur, Little Big Planet, Bayonetta
My favorite pages
Edit
Add links to your favorite pages on the wiki here!
Favorite page #2
Favorite page #3