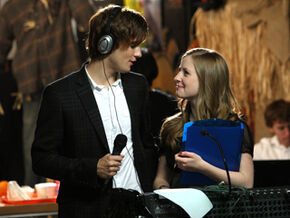 About me
Hello! I'm 15 almost 16 this fall. I'm a GUY who is obsessed with Degrasssi. Maybe it's my love of drama.... Who knows. Although I like some of the HOTTEST girls on Degrassi, I have a girlfriend who watches this glorious show with me!!! She then picks out all the supposed hot guys who aren't me.
I love to watch the episodes before they come on so bring on the uploads and leaks!!

http://movies.eventful.com/competitions/funnystory2010 VOTE FOR LASSITER HIGH SCHOOL PLEASE! HELP US WIN A VISIT FROM THE CAST!
LOOKING FOR A GREAT WEBSITE? FanFiction dot net! Link here! http://www.fanfiction.net/ !!!!
Joind and write some fanfiction OR comment, and subscribe to other fanfiction! Dont limit yourself to Degrassi!
They have separated stories into 9 catergories including TV shows, Anime/Manga, Movies, Games, and more! They even have a crossover section! CHECK IT OUT!!!
My favorite pages
Add links to your favorite pages on the wiki here!
Favorite page #2
Favorite page #3