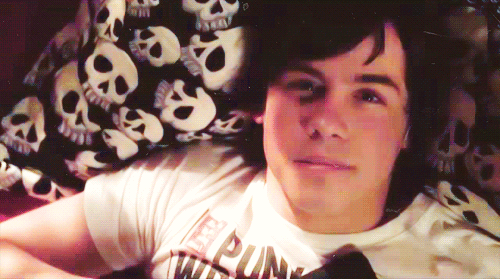 +Hey <insert name here>, welcome to my user page! I'm Joanna, 15 years old, currently living in New York. Call me Jo (:
+I've been watching Degrassi since about 2010 and have been a fan of it ever since. Below are my favorite characters and couples.
+If you ever need to talk, I'm here to listen <3 Leave a message on my talk page or an ask on my Tumblr
Favorite characters/couples 
Adam ♥ Adam/Becky, Adam/Bianca // Alex ♥ Alex/Paige // Bianca ♥ // Bianca/Adam Cam ♥ Cam/Maya // Dallas ♥ Dallas/Alli // Eli ♥ Eli/Clare // Ellie ♥ Ellie/Marco, Ellie/Sean // Fiona ♥ Fiona/Imogen // Holly J ♥ Holly J/Declan // J.T. ♥ J.T./Liberty // Katie ♥ Katie/Jake // Manny ♥ Manny/Jay // Marco ♥ Marco/Ellie // Sean ♥ Sean/Emma, Sean/Ellie // Spinner ♥ Spinner/Jane, Spinner/Paige
I'm also a fan of Alli, Anya, Darcy, Imogen, Jake, Jay, Jimmy, Liberty, Maya, Sav, Tori and Tristan.
Other Degrassi ships include Bhandurner, Crash, Jazel, Jonnor, Jrina, Kenna, Marimo, and Sanya.
---
In addition to Degrassi, I'm also a fan of other shows such as Skins UK, That 70s Show, American Horror Story, Friends, Pretty Little Liars, The Big Bang Theory, Avatar: The Last Airbender, etc. I'm also a huge Harry Potter fan. My ships from each are:
Freddie/Effy, Rich/Grace, Sid/Cassie, Chris/Jal, Naomi/Emily, Tony/Maxxie, Mini/Franky, Cook/Pandora, Tony/Michelle (Skins)
Ross/Rachel, Monica/Chandler (Friends)
Jackie/Hyde, Donna/Eric (That 70s Show)
Zuko/Katara, Suki/Sokka, Toph/Sokka (Avatar:The Last Airbender)
Leonard/Penny, Sheldon/Amy, Howard/Bernadette (Big Bang Theory)
Beck/Jade, Tori/Andre, Cat/Robbie (Victorious)
Ron/Hermione, Harry/Ginny, Snape/Lily, Neville/Luna (Harry Potter)
Spencer/Toby, Hanna/Caleb, Emily/Maya, Ezra/Aria (Pretty Little Liars)
+ I'm also a big fan of the bands Green Day, My Chemical Romance, Blink-182, Fall Out Boy, The Beatles, Nirvana, and many more c:
Wiki frands
The Marco to my Ellie
The Demi to my Selena
The Emma my Manny
The Rachel to my Ross
The J.T. to my Liberty
The Dallas to my Fiona
The Tre to my Billie Joe
The Jack to my Rose
The Mikey to my Gerard
The Zuko to my Katara 
The Chris to my Jal
The Imogen to my Bianca
I also love Ash, Sami, Tori, Tifa, Wendy, Pearl, Scott, Xavier, CJ, Natalie, Lauren, Terry and a bunch of others ok ♥