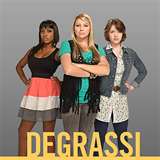 This is a page that will show random notes about Degrassi Season 11, Including news, spoilers, and anything else you want to add. Make sure you add a source, and if you copy and paste, make sure to quote it. NO PLAGIRISM! You may also add a predidction relating to your note directly under the note you posted. Here, I'll start:
"Not only will the one-hour season premiere feature a VERY (Editor's Note: Our source actually took it upon themselves to type "very" in all caps) unexpected death, the aftermath will be felt throughout the season. What's more, continuing the show's penchant to go where no teen show has gone before, our source promises that Adam (Jordan Todosey) is going to explore the physical sides of being an FTM transgender teen." Source: TV Addict.
I'm thinking the death will be Chantay. Reason: The caption of a picture on Degrassi Writers says: "Graduation Scene? NO CHANTAY!" So..that's why I think Chantay is the one who dies. If you want to make predictions relating to this note, you can. just sign your name afterwards. Thank you! -DropTheWorldOnFitzsHead
I think the death will be Declan because Landon Liboiron left to play a bad boy named Sam in Life Unexpected and I also read he is going to guest star in season 11.