Comments

105
Why the Emma Nelson era is better than the Clare Edwards era?
Why the Emma Nelson era Degrassi is much better than the current Clare Edwards era?
Simple. Emma Nelson (Miriam McDonald) was on the show since the beginining of D:TNG in 2001. Emma was the reason for the revival of Degrassi. Then Aislinn Paul (who plays Darcy's yonger sister Clare Edwards) joined in 2006 as a recurring character then promoted to cast member in season 8. Following Miriam McDonald's departure in 2010, Aislinn became the de-facto star of the Degrassi Esamble, everything went downhill. From season 10-onwards the show became to the words to tvtropes.org "Darker and Edgier" with newer episodes getting TV-14 rating instead of my prefered TV-PG rating. They add school uniforms from seasons 10/2 to the end of 11/2. But Degrassi lots it's magic after Miriam left two years ago. This person who follows me on Twitter his address at http://twitter.com/ELISYELCAJIGAS said about this "@SpencerKarter UNLIKE CLARE EDWARDS, EMMA NELSON NEVER ACTED LIKE A CRAZY B***H, SHE WAS AN ANGEL IN THE SKY!" that was great tweet reply, and he's on Team Emma like I'm.
Emma Nelson was a groovy chick of the show. Miriam McDonald was the reason I start watching Degrassi in late 2005 when TeenNick was The-N. Thank's Miriam. Also last month you may remember she replied to my tweet about my weight loss she said "amazing! good job :)" read youself at her Twitter page http://twitter.com/OfficialMiriamM she post this on June 7 of this year.
On Clare Edwards, she's just an Emma Nelson wannabe. She's no Emma Nelson. Miriam McDonald was Degrassi IMHO. But I like Munro Chambers, Cory Lee, Cris Propseri, Alicia Josipovic, and Alex Steele better. But I like Aislinn Paul too.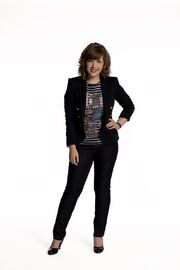 In conclusion, I may be another Degrassi genration, but Degrassi without their beloved Emma Nelson is like a missing puzzle piece never solved. Clare Edwards spoiled the magic of Degrassi that Emma Nelson passed on to the students. Thanks my comments. Feel free to comment. I maybe agree with your or don't agree with you.
Thanks :)