Volta

Information
Full Name
Volta
Nickname(s)
Animal Friend (By Imogen)
Gender
Male
Date of Death
February 2012
Network
Family
Imogen Moreno (Owner)
Production
First Episode
Need You Now (1) (1138)
Last Episode
Never Ever (1) (1215)
Reason
He was killed after being ran over by Louis's car
Volta
was
Imogen
's Bloodhound.
Character History
Season 11
In Need You Now (1), he is first seen when Mr. Moreno answers the door when Eli asks if Imogen is there. Volta licks Eli's hands energetically, and Mr. Moreno comments that he seems to like Eli.
Season 12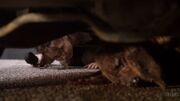 In Never Ever (1), he is lost and Imogen is about to go take her father's car to look for him. She looks underneath the car and notices a puddle of blood on the pavement. Underneath the back of the car is Volta ran over by her father. She falls to the ground and cries as Fiona tries to comfort her -- Volta is dead. Her father didn't remember that he ran over him.
Trivia
He was killed by Mr. Moreno due to him rushing in.
He was a bloodhound.
His fur was brown.
He is the second animal to die on the show, the first being Bueller Nash.