Volta was Imogen Moreno's pet Bloodhound.
Character History
Season 11
In Need You Now (1), he is first seen with Louis Moreno answering the door when Eli Goldsworthy asks if Imogen is there. Volta licks Eli's hands energetically, and Mr. Moreno comments that he seems to like Eli.
Season 12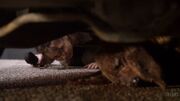 In Never Ever (1), he is lost and Imogen is about to go take her father's car to look for him. She looks underneath the car and notices a puddle of blood on the pavement. Underneath the car is Volta who had been run over and killed by her father. She falls to the ground and cries as Fiona Coyne tries to comfort her. Her father doesn't remember running him over.
Trivia
He was killed by Mr. Moreno due to him not seeing him in the driveway.
He was a Bloodhound.
His fur was brown.
He is the second animal to die on the show. The first was Ellie Nash and Sean Cameron's pet ferret Bueller Nash-Cameron.