Voula Grivogiannis

Information
Nickname(s)
Lowly Peasant (self-appointed)
Gender
Female
Date of Birth
1974
Eye Color
Brown
Hair Color
Brown
Network
Family
Mr. Grivogiannis
Mrs. Grivogiannis
Unnamed older sister
Unnamed Brother in law
Alexander Gregory (nephew)
Alexander Gregory (uncle)
School(s)
Degrassi Junior High School
Affiliation(s)
Degrassi Newspaper (editor)
Production
First Episode
Kiss Me, Steph (DJH 101)
Last Episode
Revolution! (DJH 113)
Reason
Moved away
Portrayed By
Niki Kemeny
Voula Grivogiannis
was a Grade 8 student
Degrassi Junior High School
in 1987. She was the
former best friend
of
Stephanie Kaye
and was also good friends with
Lucy Fernandez
. She was portrayed by 
Niki Kemeny
.
Degrassi Junior High Season 1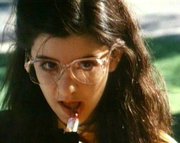 Voula was Stephanie's best friend, and she offered to help Stephanie run for school president. However, Voula was shocked when Stephanie offered to kiss any boy who voted for her, and then later thanked Joey Jeremiah instead of her for helping. Voula called Stephanie a selfish baby and ended their friendship.
Voula tried to get her overprotective
father
to let her go to a dance at scho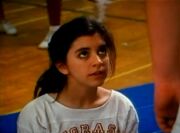 ol, but he refused, not willing to see she was maturing. She decided to sneak out to the dance, but was caught when she had to give the drunken Stephanie's speech at the dance.
Voula refused to forgive Stephanie for quite some time, but she felt sorry for Stephanie and became her friend once again after Stephanie's disastrous date with Wheels.
Voula was later caught shoplifting with her friend Lucy Fernandez, and they, too, had a falling out. Voula wanted to understand why Lucy was shoplifting and gave her another chance. The two were friends through the time Voula moved out to the suburbs, which she did at the end of 1987.
Parents
Voula's father, Mr. Grivogiannis, was played by Paul Brock; her mother, Mrs. Grivogiannis, was played by Nancy Beltrame. They were very strict with her.
Trivia
Ad blocker interference detected!
Wikia is a free-to-use site that makes money from advertising. We have a modified experience for viewers using ad blockers

Wikia is not accessible if you've made further modifications. Remove the custom ad blocker rule(s) and the page will load as expected.