The friendship and one-sided attraction between Wesley Betenkamp and Anya MacPherson is known as Wanya (Wesley/Anya). It began in the tenth season of Degrassi.
Friendship History
Season 10
In Try Honesty (2), Anya tells Wesley, Dave Turner, and Connor DeLaurier that she likes their song.
In Still Fighting It (1), Wesley reveals he wants to enter the Bachelor Contest to impress Anya.
In Still Fighting It (2), Wesley tells Anya that he's thinking of quitting the auction, but Anya helps him boost his self-esteem, and tells him that he's sweet and kind and that girls will love to bid for him. At the auction, it's his turn to go up. Anya helps introduce him, but no one bids for him. Anya eventually bids $2 for him, and Wesley is happy.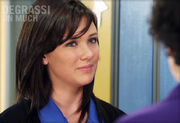 In
Halo (1)
, Wesley asks Anya if she wants to go on their date, which she won at the Bachelor Auction. Wesley then says he had been saving his allowance for something special, but he wants to keep it a surprise. Later, while at his computer, he had an unrealistic wet dream about his date with Anya. This worries him into thinking he won't be able to last the date without this happening again.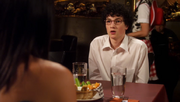 In
Halo (2)
, Wesley takes the Herbal Enhancer known as "Happily Ever Laster" and goes on his date with Anya. He accidentally spills water on Anya, and while she goes change her clothes, Wesley realizes that his erection is not going down. He eventually tells Anya, and they rush to the hospital. There Wesley realizes that Anya has a crush on
Dr. Chris
and sets up a plan to get the two alone together, but before he leaves the date Anya kisses him on the cheek making him happy. Wesley then goes to the secret party later where he tells Dave that Anya kissed him. Dave is impressed until he says that Anya smelled like cotton candy.
Season 11
In What's My Age Again?, Wesley was invited to Anya's 18th birthday party.
Gallery