What if Peter Made a Movie
is a
Degrassi Mini
that aired in the
eighth season
of
Degrassi: The Next Generation
.
Cast
Plot
Peter talks to reporters about his new movie that Steven Spielberg said was "the realest portrayal of high school". As he talks, Ashley, Craig, Danny, Sav, Emma, and Manny all watch him in happiness, as they were put into the movie. As the crowd heads inside to watch the movie, Danny asks if he really put a 'Danny character' into the movie, and Peter says that he put all of his friends in. Sav tells him that it is killer that he got to write and direct his life story, and Peter absently responds with, "If you believe in yourself, there's nothing you can do, or some crap like that." As he is talking, Manny and Emma flirt with him, before heading inside. Peter waits outside while everyone watches the movie.
As the movie ends, Peter wonders why there isn't any applause for his film. The cast angrily storms outside, and Manny yells that her character walked around in a thong, flashing every dude in school. Emma is angry that her character was messing around at The Ravine, and stuffing french fries in her pocket every other minute. Sav thinks it is crazy that his character walked around like a moron, and only played with stickers. Peter insists that everything on the screen was the truth, and Danny angrily yells that he called the Studz "The Peter Stone is a God" band, while he thought they were a team. Ashley states that her character was merely Craig's eye-candy. However, Craig is happy about his character's depiction, and high-fives Peter. Manny yells at Peter that no one will ever want to watch a movie about Degrassi, and the cast turns toward the camera while smiling, breaking the fourth wall. Peter asks her if she is sure about that.
Trivia
Quotes
Manny: "What were you thinking?! You had the actress playing Manny walk around in a thong and flash every dude in school!"
Peter: "Isn't that what you did?"
Craig: "Look, I don't know what these guys are talking about. Craig was AWESOME, man!"
Peter: "Hot dudes unite!"
Craig: "Yessss, we're attractive!"
Video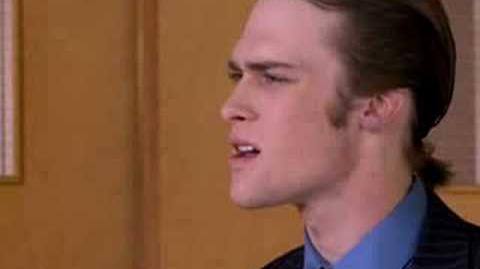 Alternate Versions