Yick Yu
is a former student of
Degrassi Junior High
and
Degrassi High
. Yick has made appearance in
Degrassi: The Next Generation
as well. He was portrayed by
Siluck Saysanasy
.
Degrassi Season 1-3
Yick has been a student at Degrassi from his grade 7 year to his grade 10 year. He was best frien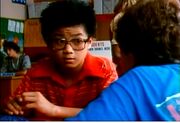 ds with
Arthur Kobalewsky
. He believed that
Mr. Raditch
was prejudiced to him, but he soon found out that he had no problem with him. He had a problem with Arthur being rich when they were in their grade 8 year. He wanted to go out with
Melanie Brodie
but she wanted to go out with
Archie Simpson
instead. Their friendship ended when Yick discovered Melanie had lied to him and gone to the 'boy' movie instead of the 'girl' move.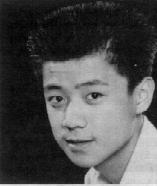 Degrassi Season 4-5
In high school, he started doing drugs with Luke Cassellis, and was drinking a lot as well. His friendship with Arthur ended, and he started hanging out with the other drug users of Degrassi. He and Arthur became friends again when they had a night of playing poker with Joey Jeremiah and Luke. Tessa Campinelli dumped Alex Yankou to go out with him as well. They stayed together when Degrassi was shut down, but broke up during the summer before their grade 11 year.

Degrassi: The Next Generation
Yick returned to Degrassi in 2001, to be a part of the reunion of all Degrassi students, when the school reopened. Yick also made a brief return (about half a second) in the season 2 opener in When Doves Cry (1) he is seen at Spike's birthday party cooking and shaking hands with Joey, an old friend.
Influences on Next Generation