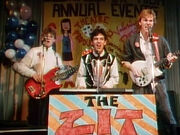 '
The Zit Remedy'
is the original name of a band formed by
Joey Jeremiah
(keyboard),
Derek Wheeler
 (bass guitar) and
Archie Simpson
(guitar) during their mutual Grade 8 year at Degrassi Junior High in 1988-89. Each had his own idea for a name, usually with his own name alone along with a reference to the other two by some label. Somehow, they agreed on Zit Remedy as a compromise.
Wheels could not practice with them for some time while he took tutoring from Ms. Avery to ensure he'd pass Grade 8; in his absence, Simon Dexter played bass for the band temporary. The band was "officially" broken up in spring 1989 when Snake's parents tell him he cannot see Joey anymore. However, it re-forms at graduation in June to play at the grad dance; Joey snuck his confiscated keyboard away from his parents.
The band is later renamed "The Zits", however, as with their entire history, they only have one song less than 90 seconds in length, and learn to perform it quite creditably.